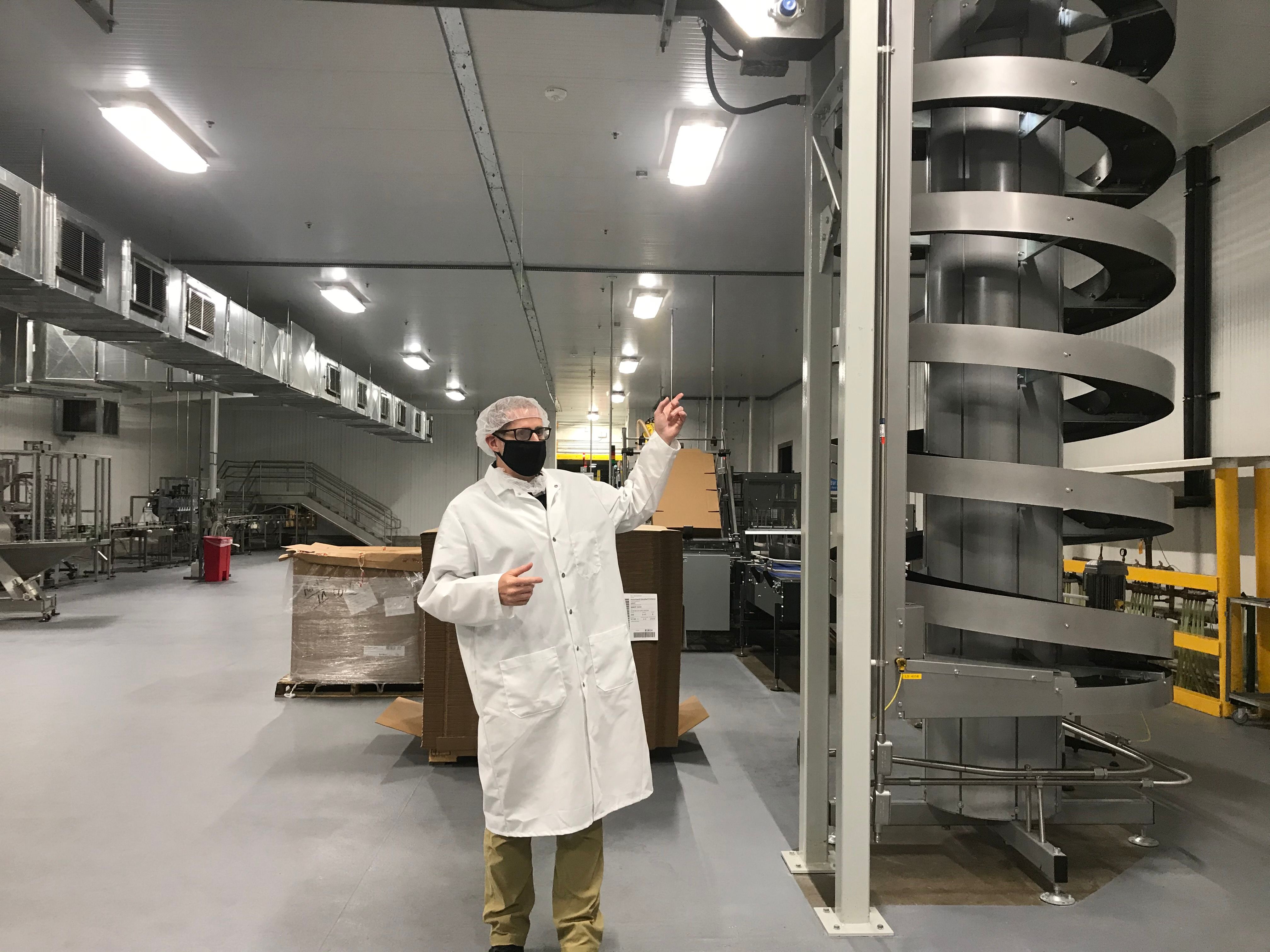 Plant Director Jon Olson leads visitors on a tour of Goodwill of the Heartland's new state-of-the-art vegetable oil packaging plant in Coralville. 
By Katharine Carlon
katharine@corridorbusiness.com
An organization best known to the public for its retail thrift shops has opened a new vegetable oil packaging plant in Coralville, bringing the seven-year dream of one of its top local leaders to fruition and creating jobs for individuals with disabilities – all while helping to serve the world's hungry.
Goodwill of the Heartland was expected to receive final approval from the U.S. Department of Agriculture last week to begin vegetable oil packaging operations in the 63,000-square-foot facility at 3800 Second St. in Coralville. The facility, which will start with a single shift and 10 full-time employees, is expected to eventually grow to three shifts and as many as 40 employees.
Jessica Schamberger, Goodwill of the Heartland's vice president of operations, hopes it will also grow from servicing a single government agency – the USDA – to serving a diverse mix of private label and government clients.
"I don't want to call it limitless potential, but there's just so much potential," Ms. Schamberger said of the vegetable oil contract she first began pursuing in 2013 through the federal set-aside program AbilityOne, which helps nonprofits create jobs for people with significant disabilities.
Though the organization was unsuccessful in its first bid, it reapplied in 2017 and was ultimately selected for a major contract to package oil for the USDA's international and domestic food aid program. The contract for 10,000-14,000 metric tons of oil packaged in four-liter cans has a value of around $18 million annually.
"I think the part that's going to be very special to me is seeing that first truckload of finished goods leave the building and having all the positions filled." she said, adding that the jobs would offer employees invaluable manufacturing training while the oil would be distributed to more than 70 countries, helping 80 million food insecure people worldwide. "And while we're launching this business with just the USDA contract … we want to diversify into other liquid packaging oils, edible oils for other customers."
That diversification could one day range from packaging private label oils for grocery chains like Hy-Vee to producing bulk Mel-Fry oil for the Department of Defense.
"The equipment that we invested in can handle any semi-viscous liquid, so anything that free flows, we could handle it," Ms. Schamberger said. "It could be salad dressing years from now. It's exciting because we're in the food mecca where all the raw material's grown."
Goodwill of the Heartland, which offers training and employment programs across 19 counties in southeast Iowa and helped employ more than 700 people last year, sought out the contract to ensure it was well-positioned for the future as traditional retail struggles. Although it is best known for its thrift stores, the organization has been involved in contract manufacturing since the 1970s in partnership with well-known companies like Whirlpool, Nordstrom and Collins Aerospace.
Its umbrella organization also has a record of winning federal government manufacturing contracts, Ms. Schamberger said, citing Goodwill Industries of South Florida, which produces internment flags for the Department of Defense, as one example.
"We're a social enterprise and we run business lines to make money for our mission to help people overcome barriers to independence," she said, adding that the organization ships more than 7 million finished products annually and has maintained a 100% on-time delivery record for 12 years. "We built this business on that performance record, and that's how we got it. Some who might question the connection between Goodwill and food might understand it a little bit better if they know about that part of our history."
Goodwill of the Heartland invested $8 million to refurbish a former Hawkeye Foodservice Distribution building, equipping it with state-of-the-art automation, and to hire industry experts, including Quality Assurance Manager Jeremy Cline, formerly of Quaker Oats, and Plant Director Jon Olson, former production manager at Lesaffre, to run the plant.
"Part of our work is to provide people with the job skills training they need to gain competitive employment, and these are high-demand jobs in manufacturing where they'll learn automation and record keeping – the quality standards associated with food is great," said Mr. Olson, who has spent the past several weeks conducting tours of the facility, from its bulk silo, which holds 33,000 gallons of oil, to its two finished product warehouses.
Mr. Olson said his former employer started employees at $19 an hour, while companies like Quaker and General Mills pay even higher starting wages.
"If someone were to learn job skills here, they could go somewhere else and even make even more money, so it's a very good training program," he said.
The plant has set aside about half its production jobs for individuals with disabilities.
"It fulfills our mission of training people and helping them find jobs," Ms. Schamberger said. CBJ