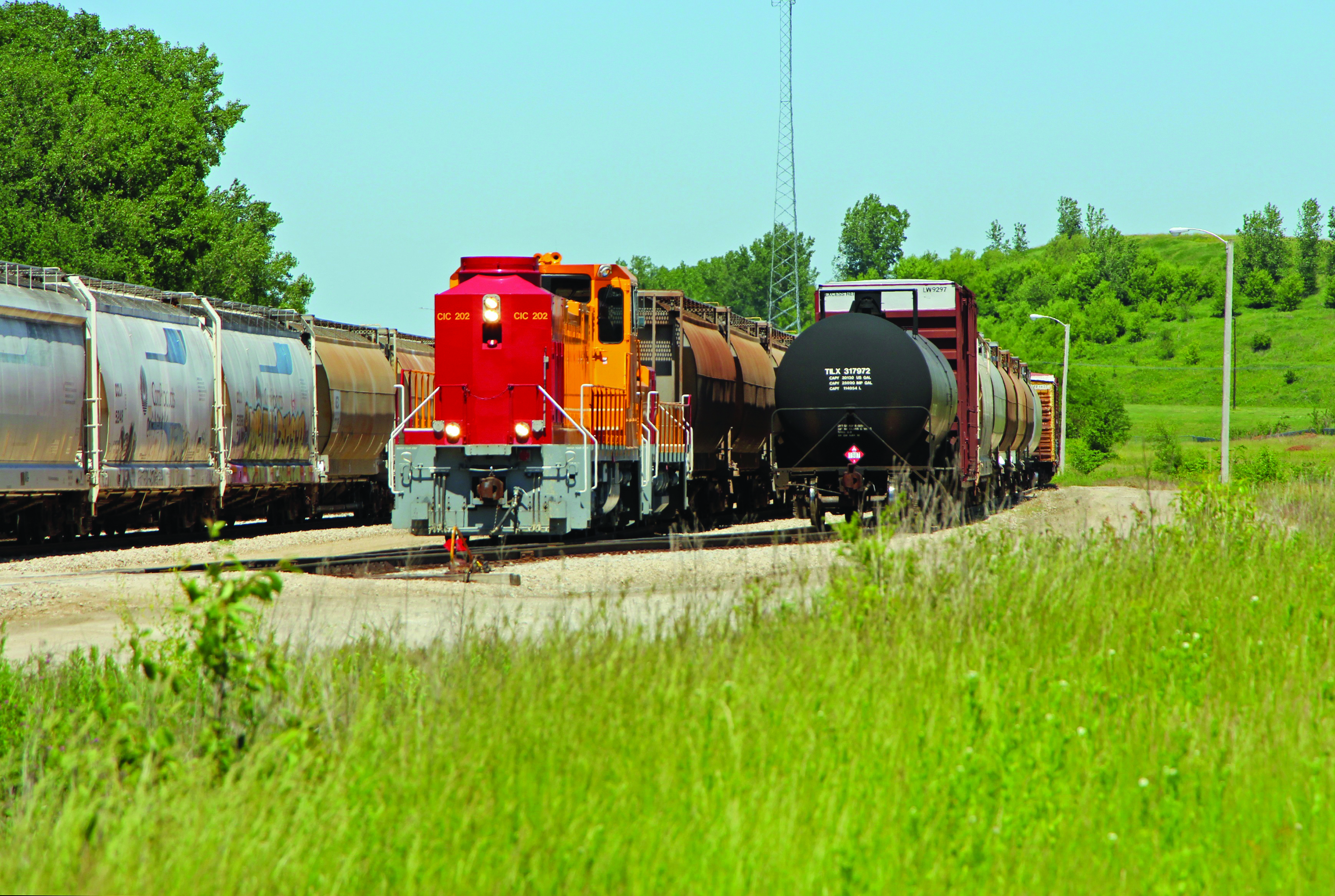 A CRANDIC Railway locomotive goes through the railway's Smith-Dows yard in Cedar Rapids, which is adjacent to the site of the proposed $46 million Eastern Iowa Logistics Park. PHOTO/ALLIANT ENERGY TRANSPORTATION
By Dave DeWitte
dave@corridorbusiness.com
A $46.5-million Eastern Iowa Logistics Park could be developed in southwest Cedar Rapids over the next few years as a result of a state initiative to improve its shipping efficiency.
The project led by Alliant Energy Transportation would help Corridor businesses reduce shipping costs, boosting the area's manufacturing and transportation economy. But the project still has some fundraising hurdles, and according to at least one Corridor railroad veteran, faces potential challenges in gaining the support of the largest railroads and international shipping companies.
The logistics park will cover 75 acres of undeveloped ground south of the CRANDIC Railway's Smith-Dows Railyard with intermodal, cross-dock and transload facilities.
It will become the only facility in the state with all three capabilities, according to Craig Markley, director of the Iowa Department of Transportation's (IDOT) Forecasting and Modeling team and Grants Program team. It has the potential to reduce truck traffic and accidents on state highways, while also reducing air emissions from shipping.
Intermodal facilities transfer shipping containers or semi-trailers from one mode of transportation to another – in this case, primarily rail and truck. Rail shipping costs per mile are significantly lower over long distances, and intermodal facilities allow containers or trailers to be unloaded efficiently for movement by truck to their final destination.
Transload facilities transfer bulk commodities such as grain, sand or coal from rail to truck or vice-versa, using mechanical systems such as conveyors and huge vacuums.
Cross-dock facilities differ from both intermodal and transload facilities, in that they often deal with finished goods. They typically operate in a warehouse-type building, grouping goods going to the same or nearby destinations, so that they can all be loaded in one truckload for a reduction in the number of stops required.
Although the project isn't fully funded, its prospects were vastly improved July 7 when the state announced it had been awarded a $25.6 million grant from the federal FASTLANE (Fostering Advancements in Shipping and Transportation for the Long-term Achievement of National Efficiencies) program. Alliant Energy Transportation earlier received a $500,000 grant from a pilot program, Linking Iowa's Freight Transportation System, related to the project.
Cedar Rapids and the CRANDIC Railway didn't have to lobby the state to gain support and funding for the project, however. In a rare turn of events, the state more or less came to Alliant officials regarding the project.
Quetica, a logistics consulting firm, was retained by IDOT in 2014 to study ways to make the state's freight network more efficient.
"Nobody heard about it, which is not unusual for a study of this kind, but then Paul Trombino [Iowa DOT Director] was going around the state speaking about what the state was doing to make freight movement more efficient, and that's when we got wind of the fact that they were looking at a logistics facility," said Jeff Woods, manager of marketing and business development for Alliant Energy Transportation, parent company of the CRANDIC Railway.
When Alliant Energy Transportation leaders asked Mr. Trombino for more information, he said the study identified Cedar Rapids as the best location for a logistics park because of the huge amount of freight generated within a 50-mile radius of the city, Mr. Woods said.
With multiple ethanol, starch and cereal mills, Cedar Rapids is a destination for large amounts of grain, chemicals and other raw materials, and an originator of many products such as ethanol, food products, animal feed and cardboard.
Cedar Rapids also has a feeder railroad with access to major national and regional lines. The CRANDIC links to the Union Pacific, the Canadian National, the Iowa Interstate and the Iowa Northern in Cedar Rapids.
Alliant Energy Transportation was interested in pursuing the project because it could bring the company's CRANDIC Railroad more freight volume, Mr. Woods said, and allow it to serve its shipping clients better.
Iowa Northern Railway President Dan Sabin said his company has been pursuing development of an intermodal facility at the Upper Midwest Logistics Hub in Manly, a town just east of Interstate 35 near the Minnesota border. The railroad has applied to IDOT for a TIGER [Transportation Investment Generating Economic Recovery] discretionary grant for the intermodal facility, so far without success.
"It would actually be advisable to unite in our efforts so a facility near the Iowa-Minnesota border can consolidate traffic density with a Cedar Rapids facility to everyone's mutual benefit," Mr. Sabin wrote in response to a CBJ inquiry.
Beyond the Manly hub, where ethanol and other commodities are transloaded, the railroad has been upgrading track and adding transloading capabilities along its lines from Cedar Rapids to Manly, from Waterloo to Oelwein and from Forest City to Belmond.
An intermodal facility in Iowa faces several challenges, according to Mr. Sabin, high among them that Iowa ships out much more than it brings in. Many shipping containers will have to be transferred back to Iowa from large consumption areas such as Chicago, Memphis and Dallas, subject to the desires of large shipping companies that control the containers and rates of the connecting rail carriers.
Mr. Sabin is also concerned that the largest railroads and other related businesses have big investments in the Chicago area, which would require an intermodal facility in Cedar Rapids to compete with an enormous infrastructure investment 200 miles away. He believes a large local facility will live or die by the willingness of shipping lines to allow for a constant relocation of shipping containers for loading, and the willingness of Class I and Class II rail carriers to handle the containers at a low-enough cost and a corresponding high level of service.
"Up to this point, the Class I carriers we have talked to have demonstrated strong reluctance to providing additional service with competitive rates that might erode traffic from their own existing facilities," Mr. Sabin wrote. "Iowa shippers must also commit to enough volume for traffic to provide the density for both international and domestic intermodal shipping."
Mr. Woods said the issues of returning empty railcars and containers, known as drayage, has been one of the major obstacles to Iowa intermodal projects in the past, and this will be no different. The CRANDIC and IDOT are addressing the issue, but there are no easy answers, he said. He was unaware of any past discussions on a partnership approach between two Iowa intermodal facilities.
While Alliant Energy Transportation is officially designated as the operator of the Eastern Iowa Logistics Park for planning purposes, Mr. Markley said other operators could become involved as operators in areas where Alliant does not have experience, such as cross-dock.
Partners will also be needed to help Alliant Energy Transportation come up with the $21 million in private matching funds needed for the project.
Iowa currently has only one intermodal facility. Located in Council Bluffs, it is operated by the Iowa Interstate Railroad, which also has an intermodal facility in the Chicago area. Iowa Interstate officials did not respond to a request for comment for this story.
Trucks dominate shipping in Iowa. According to IDOT studies, in 2013 trucks moved 86.7 percent of Iowa's freight, compared to 74.7 percent for the United States as a whole. Iowa used rail for 9.3 percent of freight movements, versus nearly 10.4 percent for the United States, and multi-modal for only 1.8 percent of freight shipments versus 2.5 percent for the entire country.
The park is expected to employ around 65 people, Mr. Woods said, including crane operators, forklift operators and other equipment operators. It is also expected to increase local employment for truck drivers moving freight into and out of Cedar Rapids.
Mr. Woods said the federal grant award is now in a 60-day period during which President Obama or the United States Senate could veto the funding, and he expects progress on securing the private match to move forward after the grant is fully secured. Pending its award, Mr. Woods said construction of the park is expected to get under way sometime in 2017.