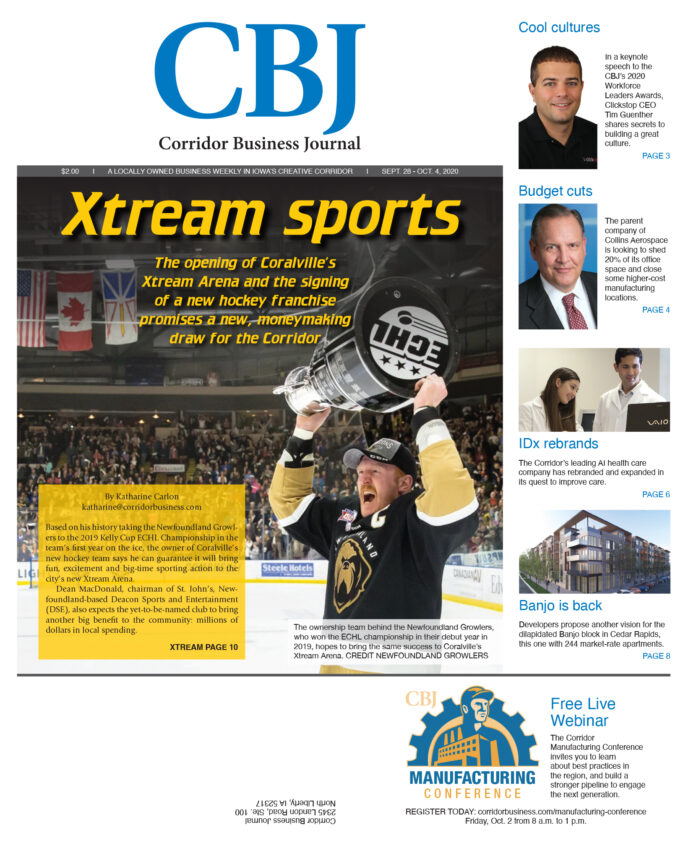 By Katharine Carlon
katharine@corridorbusiness.com
Based on his history taking the Newfoundland Growlers to the 2019 Kelly Cup ECHL Championship in the team's first year on the ice, the owner of Coralville's new hockey team says he can guarantee it will bring fun, excitement and big-time sporting action to the city's new Xtream Arena.
Dean MacDonald, chairman of St. John's, Newfoundland-based Deacon Sports and Entertainment (DSE), also expects the yet-to-be-named club to bring another big benefit to the community: millions of dollars in local spending.
"By way of an example, in St. John's, Newfoundland, a city of about 150,000 people in the greater metropolitan area, the economic impact in terms of hotels, restaurants, employment for our hockey club was about $14 or $15 million a year," said Mr. MacDonald, whose company will soon own and operate three ECHL franchises, including the Growlers, the Coralville club and another expansion team in Trois-Rivières, Quebec.
"That's Canadian money, so it's probably like Monopoly money down there," Mr. MacDonald joked. "But that's the order of magnitude … It's significant."
That might sound aspirational, particularly with the championship-winning Growlers based in hockey-mad Canada. But Josh Schamberger, president of Think Iowa City, the metro area's convention and visitors bureau, said that given the level of sports enthusiasm in the Corridor and the market research DSE has conducted on pro hockey's potential locally, numbers like that might not be far off the mark.
"That report for Newfoundland is probably pretty accurate and a fair assessment of what might happen," said Mr. Schamberger, who acknowledged any projections are speculative until after the Coralville team plays its first season in 2021-2022, and can be wrapped into his organization's periodic economic impact study, conducted in partnership with the University of Iowa's School of Urban and Regional Planning.
"If you look at our last study, though, Iowa football had an impact of $15 million for a single home game," he said. "So, $15 million a season seems reasonable."
Several economic impact reports conducted over the past decade suggest ECHL teams are a positive contributor to local U.S. economies.
After its 2012-2013 inaugural season, the Orlando Solar Bears commissioned a study that found the team drew more than 240,000 fans to the city's Amway Center and accounted for $14.3 million in new direct, indirect, and induced spending. The total included 152 new full-time equivalent jobs that generated $6.7 million in new personal earnings.
Though the Coralville team will draw from a far less populated region than central Florida and its operation will be a much smaller – between 20-30 jobs split between front office administrative and hockey operations – the example of the Adirondack Thunder suggests a professional hockey team in the Corridor could still pack a significant economic punch.
The Thunder is based in tiny Glens Falls in upstate New York (population 14,700), about an hour away from Albany, which counts about 97,000 residents.
A study conducted by Camoin Associates showed that Thunder games attracted over 252,300 visitors annually and generated about $2.2 million in ticket revenue between 2016-2018. The study estimated game attendees spent about $41 per day in the local community, mostly on food, beverage and miscellaneous expenditures, for a total impact of $4.2 million in 2016-2017 and $6.1 million in 2017-2018. That study did not include the impact of jobs supported either directly or indirectly by the team.
Closer to home, Visit Quad Cities last year estimated the area's three minor league teams drew more than 331,000 people to 100-plus events annually, scoring a direct economic impact of $50.1 million. The Quad Cities is home to three minor league teams: the River Bandits, a Class A minor league baseball team affiliated with the Houston Astros; the Steamwheelers, an Indoor Football League team; and the Storm, a Southern Professional Hockey League club.
DSE and Spectra Venue Management, which will operate Xtream Arena, have estimated an average 3,000 fans will attend each of the 36 home games the Coralville team will play annually, for a season total of 108,000. Using Camoin's $41 per visitor formula, that could mean about $4.4 million in new local spending, excluding the impact of jobs.
Mr. Schamberger said his organization only counts visitors from outside Johnson County in economic impact studies, as local dollars are likely to be spent in the community anyway. Even so, he expects restaurants, bars and retailers to be the biggest local beneficiaries of bringing pro hockey to the area, with a smaller amount benefitting hoteliers.
"The ownership has done a lot of research and study in this market, and based on the response, there are a lot of NHL hockey fans around," he said, adding that the ECHL's position as the "AA," or development league of the professional hockey world has fans excited.
The ECHL is the third tier in a system that is headed by the National Hockey League, with the American Hockey League sitting in the middle. Newfoundland Growlers players, for example, move between the AHL's Toronto Marlies and its NHL affiliate, the Toronto Maple Leafs.
Mr. Schamberger said passionate hockey fans have come out of the woodwork since the Coralville franchise was announced on Sept. 17.
"They want to see future NHL players coming up or NHL players being rehabbed," he said. "I've been surprised by the people saying to me, 'Oh my God, when can I buy season tickets?' I didn't know how many big-time hockey fans we had."
Of the 700-some players to have played for the ECHL, 678 have moved onto the NHL, Mr. MacDonald said, including several Growlers.
"So it's a really exciting brand," Mr. MacDonald said, adding he believed the new Coralville club would complement rather than compete with the area's plethora of college sports. "Regardless of what sport it is, this is a sports crazy area … And we think the sport of hockey, certainly professional hockey, is growing."
Now that DSE has signed a lease with ArenaCo, the nonprofit entity with oversight of Xtream Arena and the GreenState Family Fieldhouse, work is beginning to get a team on the ice by next season.
Next steps include officially applying to the ECHL and waiting to be voted in – a largely perfunctory process, according to Mr. MacDonald. From there, "we have to do everything from getting all our hockey operations and people on the ground, working on an affiliation agreement with an NHL franchise, logo design, and ordering uniforms and equipment."
Preparatory work also includes developing a team name, something Mr. MacDonald said might be the product of a community contest or another local recommendation process and will likely be reflective of the area's history and personality. That's an approach that was a success in naming the Growlers, whose team name was inspired by the Newfoundland dog breed.
"It is a painstaking process, I can tell you," Mr. MacDonald said of the 12 months ahead. "A lot of work goes in before the puck drops."
And that's all before marketing kicks in. In Newfoundland, the franchise created excitement by hiring "hometown boy" Ryane Clowe, a former NHL star, as the Growlers coach, giving the team "instant credibility." It also hosted the Toronto Maple Leafs training camp last summer, connecting the NHL affiliate to the local community.
"The more we make that connection with fans, the easier it is to draw future interest, and then they feel proud of that," Mr. MacDonald said. "If you go through the list of the 678 players who've played in the ECHL and moved on to the NHL, it's not kind of fourth-line checking guys … There are a whole bunch of folks that are bona fide superstars of hockey, who earned their stripes in the ECHL. It's not that difficult to promote that though our affiliation, whoever that may be."
Iowans have already demonstrated they will support hockey. Des Moines' AHL team, the Iowa Wild, an affiliate of the NHL's Minnesota Wild, has seen attendance go up every year since its inaugural 2013-2014 season, setting a new attendance record of 243,558 last year, or about 6,400 fans per game. The club is now ranked 11th out of 31 AHL teams for attendance overall.
Both Wild teams have been floated as possible affiliate teams for the new Coralville club, although that remains speculation at this point.
"We found that the hook is to win games and people are jumping on board to support the club," Iowa Wild Vice President of Sales Eric Grundfast said in a press release before the coronavirus pandemic canceled the 2019-2020 season. "Renewals are above pace from last year. It's the highest percentage of renewals we've ever had in six years."
That's not to say hockey is always a winner in the region. The Moline-based Quad City Mallards were in the ECHL for four seasons from 2014-2018, but folded when owner Jordan Melville said he'd lost his passion for operating the team after losing $4 million over five years. A new ownership group obtained a team in the lower-tier Southern Professional Hockey League, the Quad City Storm, to replace the Mallards at Moline's TaxSlayer Center for the 2018–19 season.
Even so, NHL.com reckons that Iowa's "hockey bona fides have honed it into one of the sport's most underrated hotbeds." The state has a long history of minor pro hockey, going back to the Central Hockey League in the 1950s. In addition to the Des Moines Wild and the Storm, the state is home to teams in the United States Hockey League, including the Cedar Rapids RoughRiders, which had to suspend 2020-2021 operations due to derecho damage to ImOn Ice Arena.
Iowans also rank high when it comes to supporting minor league sports. In 2019, the Sports Business Journal ranked Des Moines fifth out of 211 minor league markets based on average attendance, down from first place in 2017. The Quad Cities market ranked No. 11, down from No. 2 nationally following the loss of the Mallards.
"It's incumbent upon us to put a very good product on the ice," Mr. MacDonald said. "We want to be the fun, hip, cool, fast, exciting game that people go 'Wow, you've got to take in the hockey game at Xtream Arena because it's the best bang for your buck.' We've got a lot of work to do because we want that place full, and if that place is full, we'll be successful."   CBJ