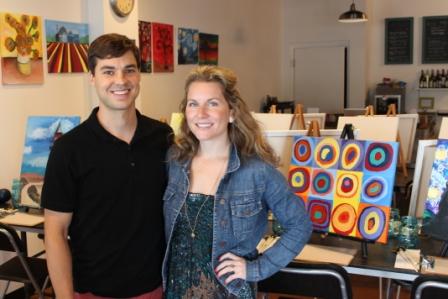 By Pat Shaver
CORALVILLE—Dori Bishara and Matthew Ribakow came to the Corridor in March with a blank canvas.
The engaged couple moved to the Iowa City area from Portland, Ore. They spent the last several months getting settled into their new life and planning their new business, Brush and Barrel.
The social painting studio opened Aug. 9 at 408 First Ave. in Coralville. They offer painting classes taught by local artists, a place for private painting parties, an open studio and a retail store with gift items. It's a casual social experience where participants can drink beer or wine, paint and leave with a piece of their own art.
An instructor guides painters step-by-step through a featured painting. There is no experience necessary. During classes Brush and Barrel offers a variety of beverages and snacks – including wine and beer.
"One of the best parts of this is people get so excited about what they created," she said.
The price for each class is $35. This includes a 16" x 20" canvas, paint, brushes, easel, apron, the instruction, a light snack and clean up. Children's classes held on Thursday afternoons and cost $20.
"It's not a technical process, it's about enjoying yourself. It's broken up into steps so that you do turn out with something you're proud of," Mr. Ribakow said. "We want people to realize that art is approachable."
Brush and Barrel offers classes at 6:30 p.m. Wednesday through Saturday and 2 p.m. classes Saturday and Sunday. Open studio is available during business hours, starting daily at 11 a.m. To see a calendar of classes, visit www.brushandbarrel.com.
The business combines several of Ms. Bishara's interests.
"All of my life I've loved art and business, and I also love throwing parties, I love wine and retail," Ms. Bishara said.
During their time in Portland, and through their relationship, they spent many date nights at painting studios. As their relationship continued, they had discussions about starting a business.
"I met Matt and we fell in love and eventually we started talking about business ideas," she said.
Opening a painting studio seemed like an obvious choice, but they didn't want to compete against their favorite studio in Portland, Mr. Ribakow said.
"My mom came to visit us and suggested we start this. We had a bunch of people pushing us. Everyone has been 100 percent supportive," he said.
Meanwhile, both realized that they wanted their next move to be closer to family in a market where a painting studio would fit.
They considered moving to Lancaster, Pa., where they both have family, and Iowa City as potential locations for their business idea.
Ms. Bishara grew up in Iowa City, attended West High School and attended the University of Iowa. Mr. Ribakow has family on the East Coast and went to college in California.
That eventually led them to decide on Iowa City, a market Ms. Bishara is familiar with.
"Iowa has so many wineries. It made more sense to open a business like this with wine becoming so popular," Ms. Bishara said. "We're really fortunate that this industry is springing up, and it's a new idea for local people."
After college, Ms. Bishara spent several years in Las Vegas, where she worked for the Bellagio Gallery of Fine Art. The gallery partnered with art institutions from the Museum of Fine Arts, Boston to the Hermitage in Russia. Looking for somewhere more like home, she picked up and moved to Portland.
"I knew (Las Vegas) wasn't the place for me and I always wanted to go to Portland, so I packed up my car and I didn't have a job or a place to live," she said.
She eventually found a retail management job at the Portland Art Museum.
"The art world has always been important to me," she said. "I always wanted to open a business since I was a little girl."
Mr. Ribakow grew up outside of Baltimore. He graduated with a construction management degree from Cal Poly in San Luis Obispo, Calif. He worked in California in project management for commercial construction companies in San Luis Obispo and Santa Barbara and eventually accepted a position with a consulting firm in Portland.