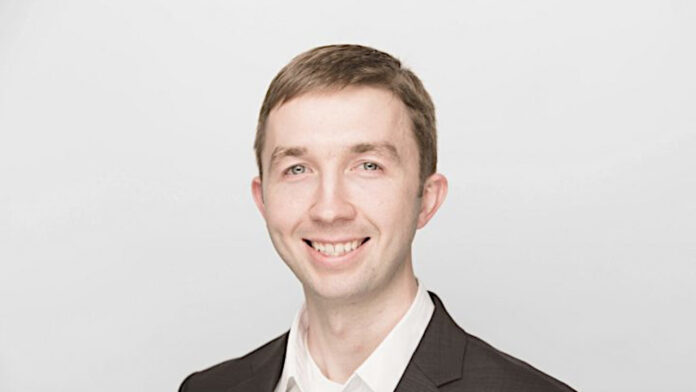 The Iowa Architectural Foundation's (IAF) Board of Trustees elected its 2023 slate of officers at its December board meeting.
Nathan Griffith, AIA, of Neumann Monson Architects of Iowa City will serve a one-year term as chair of the Iowa Architectural Foundation, the state's only organization focused on educating public audiences to understand and appreciate contemporary and historic architecture. The foundation is governed by a statewide Board of Trustees.
Mr. Griffith is associate principal of Neumann Monson Architects, a comprehensive design firm with a second location in Des Moines. He holds a Bachelor of Architecture degree from Iowa State University, and in 2022 received the AIA's Young Architect Award, a national honor.
"Seeing all that the Iowa Architectural Foundation has accomplished under the challenging circumstances of the last few years, I'm excited to help lead IAF into a future of revitalized, enriching programs for Iowans of all ages," Mr. Griffith said in a release.
He steps into the position most recently held by Brian Crichton, AIA, CEO of CMBA, who will continue on the board as past chair. Mr. Griffith and Mr. Crichton will work alongside fellow members of the 2023 Executive Committee, including vice chair Ryan Ellsworth, AIA, of Estes Construction in Des Moines; secretary Diane Rasmussen of Pigott in Des Moines; and treasurer John Schmacker of Des Moines
Also in December, the IAF announced its 2022 Volunteer of the Year and Firm of the Year award recipients.
Lauren Stokes, Assoc. AIA, of RDG Planning & Design  in Des Moines, received New Volunteer of the Year. A recent graduate of Iowa State University, Ms. Stokes assisted with IAF's walking tours and served on multiple committees, in addition to donating graphic design services over the past year. She will begin a term as board trustee in 2023.
"We could not be prouder of her for being named IAF's Volunteer of the Year; that is fantastic," said RDG principal Jack Patton, AIA, LEED AP. "She will undoubtedly excel in her service as a member of the IAF Board of Trustees."
Tom Wollan, AIA, of FRK Architecture + Design in Des Moines, received the 2022 Volunteer of the Year award for his service to the foundation over nearly two decades. Mr. Wollan, Principal Architect at FRK, has during that time led countless walking tours for students and adults, served as committee chair and board trustee, taught adult classes on various topics, and helped train other volunteer guides.
IAF's Firm of the Year award went to Neumann Monson Architects. The firm earned the award for its outstanding volunteer representation across nearly every 2022 IAF program, board trustee service from its two offices, consistent financial support in the form of annual sponsorships, and shared commitment to IAF's educational mission.