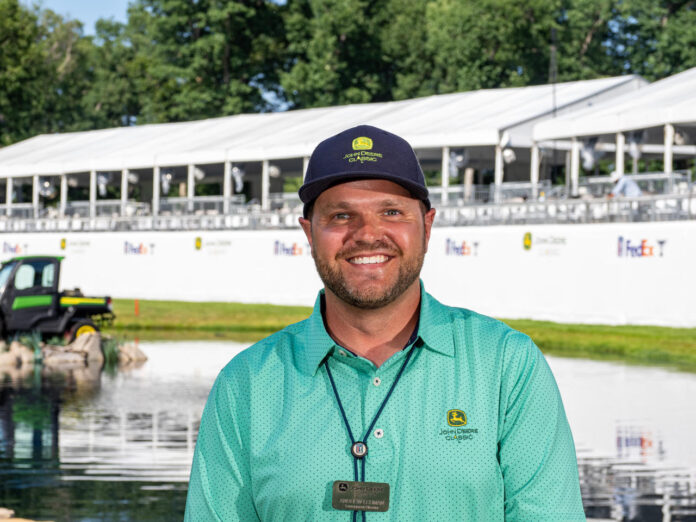 Andrew Lehman is the tournament director of the John Deere Classic, the annual professional golf tournament on the PGA Tour that takes place in the Quad Cities. 
Andrew shares the inside look at his internship with the tournament and how he was in the right place at the right time, what it's like to have an engaged sponsor like John Deere, and we take an inside look at the operations of the nonprofit that runs the tournament. Andrew also discusses some of the ins and outs of the new partnership between PGA and LIV Golf. Andrew gives us an inside look at the new concert series they're launching this year featuring Darius Rucker and Blake Shelton and shares some of his favorite golf memories with us.
Sponsored by MidWestOne Bank, this is the latest edition of the CBJ's new podcast feature with Nate Kaeding and notable Iowa business and cultural leaders, available first to CBJ members. Listen to this episode below, and subscribe on Spotify, iTunes, Google Play, Stitcher.
NATE KAEDING: So, do you have any first year jitters or fears as the new tournament director of the John Deere Classic?
Andrew Lehman: No, not at all. We're so blessed that we've got a great team here and folks who've been in the tournament office for a number of years now. I'm not new to the event by any means. It certainly is my first time putting on the event and changing some things with Caitlin Clark coming and our concert series on the weekend, but the lifeblood of any PGA Tour event is our volunteers, and we're blessed to have great board members and great committee members along with a great legion of volunteers.
Tell us your story and how you got connected with the John Deere Classic.
I grew up in western Iowa in Carroll. I went to Iowa State. Don't hold it against me. I fly my diploma proudly in my office surrounded by Hawkeye gear. I got a degree in sports management and interned with the tournament in 2006. 
You know, if my sports management program had 200 people in it, I don't know if there are even 20 working in sports anymore. I think it's a really hard industry to break into. But I did my internship with the tournament and fell in love with the actual business side of the game of golf. I think I was just kind of in the right place at the right time. They had re-tooled a position for me to join the staff, and I worked my way up through the ranks. I think I was assistant tournament director for Clair Peterson, our newly retired tournament director, for nine or 10 years.
I tell this to people all the time: For anybody who wants to work in the sports world — when the door creaks open just a little bit, kick, because you never know when that door is going to fully open for you.
What are some of the challenges that come along with leading the John Deere Classic?
You know, we laugh about it a lot, and we compare golf events to an NFL game or an NBA game. Those industries are blessed with permanent arenas and an infrastructure that's there daily with temperature control for a lot of it. For us, it's a different city that's built every year on the golf course. We're always looking at expanding. "How can we make things fresh with new ideas and expand our hospitality options?" 
But honestly, the biggest hurdle for any event like ours is weather. When you have weather delays and you've got people across 200 acres out here, you want to keep your spectators safe. How do you get them out of here? If you look at the long list of operational challenges like restrooms, busing, and concessions, how do you determine what you're going to do? Then if you look at some of the changes that we're doing this year on the weekend, specifically with concerts, that's a whole new ballgame.
Can you share a bit with us about your organization's structure and the business side of the John Deere Classic?
Every PGA tour event is a three-party agreement between the PGA Tour and the title sponsor, and we're blessed to have what I would call the best title sponsor on the PGA Tour in John Deere. They're very engaged and just signed a three-year extension that takes us through 2026.
Our legal business name is the Quad Cities Golf Classic Charitable Foundation, and we are a 501(c)3 nonprofit. So we take the event and we put it on, and we try to match what our mission statement is to our title sponsor. We're so fortunate that John Deere is so philanthropic and community driven. Then you take the PGA Tour's goals and you try to support what that looks like. I think one of the great things about the PGA Tour and events like ours is that it moves from city to city each week. You're getting a different flavor and a different local experience week in and week out.
We sell tickets and we sell sponsorships, and then obviously you've got all your expenses and there's no shortage of expenses to put on an event like this. So all of those factors go in. How much are you going to charge for tickets? How many
restrooms are we doing? What's the catering commission? How many buses and parking lots are we going to rent? 
Then, if the tournament can be profitable for that year, it allows us to put some sort of money back into our own product to invest in spectator enhancements for the following year. Then we put money into our reserve fund, and everything that's left over we put into our charity. So the way our Birdies for Charity program works is that 100% of the money that is solicited and collected for these nonprofits goes back to them. John Deere underwrites the Birdies for Charity program to allow us to do that and offset all the admin costs for it. Last year, our charitable donation was $13.9 million.
From there, you know, you're trying to make as big of an impact as you can. The hard part is that when all that money goes out the door, that cycle starts over again. So we're basically starting from scratch each year.
What is the average annual budget for a PGA Tour event like the John Deere Classic?
That's a good question. I know what ours is. If you compared the John Deere Classic to the Waste Management Open in Phoenix, that's a different beast. So it's relative, right? We are blessed that we have so many volunteer groups that come out and support us, where a lot of events are having to pay for that. If you start adding those costs into our budget and looking at it that way, things aren't looking as good as they are. So from a budget standpoint, I would say we're probably on the smaller side. But we're also very lean. As a small nonprofit, you're talking about a $20 million venture. 
What stands out for you in your years with the John Deere Classic as landmark moments? 
I think you, as a former professional athlete, would know this, right? People get enamored with athletes or celebrities, and y'all are just everyday people who happen to be really good at something. Golfers are no different. So I think when we have our big player party during the week and they come out in backwards hats and untucked shirts, you get a glimpse into the fact that they're just everyday people. So, you know, those of us that are close to it, we're not enamored with the celebrity star status from moments that stick out. They all kind of blur together. 
You have Steve Stricker winning in 2009, 2010 and 2011. Then you have Zach's run. He's always played great here, but he won in 2012, which for him was such a big deal and for us as well. Then you have [Jordan] Spieth come in as a 19-year-old kid and make that bunker shot in 2013, and then to have him come back and he goes on to win in 2015.
But honestly, the reason we all get up in the morning and come to work is our charity mission, and to be able to affect that many charities, especially going through the pandemic a number of years ago and the impact that it had on our nonprofits in such a time of need.
Do you have any stories of non weather-related hurdles you've had to overcome?
In 2008, we started the charter to the Open
Championship and had the plane taking guys over the pond, which we brought back this year. We're taking guys over to the Scottish Open. On Friday of tournament week, so literally less than 36 hours from departure, we lost the plane. The plane was off of its charter certificate and no longer could fly in. We actually ended up with two planes in that scramble of that 24 hours to deliver on the promise that you had made to players who came to your event knowing that they were going over to the Open on that plane. That was probably the biggest hurdle for sure.
Let's talk a bit about the concert series you are launching this year. How did that come to be?
For us in the event business, especially in a one-week event where you are fighting for market share every day, it's about growing and putting on the best spectator experience you can. Although it's new on the 18th green, where we're doing the concerts, music isn't new to the John Deere Classic. Before my time, they used to do concerts down here behind our office in an open field.
For us to be able to pack the golf course on the weekend when you're on network television, on CBS Sports and the world is watching. I think to be able to unite golf fans and non-golf fans through a charitable mission is something cool that we should all be very proud of.
I love that intersection of those different worlds and that you guys were pulling in these very popular musicians in Darius Rucker and Blake Shelton. 
It's great to be able to bring non-golf fans to a golf tournament to see the entertainment but, by the way, we just introduced you to world-class athletes at a world-class event. Actually, the stage comes in tomorrow (June 21) on a big semi-truck, so pray for no rain today or tomorrow morning! It'll be at the end of our hospitality row playing across the fairway into the amphitheater. We think we've got viewing for between 5,000 and 7,000 people with a direct sight line of the stage. 
The phone hasn't stopped ringing. It has been the greatest three days of ticket sales. Think about this, Nate: You get to go to the tournament on a Sunday or a Saturday or whatever day you choose to go, but you can go for as low as $40 and you're going to get to see Darius Rucker, a Grammy award winner. It's shocking to me that Blake Sheldon isn't quite as popular. So it's the best deal in town for sure.
What can you share about how that deal came together?
We've done concerts offsite. The last one we did was in 2019. We had Dustin Lynch, but they've always been offsite. John Deere's CEO saw Waste Management and said, "Well, that's pretty cool. Right?" So the conversation started, but the conversations really started picking up six weeks ago. We'll put our best foot forward, and hopefully we're experts for 2024, but I don't see this going away. I see it as a mainstay. It has drawn so much interest. 
Again, we are about growing the game and how we do that. The Caitlin Clark thing on Wednesday is going to accomplish that, and it's not just young girls. They're young boys. They're your grandma and grandpa. I mean, I think back to that national championship game and I'm getting texts from family members who I know that don't even watch sports. They're like, "This is awesome." That team just captured the hearts of America.
She's playing in the Pro-Am on Wednesday, right? With Zach Johnson?
Yep. She'll play with Zach Johnson. I did a podcast with Zach, and he's like, "Well, I guess I don't need my Sharpie that day. No one's going to want my autograph." But he's super excited about it.
Is this your dream job? A job you would like to be in forever?
It is. After I realized that baseball was out and one-week events were enough, it became my dream job 17 years ago. 
How do you measure your success? Is it charitable impact or continuing the legacy of the John Deere Classic?
Sure, along with never taking this for granted, right? There are bigger cities and bigger markets who would love to take this week and host their own events. So, from a player standpoint, I'm improving the product. The golf course gets better every year. It's great. I mean, it's only been here for 25 years and it feels like it's been here for a hundred. So yeah, it's just never taking our opportunity to put this event on for granted.