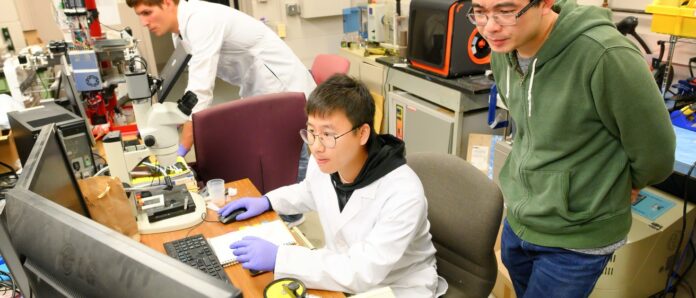 NASA has selected UI professor Xuan Song's research proposal as one of four Iowa projects to receive EPSCoR funding to facilitate deep space research.
Mr. Song will work with scientists at NASA's Marshall Space Flight Center to develop 3D printing approaches to fabricate complex ceramic components with high strength and extreme heat resistance.
"Our research can help enable novel design and manufacturing of NASA's next-generation nuclear propulsion systems, which can allow faster and more efficient exploration of deep space in the future," said Mr. Song, who directs the Additive Manufacturing Product Realization Laboratory and is a faculty affiliate with the Iowa Technology Institute, in a statement.
The NASA funding amounts to $100,000 over one year.
In May, he was among 22 recipients of the 2022 Sandra L. Bouckley Outstanding Young Manufacturing Engineers from the Society of Manufacturing Engineers (SME) for his work in 3D printing innovations.
The funding is through a collaborative effort between the Iowa Experimental Program to Stimulate Competitive Research (ESPSCoR) and NASA mission Directorate Programs. EPSCoR is a federal-state partnership "aimed at increasing Iowa's national research competitiveness and building research and development capacity in Iowa," according to the press release.
The U.S. National Science Foundation's EPSCoR program has supported more than 6,800 faculty and 309,000 K-12 students in the past five years, their website states.