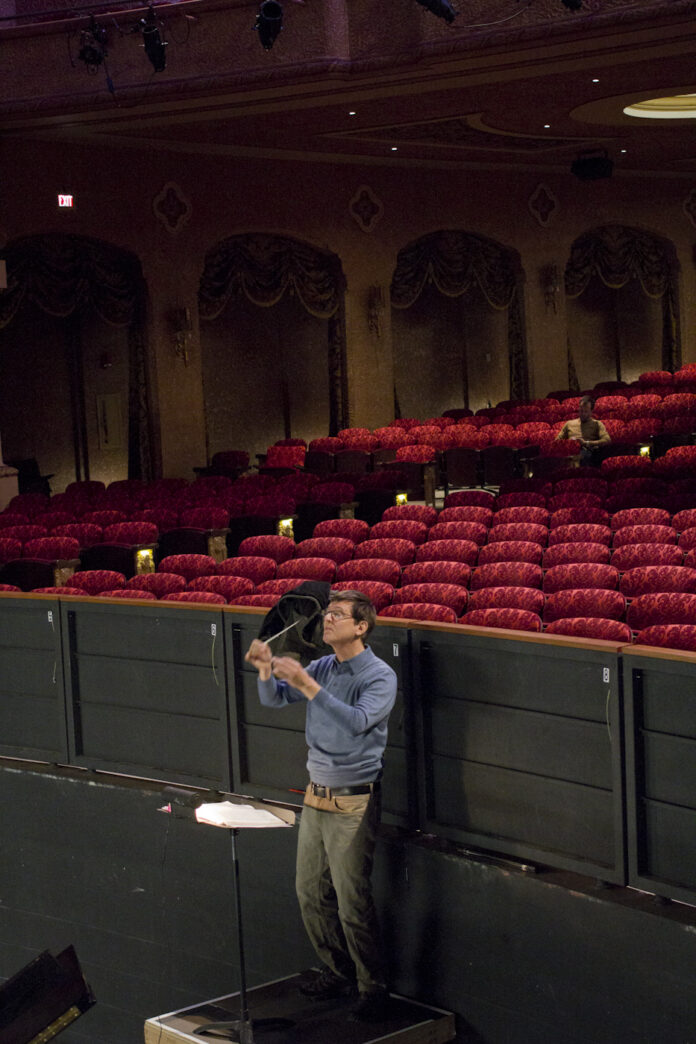 By Sarah Binder
Daniel Kleinknecht knew he was onto something after the very first show.
In its first season, the Cedar Rapids Opera Theatre produced three one-act operas by living composers. During the first of these, the main character commits suicide by walking into the ocean, nude.
"It was really high art. I think people really responded to those modern themes in a modern setting," Mr. Kleinknecht said.
The reaction to the performance let him know that there is an audience for professional opera in Eastern Iowa.
"The community reaction was amazing," he said. "People are excited by things that are uncommon and out of their experience."
Fast-forward to today, and the Cedar Rapids Opera Theatre is celebrating its 15th anniversary season, preparing to put on a major new show, "La Boheme," and exposing thousands of young Iowans to the fine arts.
"Iowa really is an incredible place," the founder and conductor said. "You can have a well thought-out idea, and people will support you."
Timeless stories, 21st century challenges
Virginia Michalicek, the development director and only full-time employee of the Cedar Rapids Opera Theatre, said that although she is not an artist, she has had a love of opera for years.
"Opera is anything but stuffy, the stories are timeless," she said.
However, as development director, Ms. Michalicek knows the challenges facing fine arts organizations in the 21st century. With no property and limited staff, it's not easy to
put on a show with a $160,000 production value, such as "La Boheme."
"It kind of combines all the elements of performing arts in one," she said.
The opera has established two funds with the Greater Cedar Rapids Community Foundation and Ms. Michalicek said the company has experienced generous support from corporate and individual patrons. However, they try to make roughly a third of their revenue from ticket sales and Mr. Kleinknecht said a difficult trend is people waiting to purchase tickets later and later.
To further its mission, the Opera Theatre has collaborated with nearly every arts organization in the area, he said. It had a long-term partnership with Theatre Cedar Rapids before the flood and performed at many universities and venues throughout the region. "La Boheme" will be its first performance in the newly-restored Paramount Theatre. Cedar Rapids Opera Theatre regularly
works with Iowa Public Radio and produced two opera films through the now-defunct Iowa Film Commission.
Collaboration also works in smaller ways. When national artists come to town, they stay with families in the community.
"They've been very generous with their bedrooms, and their refrigerators and their time," said Ms. Michalicek of the supporters who offer homestays.
Helping young artists
Also a professor at Mount Mercy University, Mr. Kleinknecht is sensitive to presenting students with opportunities. Since 2002, the young artist's program has given undergraduate and graduate vocal performance students the opportunity to take part in a professional opera.
Some graduates of the young artists program have gone on to international opera careers.
"They get a template for their lives and that gives them a possibility to dream beyond what they know here in Iowa," Mr. Kleinknecht said.
He recalled a former mentor who had given him a similar opportunity, the chance to conduct part of "Madame Butterfly."
"It was kind of what I imagine it would be like to drive an airplane or a big truck," he said.
Participants in the young artist's program also get to perform in an educational opera each year. This year's production, "Frankenboy: a Monsteropera" will be shown to more than 12,000 students in the greater Cedar Rapids area through a partnership with the Cedar Rapids Community School District.
"Frankenboy" is an original work commissioned by the Cedar Rapids Opera Theatre, composed and directed by Robert Lindsey-Nassif. It is the story of a tormented young student who eventually earns the acceptance of his bullies.
"It has a harmonic language that automatically plays to children's ears, but doesn't play down to them," Mr. Kleinknecht said. "His writing really allows you to relate to these characters."
In addition to the teachable moments in the opera, Mr. Kleinknecht said it's a valuable opportunity to expose so many young people to the arts.
"It's getting accustomed to hearing these larger-than-life voices, and getting to think of music as more than Top 40," he said.
Reflecting on 15 years
Looking back over 15 years of performances, Mr. Kleinknecht reflected on a few highlights. In 2000, the Opera Theatre commissioned their first original work, a comic opera titled "Too Many Sopranos."
While Mr. Kleinknecht said the local reaction wasn't overwhelming, the opera has had a 12-year life since then; he conducted the New York premiere four years ago. In 2002, a production of "Hansel and Gretel" brought 50 kids on stage and their parents to the audience, helping the young company gain exposure. A representative from the National Endowment of the Arts was present for a production of "Otello" later that season; several consecutive grants followed.
Then came the flood.
"Aida" was scheduled to open at Theatre Cedar Rapids just a week after the floods of 2008. Mr. Kleinknecht recalled being escorted downtown by the National Guard for 15 frenzied minutes of salvaging whatever parts of their set they could.
They went on with the show. In hindsight, Mr. Kleinknecht said it was the obvious right thing to do, but in those dangerous days there was a lot more uncertainty.
"It was important to set an example for the community, that because of 'the slings and arrows of outrageous fortune' — that's what Shakespeare said – you can't stop," he said. "I think everyone in the audience really appreciated that we did that."
Ms. Michalicek credited Mr. Kleinknecht's passion for the art form with advancing the Cedar Rapids Opera Theatre.
"He has a very gentle, inclusive way of working with people, and is very brilliant at what he can draw out of a performance," she said.
However, looking back, the conductor recalled 15 years worth of dedicated volunteers.
"Just to see how people blossom when they're given the opportunity to serve an art form — it really warmed my heart," he said.