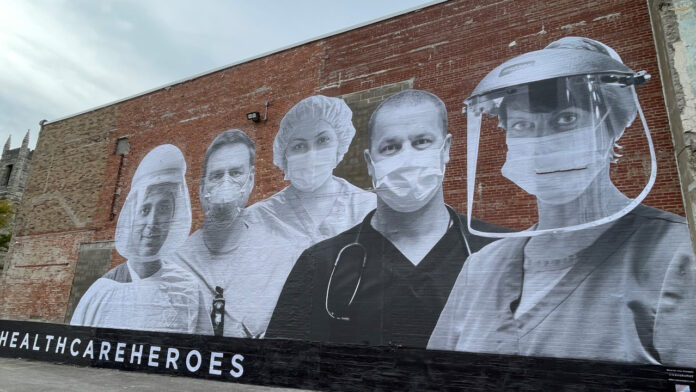 A two-story-high mural featuring images of local health care workers was unveiled Monday in downtown Cedar Rapids, serving as a thank you for their efforts during the COVID-19 pandemic.
"We are incredibly grateful to all the local health care workers on the front lines during this pandemic," said Jesse Thoeming, executive director of the Cedar Rapids Downtown District, in a release. "For the past 20 months, these folks have been fighting an invisible and deadly enemy, sometimes with limited weaponry. To all in local health care, we say 'thank you.'"
The mural is on the back side of the former Gazette building, near Fifth Street and Third Avenue SE in Cedar Rapids. It faces the medical district, known as the MedQ, as a tribute to all those working in health care.
The mural features images of five local health care employees, including Dr. Hassan Sajjad, a pulmonologist and critical care physician with Mercy Pulmonology Clinic.
"Covid has been challenging for all of us," Dr. Sajjad said. "We appreciate the gesture from the community to show its appreciation to all the health care workers."
"We know what we do, and we know how we do it, but it's times like this that we learn our why, and that is to serve our community, our family and friends. That's why we do it," said Dr. Dustin Arnold, St. Luke's Chief Medical Officer at UnityPoint Health in Cedar Rapids, who also spoke at the unveiling and thanked the community for the mural recognition.
The mural was created by artist Isaac Campbell using a unique application technique called wheat pasting. The mural is designed to be temporary and will likely last six months to a year. On View Gallery, the Downtown District, and volunteers helped install the mural.
The mural is part of Downtown CR's vision and strategic plan to add more vibrancy to the downtown district with modernized and high-tech lighting, as well as more public and street art in the form of murals, collages, sculptures and other artwork.
"While this mural certainly follows the vision for downtown, it has special meaning," Mr. Thoeming said. "It's in response to a shared experience that we all have lived through, and we lived through it thanks to those in our health care community. We're lucky to have such dedicated professionals here in our city."