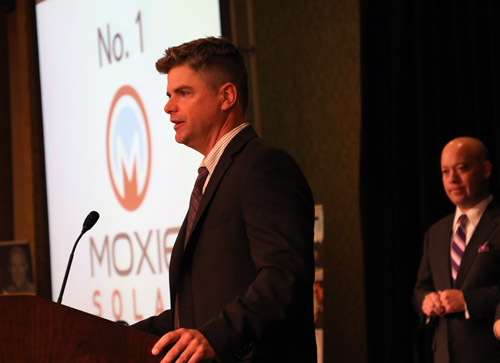 Moxie Solar Owner and President Jason Hall speaks to attendees of the CBJ's Fastest Growing Companies awards breakfast, held May 17 at the Cedar Rapids Marriott.
By Chase Castle
chase@corridorbusiness.com
When Jason Hall started to grow weary of banking, he looked to the outdoors for inspiration to enrich his life and possibly his career. Nearly a decade later, the ensuing venture that's become Moxie Solar has grown beyond his wildest expectations.
The North Liberty-based installer of solar energy systems now has about 25 employees, many of whom were the focus of an acceptance speech Mr. Hall gave May 17 at the CBJ's Fastest Growing Companies awards breakfast, where Moxie Solar took the title of the Corridor's Fastest Growing Company for 2016.
A total of 25 companies were honored at the event, with rankings based on confidential tax information submitted by the companies to accounting firm Honkamp Krueger & Co.
Moxie Solar recorded a year-over-year revenue increase of nearly 110 percent in 2015, and saw its revenues grow by a whopping 536 percent from 2013-2015.
"The Corridor's Fastest Growing list has been a goal of mine for years, but to be on the top of the list is more than I ever could have expected," Mr. Hall told event attendees at the Cedar Rapids Marriott. "Everything I've done prior to starting Moxie Solar was with an existing business I stepped into after it was already a successful operation. Moxie Solar is different to me, in that we didn't take over from somebody else. Our team fought and struggled to create a company and a market – literally – that didn't exist previously."
Prior to pursuing renewable energy, Mr. Hall earned a bachelor's degree in finance from the University of Northern Iowa. He later gained first-hand knowledge about business finance as a commercial credit analyst, a mid-market lender, and as a correspondent banker for Firstar, which later acquired U.S. Bank and assumed its name.
Mr. Hall eventually left Firstar to lead the founding of a First American Bank branch in Iowa City, and later worked as president of Family Merchants Bank in Cedar Rapids. From 2009-2012, he was the CEO for TMone, a business process outsourcing company that has since rebranded as Mass Markets, and which ranked No. 3 on this year's Fastest list.
Despite a successful banking career – which included being the youngest bank president in Iowa when he assumed the role of market president with First American – Mr. Hall eventually grew tired of office life. His father was a banker and also an avid outdoorsmen – a pastime Jason Hall said he became increasingly envious of as his own career advanced.
"I tended to be one-sided, where I was only a business guy, and was kind of locked into four walls and a laptop for the vast majority of my week," he said. "So I really started looking around to say, 'Do I want my next 15 years to look like my past 15 years?'"
In 2008, Mr. Hall "bit the bullet" by founding Moxie's predecessor, Greenhall Industries. In the company's first four years, it primarily did efficiency audits, helped businesses improve their energy efficiency through things like lighting and sealing upgrades, and helped facilitate rebates for customer from their utility providers.
In 2012, Greenhall hit a pivotal point in its development. State lawmakers approved a solar income tax credit that year that would supplement an existing federal program. With federal tax credits in place to cover up to 30 percent of solar project costs, and the state offering to match more than half of the federal credits, Mr. Hall and his colleagues saw a clear opportunity.
"At that point, we extinguished the old website and we focused on solar," Mr. Hall recalled.
The company's staff now spends a significant amount of time talking to customers about the potential of not only reducing, but eliminating, their electric bill. To do that, Moxie Solar reviews customers' 12-month history to determine how much they pay per kilowatt-hour, which helps calculate the potential payback before examining possible systems.
"Because if it doesn't make financial sense for the customer, then it doesn't matter what materials we use," Mr. Hall said.
In fact, given how unfamiliar most clients are with solar energy systems, Mr. Hall said the vast majority of the company's time is spent educating clients about solar energy, opposed to relatively little time persuading potential customers to hire with Moxie.
The company already has several notable projects to its portfolio, including a solar array connected to Johnson County's multi-million dollar Secondary Roads Facility, which opened last year on Melrose Avenue in Iowa City. Other clients include Iowa Book in Iowa City and the Mason City Public Library.
Despite the company's remarkable fiscal performance, only a fraction of Moxie's potential clients ever develop into paying customers. Of those that do end up doing business with Moxie, about 80 percent are based in the Corridor.