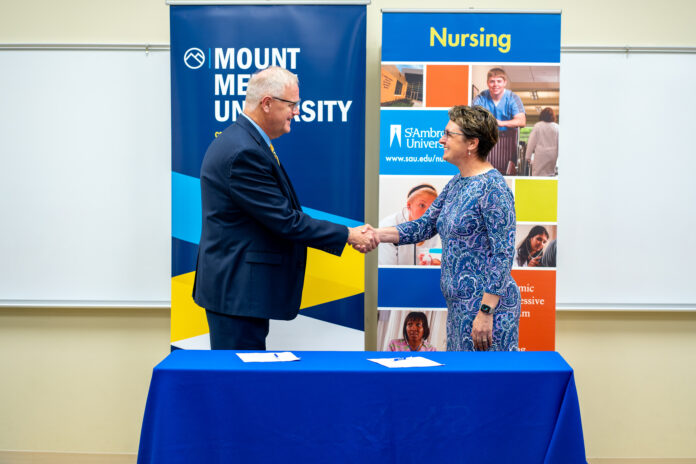 Davenport's St. Ambrose University (SAU) and Cedar Rapids's Mount Mercy University signed an articulation agreement June 28 to expand access to higher education learning pathways for students pursuing advanced degrees in the field of nursing.
According to a news release, the partnership grants eligible students pursuing an undergraduate degree in nursing at SAU preferential admittance when applying for the Master of Science in Nursing (MSN) degree at Mount Mercy University, with a total of 10 cohort spots reserved for SAU graduates each year. Students may also take advantage of the opportunity to participate in up to 3 courses towards the MSN degree at Mount Mercy University during their final semester at SAU, accelerating their career advancement in the field. Both traditional and online students may qualify.
"With a shared focus on community-based and person-centered care, we are eager to partner with Mount Mercy to eliminate barriers for both our students and for those who will ultimately be in their care," said Dr. Lynn Kilburg, SAU dean of the College of Health and Human Services, in the release. "By creating a more streamlined track to earning an advanced degree in nursing, we can collectively begin closing critical gaps and meeting demands in practitioner staffing across the country."
The signing took place in the SAU Center for Health Sciences, which now stands on the same land where Mercy Hospital once stood – a hospital founded by the Sisters of Mercy who later went on to found Mount Mercy University. Fondly remembered in history books as the "Mercy Nursies", St. Ambrose University trained its first cohort of nursing students in partnership with Mercy Hospital as far back as 1951. At that time, the program was the first of its kind in the state of Iowa.
"This collaboration goes beyond a shared vision for the future of nursing," said Dr. Kim Bro, dean of the Martin-Herold College of Nursing & Health at Mount Mercy University, in the release. "Our institutions have been aligned in mission since our respective founding, so it's a natural partnership anchored in tradition and innovation that will continue to transform healthcare, particularly in underserved areas."
St. Ambrose University opened the Nano Nagle Online School of Nursing at St. Ambrose University earlier this year as an extension of its well-established nursing program. The flexible, online LPN-BSN and RN-BSN programs increase access to industry-recognized certifications and credentials, strengthen partnerships with regional healthcare systems and allow working professionals, especially in remote, rural areas, to learn while they earn. The online school name pays homage to Venerable Honora "Nano" Nagle, a pioneer of Roman Catholic education in Ireland. Adding another layer of connection between the schools, Nano Nagle trained Catherine McAuley who would later found the Sisters of Mercy.
Mount Mercy University's MSN program offers three areas of emphasis, including Health Advocacy, Nurse Administration, and Nurse Education. Building on over 90 years of educational excellence, the flexible program combines applied learning and hands-on clinical simulation experience to prepare the next generation of nursing leaders. Mount Mercy University also offers a Doctor of Nursing Practice (DNP), which can be earned in as little as 12-24 months.