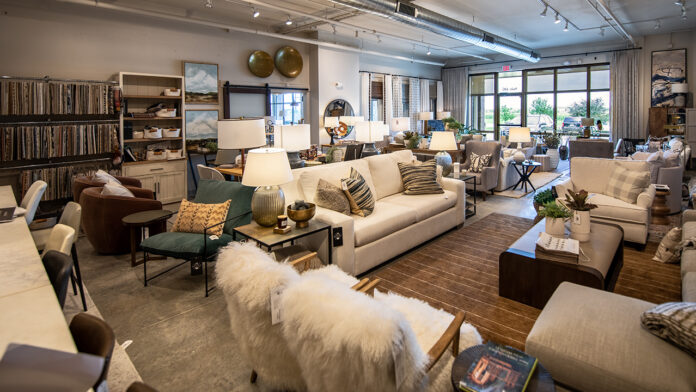 When Emily Hughes thinks about the inspiration for the business she and her husband, Scott Marks, opened nearly three years ago, she thinks of old-school bookstores—"places where you'd just want to linger and look around and have a strong sense of community."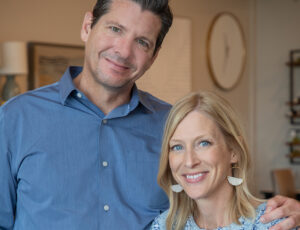 Emily and Scott met shortly after she moved to North Liberty in 2012 to be closer to family—Emily is from northeast Iowa. The couple then collaborated to make their dream of owning their own business a reality. 
Emily is an interior designer and Scott's background is in retail management.
"We always wanted to try doing our own thing," she says. "I also wanted a place that offers a range of things so if people aren't shopping to buy furniture, they could leave with a smaller item."  
The couple envisioned a lifestyle and home furnishings store, with a mix of unique books, local art, lamps, area rugs, window treatments, and new and vintage accessories and gift items alongside furniture. Emily then uses her design background to style the displays in a way that offers inspiration for how you might group the furniture and accessories in your own home.
Mix Home Mercantile, 565 Cameron Way in North Liberty, prides itself on being a friendly and welcoming version of just that.
The path to today — expanding twice within the same building and establishing a business with 10 employees — was not smooth, as Emily and Scott first had to navigate the COVID-19 pandemic. Just a few months after opening, they had to close the store due to public health precautions. 
"It was very frightening at first, but I do think it ended up being a blessing for us because everyone got so much more focused on their homes," Emily said. "That became more of a priority for people and our business grew quickly.
"When people could first go out and about again, it felt like we were having more people discovering us and really wanting to be in the shop. Now as people are getting more engrossed in their regular routines, they're not coming into the store as much but are doing more design consultation."
Those consultations usually begin at a client's home, where the designer can see the space, the size of the room, windows, doors and other features they might be working with or around. Emily also asks clients to save images of rooms, furniture or accessories that they like so designers can incorporate the inspiration into the new look. 
"In the last few years, more people have taken a genuine interest in their homes and prioritizing their home environment over focusing so much on work," she said. "I've always thought that's important, but it's been a pleasant surprise to have the general public more interested in it."
As the store enters its busy season, Emily encourages people to stop in and say hello and check out what makes it unique. 
"I hope people will feel how welcome they are to come in and ask questions about their own space," Emily said. "Bring pictures and ask us. Or use our displays to get great ideas on how to accessorize or place furniture in a room. We strive to be really friendly and get to know the community."