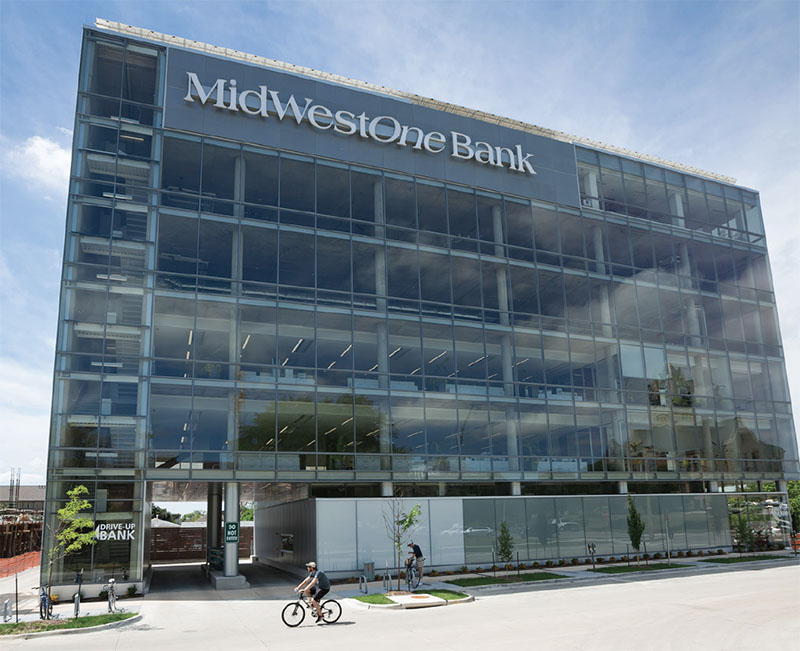 MidWestOne Financial Group reported net income for the second quarter of 2021 of $17.3 million, or $1.08 per diluted common share, compared to net income of $21.6 million, or $1.35 per diluted common share, for the linked quarter.
"This was another solid quarter for our company with good core loan growth, improved asset quality, and a nice build in our tangible book value," MidWestOne CEO Charles Funk stated in a release. "Despite the continuation of very low credit line usage, our commercial bankers were able to produce a quarter of respectable core loan growth although potential headwinds remain."
Noninterest income for the second quarter of 2021 decreased $1.6 million, or 14%, from the linked quarter. The decrease was primarily due to a $1.6 million decrease in loan revenue, coupled with a decrease of $0.4 million in other noninterest income. The decline in loan revenue included a $0.6 million reduction in mortgage origination fees from lower gain on sale margins as well as a $0.6 million decrease stemming from the fair value of our mortgage servicing rights. These decreases were partially offset by a $0.4 million increase in card revenue, which was primarily due to increased transaction volumes.
"The low interest rate environment continues to pressure commercial bank margins, and we are not immune. Our noninterest income results reflect a decrease in mortgage gain on sale margins; however, we continue to be running at an 'above normal' rate of mortgage originations," Mr. Funk said. "Our wealth management group continues to produce good results as well."
Effective March 31, 2020, the company elected the five-year phase-in option allowed under the interim final rule (IFR) issued by the federal banking regulatory agencies that delays the estimated impact on regulatory capital stemming from the implementation of the current expected credit losses (CECL) accounting standard. The IFR allows the add back of 100% of the capital effect from the day one CECL transition adjustment and 25% of the capital effect from subsequent increases in the allowance for credit losses through the two-year period ending Dec. 31, 2021. This cumulative amount will then be reduced from capital over the subsequent three-year period.
"With respect to capital, we believe our stock currently represents a compelling value, and we are selectively repurchasing our stock at opportune moments," Mr. Funk said. "We returned $4.7 million of capital to shareholders during the second quarter of 2021, including $1.1 million from such stock repurchases."