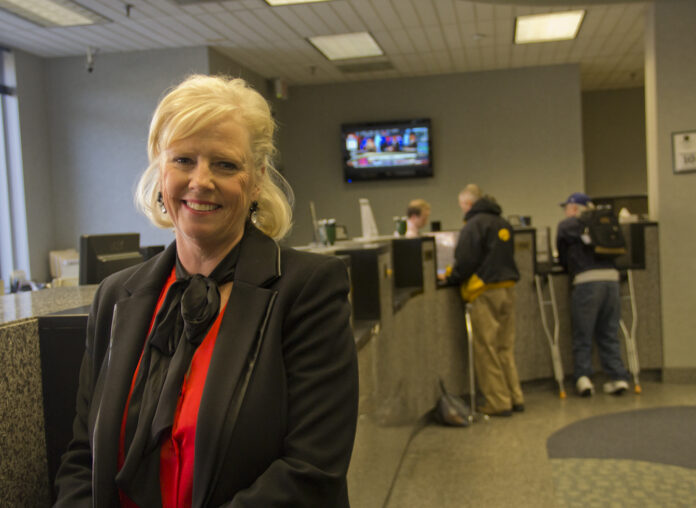 By Pat Shaver
IOWA CITY–Sue Evans started as a bank teller in Ames 36 years ago.
Now, she's the chief operating officer for MidWestOne Bank. Ms. Evans was recently named one of the 25 Most Powerful Women to Watch nationally in the banking industry by American Banker magazine.
"I started in banking to have a job to help put my husband through college," she said.
Ms. Evans attended Iowa State University for interior design but never earned an undergraduate degree. In 2005, though, she graduated from the Graduate School of Banking at Colorado.
Ms. Evans said that although she never received an undergraduate degree, her 36- year long career in banking helped lead her to an executive position at MidWestOne.
"I kept learning different jobs at the bank and it served me very well," she said. "I think it proves that you have to stay focused in your career. I was at the point in my life where I had two small children. It was hard to go back to school," Ms. Evans said. "I think learning on the job has paid dividends."
Charles Funk, president and CEO of MidWestOne Bank, nominated Ms. Evans for the American Banker magazine honor. "For years I've seen this list, it's a Who's Who of the largest banks in America. I've always thought we need more Midwestern people," Mr. Funk said. "I've always believed you should promote and endorse your employees."
To Ms. Evans, the Women to Watch in banking list "recognizes women in their banking careers where there's another step for them."
"The (MidWestOne) CEO saw somebody in community banking who plays just as important role as bigger bankers," she said. "He felt strongly that somebody who has done a lot of work in community banking should be just as recognized in this group."
Mr. Funk said one of Ms. Evans' most significant contributions to the bank is improving the culture among employees.
"There are many things I'm happy about since the merger, one of the things I'm happiest about is the culture we have in the company and there's no one more responsible than Sue Evans for the outstanding culture we have," Mr. Funk said.
For example, the company hosts a Rally Day on Columbus Day every year, where all 400 employees get together to celebrate their work and get inspired. Mid- WestOne also has a leadership institute that 12 employees go through each year. The employees meet monthly for nine months and complete a project paper and presentation. It costs the company $6,000 for each employee to go through the leadership institute.
"At the end of the day it's great for Sue Evans but it's also great for MidWestOne to have one of our senior executives so honored," Mr. Funk said.
Heather Landy, editor in chief of American Banker magazine, said the publication goes through a thorough selection process. They look at the scope and size of the woman's responsibilities; the innovation she brings to her work; influence within their company; and their influence outside their company, within the community.
"With Sue specifically, we thought she's been doing interesting things worth watching, (and) it appears she'll likely be the next CEO of MidWestOne," Ms. Landy added.
"The rankings are dominated by women in larger institutions but we have long believed there are good examples of leadership, and innovative work being done at smaller institutions," Ms. Landy said.
As chief operating officer, Ms. Evans led efforts to instill a customer relationship management system across the company. She's also worked to set company strategy, knock down product silos and has developed new lines of business including trust, investments and insurance. She has played a key role in leading the bank to its strongest quarter in MidWestOne's 78-year history.
Despite the financial success of the bank, Ms. Evans said they are not without challenges.
"We are an overregulated industry. A community bank's challenge today is how to comply with the regulations while making it transparent to the customer," Ms. Evans said.
Ms. Evans mentioned the Dodd-Frank Wall Street Act, which was put into place in 2010 in response to corporate fraud and missteps by the financial and banking industries, among others, which led to the recession.
The act has required banks to file additional paperwork, and follow more specific rules and regulations. A common criticism of the Dodd-Frank Act is it unnecessarily uses the same regulations for large, corporate banks as it does for smaller, community banks. The added regulations add loads of paperwork and costs for banks.
"The regulations require us to do more. We don't want it to flow through to the customer. We strive to break it down and make it as simple as possible," she said.
"One of my goals is to be considered a great place to work and to work toward being considered through financial performance to be the best bank in Iowa."
Ms. Evans has been chief operating officer for three years. When Iowa State Bank & Trust Co. merged with MidWestOne in 2008, they were also weathering the tough economy. Ms. Evans said it took a lot of strategic planning for the company to get through the transition of the merge during a recession.
"You have to access people's skill sets and determine where the best fit is for them and for the bank," she said. "We hire and retain excellent employees. We've worked very diligently on that."
MidWestOne has about 400 employees at 26 different offices across the state. Its headquarters are in downtown Iowa City.
Ms. Evans, who grew up on a farm in Winfield, was one of the Corridor Business
Journal's Women of Influence in 2011. She joined MidWestOne's predecessor Iowa State Bank & Trust Co. in 2001. Before that, she served as Indianola market president of Brenton Bank, Des Moines and retail market and as a sales manager for U.S. Bank in Des Moines. She chairs the board of trustees at the Graduate School of Banking at Colorado. She was the first female trustee in the school's 62-year history.