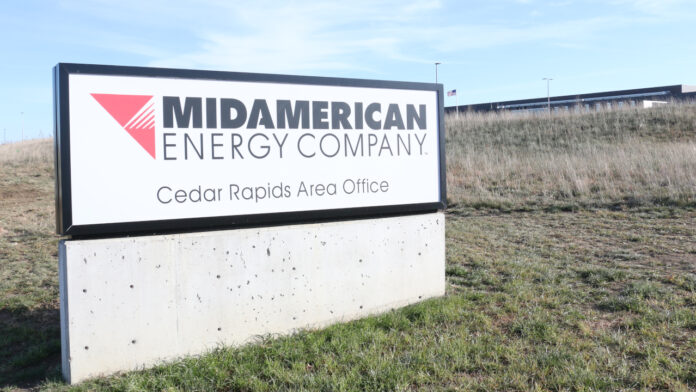 MidAmerican Energy said Thursday it will file a request with the Iowa Utilities Board next week to increase its natural gas delivery rates in Iowa.
If approved, the request would mark MidAmerican's first gas rate increase in the state since 2002.
In a release, MidAmerican officials said the new rate would result in an average 6% increase of monthly gas bills in Iowa, and the average residential customer would see an estimated monthly gas bill increase of less than $5, or $60 per year.
Although natural gas rates would increase under the proposal, natural gas prices have been declining, MidAmerican officials said, and if that trend continues, MidAmerican estimates that customers will see an estimated 30% decrease in their year-over-year bills.
While MidAmerican's rate increase request is pending with the IUB, state law allows the company to implement an interim rate increase, which would result in a 4.5% average increase of total monthly gas bills.
If the Iowa Utilities Board (IUB) approves MidAmerican's requested increase at a lower level than the interim rates, MidAmerican would refund the difference to customers through a bill credit, plus interest.
"At MidAmerican, we understand that inflation has put financial pressures on our customers, which is why we've done our best to control costs and file for this increase at a time when natural gas costs are the lowest they've been in years," MidAmerican vice president of gas delivery Nick Nation said in the release.
The proposed change would affect gas delivery base rates, which are part of the delivery portion of a bill. Delivery base rates include monthly charges and costs associated with providing gas service to customers.
The increase would not affect the supply portion of monthly bills, which reflects the amount of gas MidAmerican buys each month on behalf of a customer and is based on fluctuating market costs without a markup. The market price of natural gas has been declining since last fall, lessening the impact of the delivery rate increase, MidAmerican officials said.
MidAmerican cited several factors in their request, from an increase of 100,000 customers since 2002, necessitating several infrastructure projects and upgrades, to new security standards prompted by growing cybersecurity and physical threats to the gas delivery system.
MidAmerican currently serves 611,000 natural gas customers in Iowa.
The IUB has scheduled public meetings on the proposal across MidAmerican's Iowa service area, including these Eastern Iowa meetings:
Davenport – 6 p.m. Monday, July 31 at the River Center, 136 E. Third St.
Cedar Rapids – 6 p.m. Tuesday, Aug. 1, The Olympic South Side Theater, 1202 Third St. SE, Suite 200
Virtual – 11:30 a.m. to 1:30 p.m., Thursday, Aug. 3
Details about participating online and at the customer comment meetings are available on the IUB's website.
After gathering comments from MidAmerican customers and interested parties, the IUB will make a final determination on the request in May 2024.