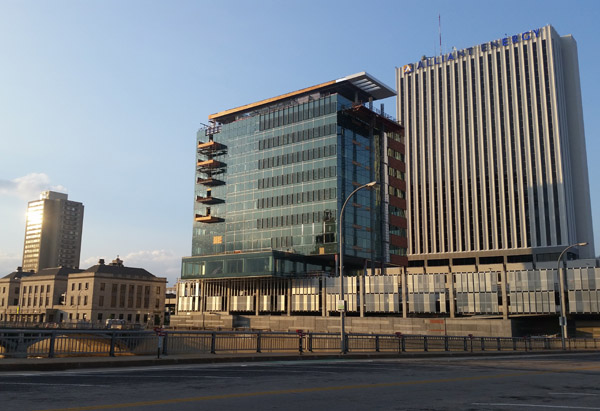 CRST Tower in downtown Cedar Rapids.  PHOTO/ADAM MOORE
With the first half of 2016 behind us, the year, which had been predicted to see a continuation of the slow economic recovery, isn't looking too bad locally. Despite a volatile stock market and the Brexit vote, the Corridor has seen improved home sales, strong retail leasing and a lot of real estate development. We rounded up the biggest stories of the Corridor's first half to get a better sense of how the year is shaping up:

1. Retail leasing strong in CR
It was a strong first half for retail announcements, with Burlington Stores announcing plans for a 40,400-square-foot location and Younkers announcing a multi-year lease extension at Westdale in Cedar Rapids. Other new leases in the Lindale Mall area include Kirkland's, Carter's and OshKosh B'Gosh in a new strip center, and a freestanding Jared: the Galleria of Jewelry. Nearby, Natural Grocers has announced plans for a store at Water Rock Place, next to Rockwell Collins' campus.
2. Active half for Corridor M&A
Market volatility put a damper on mergers and acquisitions through the first half of the year, although Corridor companies didn't seem deterred. Apache Inc. acquired Pacific Belting and Van Meter closed on its purchase of Chicago-based Bright Electrical Supply in January, while insurer TrueNorth Companies in February purchased Meeker-Magner Company, one of the oldest insurance companies in Illinois. Other big deals included Fortis' $18 billion acquisition of Michigan-based ITC Holdings Corp. and ConAgra's sale of North Liberty-based distributor JM Swank to California-based Platinum Equity.
3. Senior living goes big
The senior living announcements flew at a rapid pace in the first half, with big announcements including a 164-bed Grand Living project along Collins Road in Cedar Rapids and a 170-unit Grand Living project near First Avenue and Interstate 80 in Coralville. Other sizable projects that advanced this year included The Views Assisted Living, a 100-plus bed senior living facility in Marion, a 90-unit expansion of Cottage Grove Place in Cedar Rapids, and a 84-unit Stoney Point Meadows project proposed by Sharp Investments LLC and Hart-Frederick Consultants on 16th Avenue SW in Cedar Rapids.
4. Layoffs continue to add up
Lower global demand for products and services pushed several major Corridor companies to cut jobs this year. Kinze Manufacturing, the Williamsburg-based producer of ag implements, announced plans to lay off another 121 employees in April, bringing its total cuts to 357 since last summer. CRST announced 38 layoffs across its seven operating companies in the same month, and in June, educational publisher Pearson cut 47 positions at its facility in Iowa City, bringing its total for the year to at least 166.
5. Startup activity heading higher
More prospective entrepreneurs in the Corridor are taking the leap this year, according to local economic development offices. According to Scott Swenson, director of the SBA's Kirkwood Small Business Development Center, the organization is on track to serve 290 clients this year, up from the average of about 170. Statewide, a record 18,477 new corporations were added in 2015, said Iowa Secretary of State Paul Pate, representing an increase of more than 3,000 from both 2014 and 2013.
6. Banks still buying
Corridor banks continued to expand their footprint through acquisitions in the first half of the year. Muscatine-based Central Bancshares, the parent company of CBI Bank & Trust, in March announced its acquisition of Brimfield Bank of Brimfield, Illinois, while QCR Holdings, the parent of Cedar Rapids Bank & Trust, expanded in May following a $80 million deal to acquire Ankeny-based Community State Bank from Van Dienst Investment Co.
7. Redevelopment reshaping downtown CR
The skyline of downtown Cedar Rapids continues to change as new developments advance. The city is now considering a $103 million, 28-story tower called One Park Place for the half-block site at First Street and Third Avenue SE, while just across the street, the 11-story CRST Tower is almost complete. Also advancing is the former Smulekoff's building on First Street SE, which is adding new tenants including event center Eastbank Venue and Lounge and The Early Bird coffee shop.
8. Coralville secures IRL arena funding
Coralville leaders in June secured a $12 million state grant for its proposed Iowa Arena project, clearing the way for the estimated $46.5 million facility in the Iowa River Landing. Project supporters describe the 6,200-seat arena as the centerpiece of roughly $190 million in total investments in the IRL. In addition to the arena and sports institute, project plans include a 40,000-square-foot field house, a museum, and additional hotel, retail, restaurant and residential developments either connected or adjacent to the facility.
9. Lodging boom continues
Among the project types gaining ground in the Corridor this year are hotels, which follows a national surge in hospitality construction. Among the most recent to open is the Residence Inn by Marriott, a 95-suite hotel in southwest Cedar Rapids owned and operated by Hawkeye Hotels. Within days of that opening, construction crews in Iowa City broke ground on a 14-story Hyatt Place hotel scheduled to open in 2018. That hotel will be one block from the Sheraton Iowa City, which is across the street from the site of a 12-story Hilton Garden Inn scheduled to open next year, among others.
10. Trucking recovery spurs development
Despite a tough couple of years for the trucking industry, the sector continues to spur development in the Corridor. Thompson Truck & Trailer in Cedar Rapids in March broke ground on a new $8.3 million headquarters near 76th Avenue and Sixth Street SW in Cedar Rapids. Nearby, Caledonia Haulers of Caledonia, Minnesota, got rezoning approval for a tank wash facility on a 10-acre site on French Court.