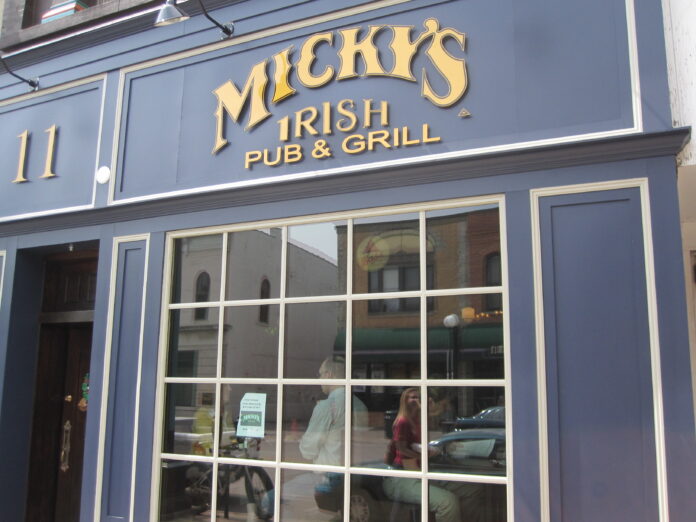 By Pat Shaver
IOWA CITY–Micky's Irish Pub & Grill in downtown Iowa City recently received a makeover.
Located at 11 S. Dubuque St., Micky's has been closed for improvements for the past three months. The previous owners decided they weren't interested in owning it, so Jim Mondanaro bought back the business. Mr. Mondanaro started Micky's on Aug. 28, 1980 and had owned it until 2010.
After about two months of renovation work, Micky's reopened last week, said David Stein, who has been employed at several of Mr. Mondanaro's businesses and has helped oversee the Micky's renovations.
It's fitting, Mr. Stein said, that the business reopened under Mr. Mondanaro's ownership 32 years from the day he opened it in 1980. The grand opening is Aug. 28.
"Jim looked at it and realized its potential," Mr. Stein said. "Everything is redone—the floors, the ceiling, the bathrooms."
The restaurant and bar will employ 32 people, along with 12 in the kitchen. A majority of the staff are new hires, Mr. Stein said.
"We strive for quality, and frankly we demand it," he said. "We have a new menu with a lot of original favorites."
New menu items include: a pretzel and sausage appetizer (with pretzels baked at the Bread Garden Market bakery), deviled eggs, a southern fried chicken sandwich, and 100 percent Angus beef burgers on a brioche/chiabata bun.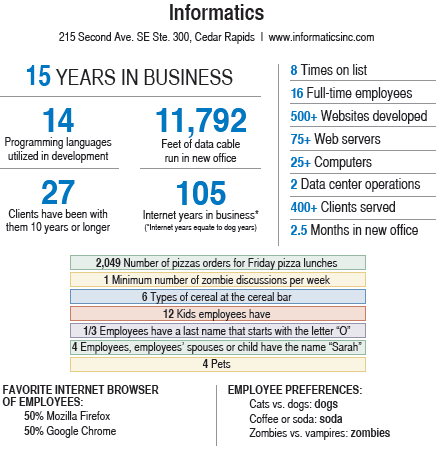 The bar will offer 16 beers on tap, which will include Iowa beers and Irish selections, along with a variety of others, Mr. Stein said.
Micky's has invested in a new sound system, which allows the staff to select songs from the Internet and control the volume in different areas. The digital remote allows for different sound volumes at different areas of the restaurant.
"It's seen a lot of people and a lot of years. It didn't need a facelift, it just needed someone to bring out the shine," Mr. Stein said. "It's been a nice process to see everything come together day by day."
Starting Aug. 28, Micky's will be open until 2 a.m. daily and will serve breakfast on Saturdays and Sundays from 8 a.m. to noon. They will also offer specials starting at 10 p.m., Mr. Stein said.
"For people who were here three to four months ago, it will be a very pleasant surprise for them," he said.
The bar and restaurant has an occupancy of 120.
Micky's is part of Fresh Food Concepts, which is owned by the Mondanaro family, and includes Bread Garden Market, Givanni's, Joseph's Steakhouse, Mondo's Saloon and Mondo's Draft House. The family also owns Hothouse Yoga in Iowa City and Coralville.
"It has been an Iowa City tradition since 1980," Mr. Stein said. "Jim wasn't going to cut any corners here and that was the right thing to do."
Mr. Mondanaro has experience operating successful businesses in Iowa City and Coralville and has a long history with Micky's.
"Jim has a wealth of knowledge. He knows how to train, how to build a business from start to finish. Jim has done this a lot and it's clear he know how he wants things done," Mr. Stein said.
Gabi MacKay and Christa Walrath are the general managers of the new Micky's.
"We have good quality food at a good price. People looking to drink and eat at a pub atmosphere are going to enjoy this," Mr. Stein said.