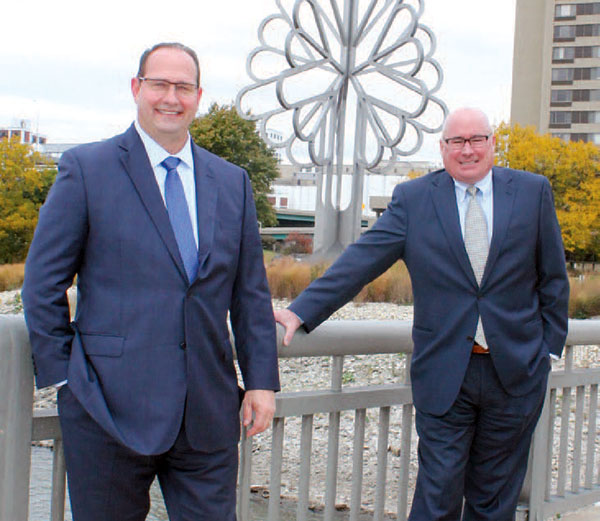 Millhiser Smith President Tim Gassmann (l) and Accel Group President Mike Byl at the Tree of Five Seasons in Cedar Rapids. PHOTO DAVE DEWITTE
By Dave DeWitte
dave@corridorbusiness.com
A merger of two Corridor firms on Jan. 1 is expected to create one of the largest inde­pendent agencies based in Iowa while re­taining the close-knit culture of a local firm.
Millhiser Smith Agency, based in Cedar Rapids, and Accel Group, which has offic­es in Waverly and Cedar Falls, announced an agreement last week to merge under the Accel name.
Both of the agencies have staffs of about 40 with property and casualty in­surance as their largest focus, and stem from a line of acquisitions dating back more than 80 years. And both realized they needed to scale up to become more of a one-stop provider for their customers' financial needs.
"The customers are who we work for, and we are going to do whatever we can to do more for them through diversifi­cation," Millhiser Smith President Tim Gassmann said.
The merger will diversify the agency's offerings in a variety of directions. The Accel Group will bring with it a wealth management business, employee benefits business, HR consulting and a specialty in agribusiness insurance.
Millhiser Smith brings strengths in risk management, including a proprietary risk screening process, DISCOVERisk, that will be used throughout Accel Group.
By blending the two organizations, Ac­cel Group will be large enough to offer the best insurance carriers at competitive rates, but nimble enough to provide personal­ized service that ensures customers are "ed­ucated, prepared and protected," explained Mike Byl, president of the Accel Group.
Beyond diversification, a driving goal of the merger was to preserve a local agen­cy culture. The culture at Accel Group leverages teamwork and mutual support for team members to provide excellent customer service, Mr. Byl said.
"You almost look on them more as a family and want to take care of them."
The merger will also keep intact a lo­cal ownership structure shared by the two agencies that allows agents who excel the opportunity to become shareholders.
Agents and other employees who be­come owners typically succeed not only at sales, but at mentoring, community involvement and helping develop the or­ganization, Mr. Gassmann said. Both Mr. Gassmann and Mr. Byl achieved that goal, and understand how it helps build dedica­tion and commitment to the organization.
"It's our intention to perpetuate our operation by offering people the same op­portunities we had when we started," Mr. Gassmann said.
Both companies worked on strate­gic plans a few years ago that focused on growth. Mr. Gassmann said Millhiser Smith's goal at the time was to double sales through organic growth within a de­cade, while simultaneously seeking acqui­sition opportunities that made sense.
While the company does not release its revenue figures, Mr. Gassmann said the company is "very committed to organ­ic growth." Following the merger, Accel Group will continue to consider mergers with other like-minded organizations that offer a good cultural fit, he said.
One positive from the merger is the strengthening of the company's lead­ership team, Mr. Gassmann said. He has strong praise for Mr. Byl, calling him a "great visionary guy."
"I can see clearly now, the next 10 to 15 years out," he said. "It does bring things into focus."
The post-merger Accel Group will con­tinue to operate under the same manage­ment groups in place at each company in the same Cedar Falls, Waverly and Cedar Rapids offices, with Mr. Gassmann as CEO and Mr. Byl as president.