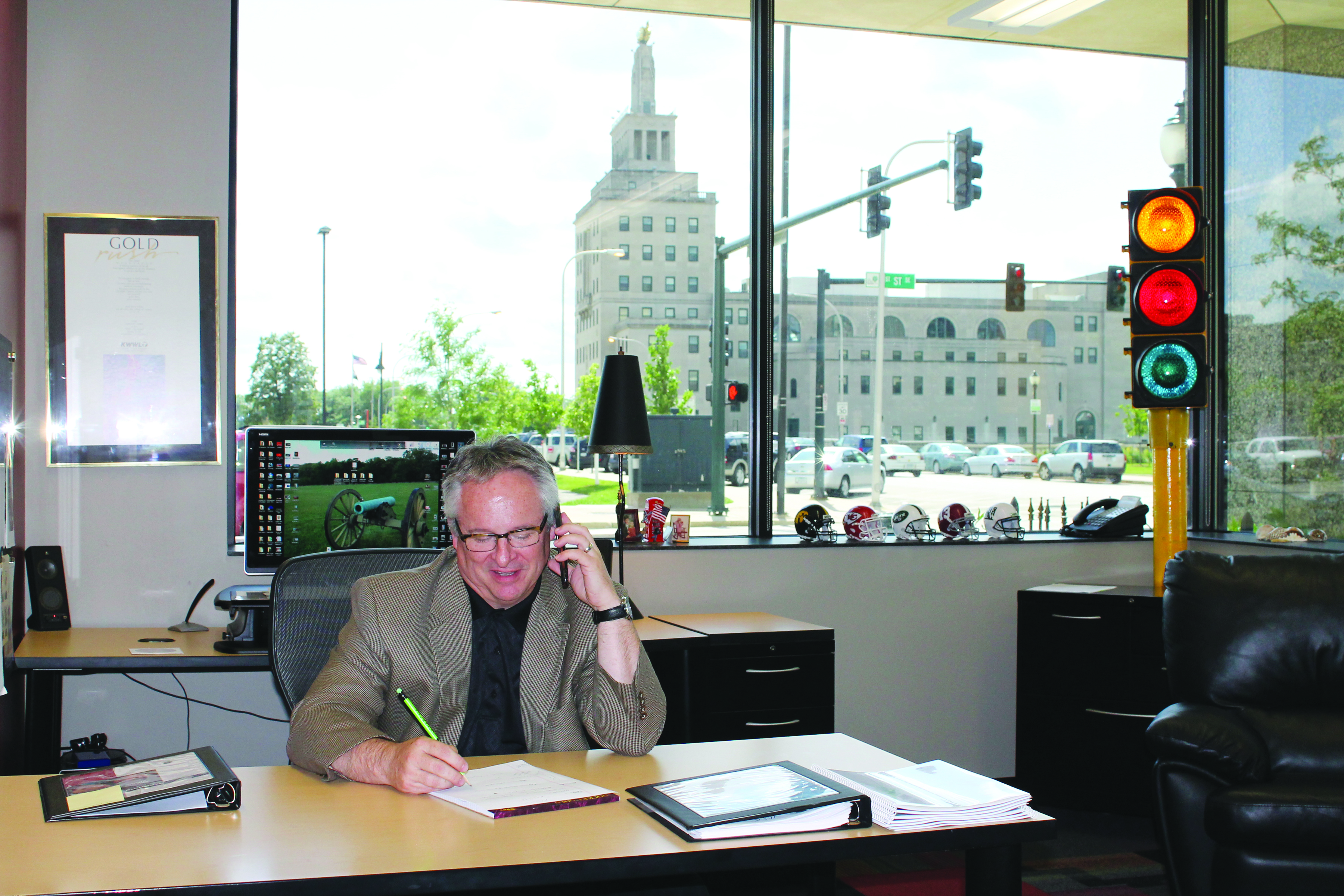 By Angela Holmes
CORRIDOR—Looking toward the future financially and structurally, two of the area's top advertising firms decided to pull their resources and talents together to create a new agency.
In its first few months of existence, that new agency, Amperage, has been voted Best PR/Advertising Firm by CBJ readers. In the past eight years, the companies that merged to form Amperage have won that title seven times: Henry Russell Bruce (HRB) six and ME&V Advertising + Consulting once.
The two companies, which have more than 200 clients across 10 states and combined capitalized billings around $33 million, merged April 1 after more than a year of planning and discussions.
Both HRB and ME&V were looking to expand and secure their future as top executives changed.
"From ME&V's perspective, we were looking to grow and sustain the business long-term," said Bryan Earnest, former partner and president of ME&V, who is now president and CEO of Amperage. "During our long-term succession planning, we realized we needed to get to a certain size financially."
ME&V, which was founded in 1996, was facing the retirement of original partner Dee Vandeventer. Although she has retired from partnership, she still remains active in fundraising and research for the company.
"When you have a group of owners who are different ages and at different points in their lives, you know there will be changes and exits," Mr. Earnest said.
HRB, which celebrated its 40th anniversary last year, had also gone through management restructuring after president Brian Carr died of a stroke at age 57 in 2009. Upon Mr. Carr's death, Jim Thebeau was named CEO and Steve Erickson president.
Mr. Carr's death and the company's reorganization happened as HRB was still recovering from the flood of 2008, which displaced the company from its downtown Cedar Rapids office to Hiawatha for nearly a year.
"We were doing better each year after the flood," Mr. Thebeau said. "We changed the model and went after certain clients."
However, the company didn't want to borrow money to grow, he said, adding that "it's expensive to find talent."
A third party brought HRB and ME&V together to discuss a possible merger, and the companies' executives undertook a "lengthy dating period," which went well, Mr. Thebeau said.
"When we looked at our client lists, we realized we had a lot in common," he said. "It was a good fit."
Both companies had to continue to run separately as the merger was completed.
"It's a process to merge, while at the same time running a business and maintaining clients," Mr. Earnest said.
Neither of the agencies laid off any employees as the result of the merger. Rather, they combined the staff to best fit the needs of the new company.
"It's an interesting challenge putting two companies together and blending talent," Mr. Earnest said. "If anything, both companies were running lean before the merger."
The majority of the nearly 50 employees are equally spread out between Amperage's main office in Cedar Falls and its office in the Alliant building in downtown Cedar Rapids. A few employees work in offices in Des Moines and Bettendorf.
The staff's skills balance out as one organization brought more content skills and the other brought more digital, Mr. Earnest said.
"The pieces fit together; it's all us now," he said. "Each day we feel more and more aligned with the new brand."
The company continues to grow its infrastructure with a new phone system and Internet connectivity between the offices. They are also looking to invest more in video conferencing, said Mr. Earnest, who makes the nearly one-hour commute between his office in Cedar Falls to Cedar Rapids at least once a week.
"We are learning to be a more virtual organization and learning to work more remotely," he said. "It presents new challenges, but new opportunities."
Amperage is adding several new positions, including a digital media specialist and an account manager. By the end of the year, the company hopes to hire six to eight new people, Mr. Earnest said.
Along with Mr. Earnest as president and CEO and Mr. Thebeau as chairman of the board, other members of the Amperage executive team include Mr. Erickson, former president of HRB, as chief creative officer; Mark Mathis, former director of cool of ME&V, as chief strategy officer; and Jim Infelt, former creative director for ME&V, as chief digital officer.
Each partner is focused on a different section of the company. Mr. Thebeau, who is focused on sales, said he has had some good meetings with prospects in the last few months.
"The merger raised our visibility for awhile," he said.  "We want to go after the big companies."
With a focus on health care, banking/insurance, higher education and general clients, Amperage is looking to expand their client base within Iowa.
"There's a lot of opportunity in the state," Mr. Thebeau said. "We want to find them first before going out of state."
While the HRB and ME&V brands will always be a part of Amperage's history, the executive team looks forward to the company's future.
"I feel very energized by this merger," Mr. Earnest said. "We do things in a fresh and new way. It was a way to push the restart button and start anew."