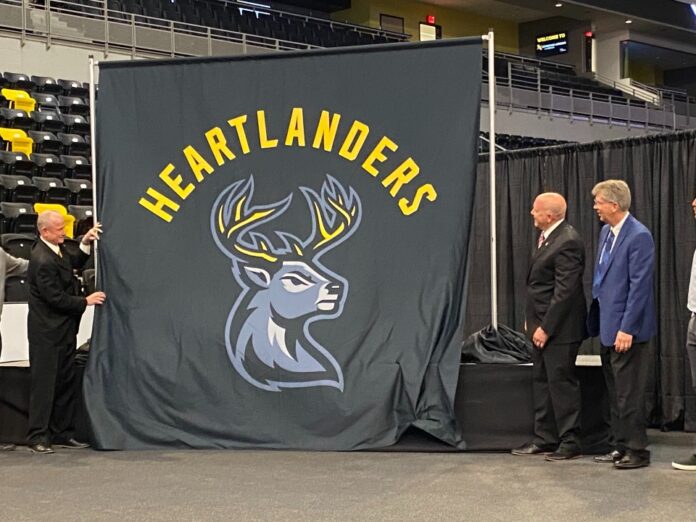 The somewhat awkwardly monikered "Iowa ECHL Hockey Club" has a new name, a new logo and some very familiar team colors.
The Iowa Heartlanders – represented by a white-tailed buck and clad in black, gold and a touch of gray – will kick off their inaugural 2021-22 season at home Oct. 22 against ECHL Calgary Flames affiliate, the Kansas City Mavericks.
The big reveal came during a ceremony Thursday evening at Coralville's Xtream Arena, home of the Iowa Heartlanders.
"The name itself, the Heartlanders, [harkens] all the way back to the age of the settlers – hard work, determination and heart," said Heartlands President and former ECHL Commissioner Brian McKenna, adding the logo represented "strength and grace and, at the same time, heart and grit."
"A Heartlander is no ordinary breed of buck. We run the game," the club said in a release. "The primary logo is of a white-tailed deer, poised for battle in expression, stance, and thorny detailing, to capture the essence of our strength, determination and work ethic here in Iowa. The antlered crown, adorned in sunrise gold, makes it known that we are the mighty kings of the Heartland. For victory against foes, a gold crown is earned, not given."
Heartlander jerseys will also feature a secondary logo – Iowa's state flower, the wild prairie rose, which the club noted "blooms every June, perfectly timed with the [ECHL championship] Kelly Cup."
In a video played to an arena of journalists and hockey fans, owner Dean McDonald, chairman of Deacon Sports & Entertainment, said the name and logo were the result of months of research and thousands of suggestions from fans.
"The Heartlanders are excited to bring pro hockey to Xtream Arena, creating new and exciting traditions both on the ice and in the community as our brand grows this season," he said.
Mr. McDonald's company also owns the Kelly Cup-winning Newfoundland Growlers and another new expansion team in Trois-Rivières, Quebec. The Heartlanders are set to play a total of 72 games, including 36 at home and 36 on the road, facing 12 opponents and visiting nine different cities in its inaugural season.
After the event, fans lined up to buy Heartlander t-shirts and season tickets, which start at $495 and go up to $1,195 for premium "Glass" level. Phil Richman of Riverside, who said he was "pumped" to see the season get started, was among them.
Mr. Richman, a "Founding Fan," who grew up in Fort Wayne, Indiana, where he rooted for fellow ECHL club, the Fort Wayne Komets, also gave his seal of approval to the team name.
"It kind of has the local meaning in it and as an affiliate of the Minnesota Wild, it has kind of that wild touch to it," he said. "I am just so excited for this to get going."
The team has not announced a National Hockey League affiliation yet, but the Minnesota Wild is most onlookers' guess.