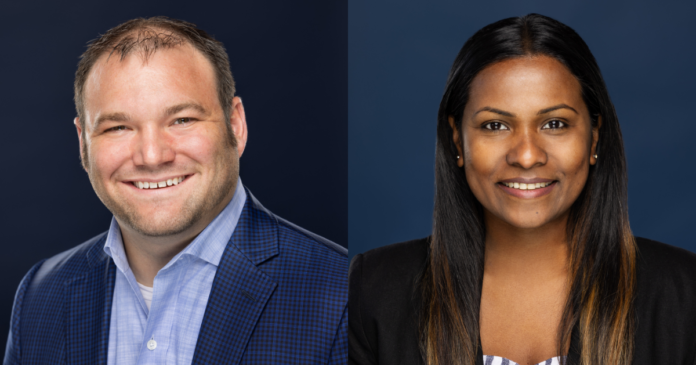 Each year, the Corridor Business Journal shines a spotlight on young professionals who have made a meaningful impact on the region early in their careers.
This year, we are proud to introduce you to the 19th class of Forty Under 40 honorees. In this post, you'll find the honorees working in tech and engineering.
---
Renjena Burnett
Senior Engineering Manager | Collins Aerospace
Age: 36
Residence: Cedar Rapids, Iowa
Education: University of Iowa –
Master of Computer Science
Who do you consider your local mentors? Bill Piche – senior engineering manager, Collins Aerospace/Avionics, long term mentor; Justin Doig – director of general engineering, Collins Aerospace/Avionics, direct leader; Brett Caspers – executive director of engineering, Collins Aerospace/Avionics, mentor.
Best advice you ever received?
"Do things right. Do things right the first time." – Dad
What do you consider your "big break" in your career, so far? Landing my current role to lead a team of amazing engineers at Collins in 2019.
What's the biggest issue facing the Corridor, and why? Recruiting and retaining talent. Recruiting qualified, diverse, and talented people to move to the corridor area and also retaining the ones who are currently here have been the biggest challenge since 2020.
If you had $1 million to give, what causes would you support? I would split it. I would support some of the orphanages in India. I would also find ways to help human trafficking victims.
What are your passions outside of the workplace? Real estate investing, house flips and AirBnBs. If I retire from my full-time job today, I will dedicate my time designing and renovating homes. Travel, boating and spending time with my family are my other passions.
What's something people should know about your generation in the workplace? We are ambitious and goal/achievement oriented. We work hard and like to move at a faster pace.
What do you want to accomplish by the time you are 50? I want to continue to grow in Collins as an engineering leader and to continue expanding my investment portfolio to have several AirBnBs across the country. I want to raise my son to be a kind, healthy and smart individual, and continue to have an impact in my community one way or another.
---
Brandon Potter
Chief Technology Officer | ProCircular, Inc.
Age: 36
Family: Wife, Molly; son, Finn
Residence: Tiffin, Iowa
Hometown: Burlington, Iowa
Education: St. Ambrose University –
Bachelor of Arts in Computer Investigation & Network Security
Bachelor of Science in Computer Network Administration
What was your first job? Bagger at Hy-Vee.
Best advice you ever received? Don't be angry at yourself if you fail at something, knowing you did your best. Use that as motivation to improve what your best is; you'll have more positive outcomes as you progress from day to day.
What do you consider your "big break" in your career, so far? If I had to pick one, I'd have to say the caliber of leadership – both good and bad –  throughout my career. They've all allowed me to make mistakes, learn from them and then continuously improve to ensure I have the skillset today to pass on to the next generation.
What would most people be surprised to learn about you? I'm a big '90s and 2000s hip-hop and rap music fan. Chances are, if there is a karaoke venue around, I'm the one embarrassing myself by singing Ice Ice Baby!
What's the biggest issue facing the Corridor, and why? Funding for education in our area is lacking in K-12 and higher education. Education is vital in building and developing skilled individuals and leaders for the future. Year after year, we see our schools asked to do more with less. Additional funding and support will allow the development of additional curricula for skilled labor and careers, hopefully keeping more talent local to our communities and help to increase our economic resilience.
What's something people should know about your generation in the workplace? Our generation doesn't like to sit behind a desk for eight hours. We prefer to be active and up and moving around in some form with flexibility for when we can do our jobs. We're a motivated bunch of individuals that thrive on a supportive workplace culture and that will drive the high-quality results companies expect.