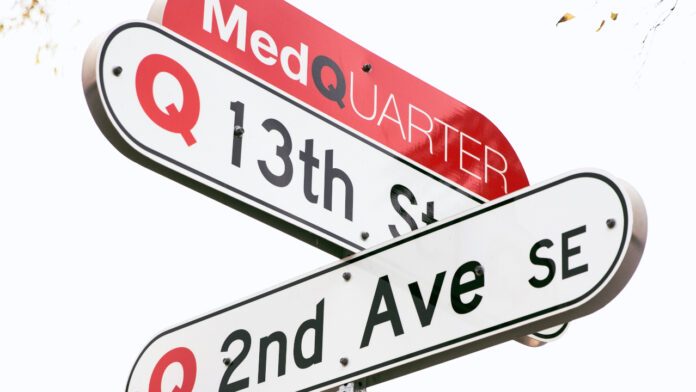 The Cedar Rapids Medical Self-Supporting Municipal District (SSMID) recently celebrated its 10th anniversary by delivering brochures and fresh cookies to district businesses.
In September 2011, the Cedar Rapids City Council approved the city's second SSMID, a self-taxing mechanism, by establishing the Cedar Rapids Medical SSMID for the next 20 years. Better known as the MedQuarter Regional Medical District, the new SSMID got underway by seating a 12-member commission; initiating a District Master Development Plan; and forming several committees to spearhead District Safety, Finance & Operations, Branding & Marketing, Economic Development and Standards.
Using the tag line "It's Sweet to be in the MedQ!," the district's executive director, Phil Wasta, visited more than 100 businesses to deliver the cookies and brochures.
"I think that it's important that the district's stakeholders be informed about what has been accomplished in the first 10 years and that they feel appreciated for their support," Mr. Wasta said.
The brochures provide a high-level overview of the different initiatives and projects that the Medical SSMID has accomplished to date, ranging from the district banner program to the adoption and implementation of the MedQuarter Master Parkway Improvement Plan. The District has invested nearly $2.5 million to improve ten blocks along 10th Street and 1st Avenue.
The cookies came from Kathy's Pies, one of the locally-owned businesses located in the MedQuarter.