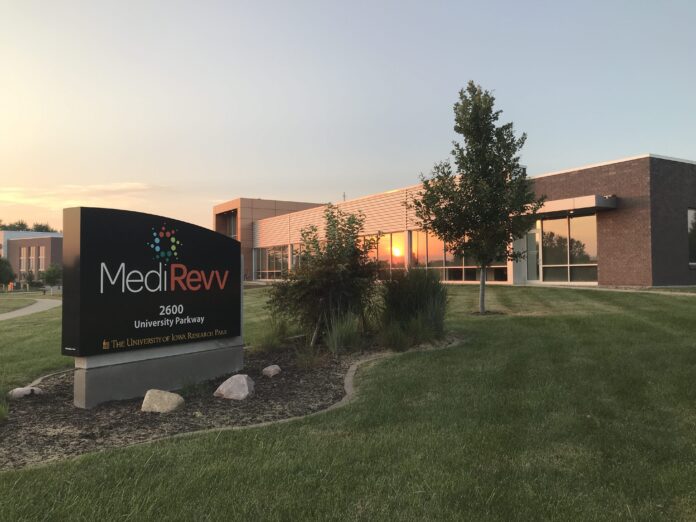 Typically, when a locally owned and headquartered company is acquired by a company headquartered elsewhere, we lament the loss of local control and the potential loss of jobs. With the recent acquisition of MediRevv by Tegria (see cover story), we have instead decided to focus on its amazing entrepreneurial success and the increased potential it has within the new ownership group of companies.
Iowa native Chris Klitgaard was a young, financial whiz working at the University of Iowa Hospitals & Clinics when he decided to leave his good-paying position there and start a company aimed at helping other health care institutions with their revenue cycle challenges.
Mr. Klitgaard started what was then called Precision Revenue Strategies, later renamed MediRevv, in his basement in 2007. He grew the business from six employees to its current number of nearly 1,400.
The company's annual revenue was $85 million in 2020, Mr. Klitgaard said, and is on target for $125 million this year, with about 40 clients nationwide.
In 2021, MediRevv marked its 10th year on the Corridor Business Journal's annual Fastest Growing Companies list and ninth consecutive year, making it the second most featured company.
There have only been a few startup companies over the past two decades in the Corridor that have attained that level of successful growth in terms of revenue and jobs created while also maintaining an excellent work culture.
"When you start something, you hope you have good success, but most importantly, hope you're doing good for people," Mr. Klitgaard said. "We wanted to be better for our clients, but equally as important … paying attention to our employee needs and having a culture that is second to none. I feel really proud of what we've built at MediRevv."
After a four-year investment partnership, MediRevv has been fully acquired by a new health care services and solutions company called Tegria. MediRevv is now one of 11 companies comprising Tegria's portfolio of health care-related solutions.
The reality with many companies that grow to this level with investment from outside parties is they either need to go public, continuing to roll up with other companies so that a public offering is made in the future, which seems most likely in this situation, or get acquired by a bigger company. The acquisition of Integrated DNA Technologies in 2018 by Danaher, a publicly traded company, is a somewhat similar example. MediRevv's acquisition by Tegria is a logical entrepreneurial progression and should position it and its employees for even more success in the future.
Mr. Klitgaard has resigned as CEO and Brad Baldwin resigned as company president as part of the ownership transition. They both should be commended for their entrepreneurial leadership.
We hope they will share their leadership and entrepreneurial skills with other companies and potential entrepreneurs in the region because this level of success is rarely achieved. We wish them well.