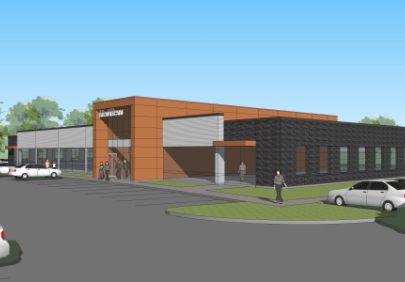 Celebrates fifth anniversary on March 29
By Gigi Wood
CORALVILLE – A burgeoning Corridor company is building its headquarters.
MediRevv, formerly Precision Revenue Strategies, will celebrate its fifth anniversary March 29. It plans to be moved into its new headquarters at the University of Iowa Research Park in September.
The company started in 2007 with six employees. In May of last year, when it came in first place on the Corridor Business Journal's Fastest Growing Companies list, MediRevv employed 50. Now there are 80 workers at the company. That number could soon change, as MediRevv is in the midst of hiring another 15 people.
"We've fluctuated up and down a little bit, obviously based on our clients' needs," said Brad Baldwin, MediRevv's director of operations. "But we're just in the middle of adding about 15 folks to our organization, so we're seeing a bump in our headcount just in the last few weeks."
The $2.4 million, 18,000-square-foot headquarters will accommodate up to 200 employees. The company is hosting a construction milestone at the facility,2600 University Parkway, at 10 a.m. March 26.
"We think depending on how we accommodate our shifts and how our client roster continues to grow, we think that space can accommodate up to 200 (in the new building)," he said. "That's going to depend on a lot of different things but we think that can sustain us for awhile and the growth we expect."
MediRevv, a health-care revenue cycle company, takes the outstanding bills that patients aren't paying their doctors or hospitals and works with the patients to get those bills paid.
Since its start, the company has been in the Grand Rail development in Coralville, at the northwest corner of Highway 965 and Oakdale Boulevard. Its new location will be a half mile north, on the east side of Highway 965.
"While it's been great to be here in our current space in Grand Rail, we've really outgrown the space," Mr. Baldwin said. "We've had to take some pretty significant steps as of late, double-bunking our management team in offices, changing our conference room into cubicle space to make sure we have the space we need for all of our employees. The time is right for us to go to a space where we can accommodate that future growth because fortunately that growth that we've had we expect to continue."
Employee satisfaction is an important factor for MediRevv. The company prides itself on its policies, procedures, special events and employee handbook, which are designed to retain employees and keep them happy. In September, MediRevv was named to Modern Healthcare's Best Places to Work in Healthcare list, on its first try.
"Part of that is how we treat people, part of that is our policies and procedures and a contributing factor to that is our physical space," he said. "We need to make sure that we continue to provide a physical space that's not only comfortable for our staff but also an environment where they can be successful in what we ask them to do. It just makes sense at this point to build a standalone space that we can call our new home."
Decision to build
The company is building because it couldn't find existing space in the area that fit its needs.
"We did some research because we expected that's what we would do (move into an existing, vacant building)," Mr. Baldwin said. "What we found is the commercial real estate market in Iowa City is pretty unique in the respect that it's fairly easy to find 5,000- to 7,500-square-foot spaces – we're in about 8,400 square feet here – but when you get into that 15,000- to 25,000-square-foot range, the commercial real estate market in Iowa City doesn't really support that."
The company needed space that not only accommodates its people and its growth, but parking, as well.
"There were a few options that we looked at, but one of the issues we had with some of the existing space is, obviously we're a very people-heavy organization," he said. "A lot of times, if there was the space that could have been functional, there wasn't the parking that could support our future growth up to 200 employees. So, as we looked at the commercial real estate market, it became evident that maybe a better option would be to build a space that's specifically designed for our needs and that's where we ended up."
Keeping up with its growth has been one of the company's biggest challenges, he said.
"We spend a lot of time as a leadership team talking through that very issue to make sure we can stay ahead of our growth from a physical space standpoint. One of the things that Chris (Klitgaard, MediRevv's president) in his leadership, one of the things that he referenced to us is that we never want to be limited in terms of our growth opportunities by physical space," Mr. Baldwin said. "Looking at our growth we want to make sure we stay ahead of our growth expectations in terms of our physical space. When we move into our new space we'll have plenty of room and we'll work over the next few years to fill up that space with the talented people we bring into our organization as we continue to grow."
Another important factor of the move was staying in the neighborhood.
"One of the benefits we have of being in Grand Rail is, we are very accessible because of our proximity to Interstate 80," Mr. Baldwin said. "That benefits us tremendously in terms of the laborshed. We are able to successfully draw employees from places like Columbus Junction to the south, from Williamsburg to the west, Cedar Rapids to the north and then east, West Liberty and Durant. It's very convenient for employees to come from a distance. Obviously we get a significant number of employees right from the Iowa City/Coralville/North Liberty area, but we also do draw employees from those far reaching areas of our laborshed. If we were to move to a drastically different part of town, we would be potentially be cutting off a major source of the talented people we recruit everyday."
The new building will not only provide a larger kitchen and break-room space for those employees, but will also address security needs.
"Because we are in the health-care space, there are some burdens on us, things like HIPAA (Health Insurance Portability and Accountability) concerns and physical security of our space," he said. "We have an enormous amount of data we need to protect, so we'll have some security components, security of our physical space and also of the data that's within our space to make sure we're appropriately managing the faith our clients put in us in terms of appropriately managing that data."
The city of Coralville in November provided a $413,000 forgivable loan for the project.
Warm weather has helped construction of the new building stay on schedule for its September move-in date.
"The construction timeline is going fantastic," he said. "We've obviously benefitted from the weather tremendously and think we'll be right on target to be in that space and fully functioning in early September."