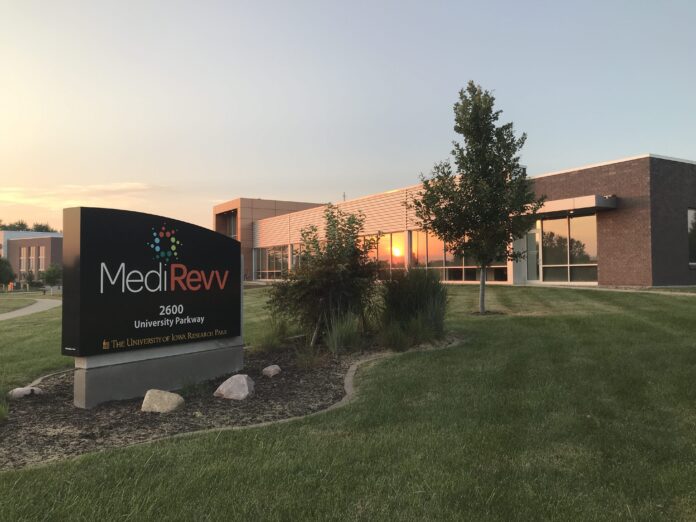 Following a four-year investment partnership, MediRevv, a Coralville-based healthcare revenue cycle management company, has been fully acquired by Tegria, a new health care services and solutions company.
The acquisition was completed in June, with the company, now known as MediRevv, a Tegria Company, making the announcement public this week.
No current positions will be lost due to the acquisition, and, in fact, the company is seeking to fill about 60 open spots now, said Jenn Bleil, MediRevv's senior vice president of human resources.
"We've been very fortunate during the pandemic that our business has continued to grow," said Ms. Bleil, who will lead human resources for Tegria Revenue Cycle Management. "We're going to need everybody we have and probably more. The hope is to be able to provide more opportunities."
She noted that most positions are full-time jobs, with benefits, for representatives who work directly with patients and insurance companies.
Other MediRevv management team members also will assume leadership posts with Tegria, including Amy Cerruti, who will be senior vice president of sales and marketing for Tegria Revenue Cycle Management, and Jason Smith, as vice president of information technology.
The company will keep its offices in the University of Iowa Research Park, Ms. Bleil added, even as many employees continue to work from home.
MediRevv has nearly 1,400 employees, with about 400 of those based in the Iowa City area. The company also has locations in Scottsbluff, Nebraska; Anaheim and Mission Hills, California; and Portland, Oregon.
While Tegria is headquartered in Seattle, "no one is being asked to move," Ms. Bleil said. "There are no significant changes to the way we operate and no significant changes with our clients."
Ms. Bleil noted that Tegria builds on the strong culture already established at MediRevv.
"It's revenue cycle management with people put first, with a strong cultural foundation based on aligned values," she said. "That's the same mindset that Tegria is going to have. We want to put our clients and their patients at the center of everything we do and really focus on our workplace culture."
MediRevv helps hospitals, health systems and large physician groups improve their cash flow and grow their revenue.
The company focuses on best practice revenue cycle management tools, services and analytics to help health care providers retain patients and optimize financial outcomes.
"It's such a great opportunity for us to really partner with several other companies who are highly respected," Ms. Bleil said, citing growth as one of MediRevv's core values. "It feels more like a partnership than it does an acquisition."
Former MediRevv CEO Chris Klitgaard, who founded the company as Precision Revenue Strategies in 2007, said the timing was right for the change.
"There are a lot of different reasons," Mr. Klitgaard said. "The world of health care revenue cycle management is really pushing forward towards technology, and Tegria has access to technology that MediRevv and its customers can benefit from."
Mr. Klitgaard will remain with the company as a consultant through Sept. 3 to ensure a smooth transition.
At age 47, he doesn't see himself retiring soon, but has not indicated what he intends to pursue.
An Iowa native and graduate of the University of Iowa in finance, along with a Master of Business Administration and Master of Health Administration, Mr. Klitgaard plans to stay in Iowa with his family, which includes four children still in school.
"I don't know yet what I'm going to do," he said, noting he is focused on the transition. "I'm going to take a little bit of time in the fall to figure out what the opportunities might be for me."
MediRevv's President, Brad Baldwin, also stepped down to pursue other interests.
Citing the "natural progression of entrepreneurship," the acquisition announcement noted the two are passing the torch to MediRevv's established senior leaders, with oversight from Lincoln Popp, managing director of Tegria Revenue Cycle Management.
"Both have done an extraordinary job leading MediRevv, and they support our new direction as it maintains the trajectory we've followed since the beginning," the announcement stated.
Mr. Klitgaard declined to state the acquisition cost, noting that both companies are privately held.
In 2021, MediRevv marked its 10th year on the Corridor Business Journal's annual Fastest Growing Companies list and ninth consecutive year, making it the second most featured company, growing from six employees to its current number of nearly 1,400.
MediRevv also has been among the 5,000 fastest growing companies in the nation, as recognized by Inc. magazine.
The company's annual revenue was $85 million in 2020, Mr. Klitgaard said, and is on target for $125 million this year, with about 40 clients nationwide.
MediRevv is one of 11 companies in Tegria, and with the acquisition, will be part of a 3,000-person organization.
Mr. Klitgaard said he didn't imagine the company growing to this extent when he founded it 14 years ago.
"When you start something, you hope you have good success, but most importantly, hope you're doing good for people," he said. "We wanted to be better for our clients, but equally as important… paying attention to our employee needs and having a culture that is second to none. I feel really proud of what we've built at MediRevv."