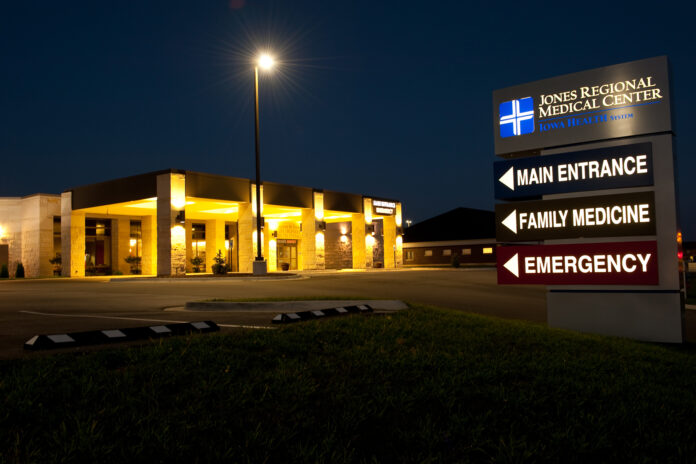 By Pat Shaver
A medical center in Jones County is experiencing rapid growth.
Since the Jones County Regional Medical Center in Anamosa moved to a new building in 2009, they have seen more than double the number of patients they had at the old facility, said Jones County Regional Medical Center CEO Eric Briesmesiter.
After only three years in the building, Mr. Briesmeister is already talking to the center's board of directors about an expansion plan.
Mr. Briesmesiter attributed the rapid growth the several factors: quality care, family atmosphere, convenient, quick treatment/tests, community support and physician support
The nonprofit hospital is affiliated with St. Luke's Hospital and the Iowa Health System. In 2005, the hospital had about 95 employees, by the end of 2011 they had 162, he said.
In October 2009, the medical center moved into its new facility. Since then, Mr. Briesmeister said they have seen impressive growth. Before that, the medical center had seen gradual growth of about 4 to 5 percent a year, he said.
"Then in 2009 when we occupied the main facility it just really took off," Mr. Briesmeister said.
In 2004, for example, the medical center had about 3,800 patient visits. In 2011, they had more than 8,000.
Mr. Briesmeister attributed that growth to the new facility, though he said trends in health habits have contributed to that number.
"You never root for someone to be sick. It's certainly not what we are in the business for," he said. With the old facility, many residents in the county would drive to Cedar Rapids, Iowa City or Dubuque for medical procedures.
Since moving into the new building, located at 1795 Hwy 64 East in Anamosa, the medical center has added several new services. They added new providers in ophthalmology, gastroenterology, podiatry surgery, orthopedics; a sleep medicine clinic (neurology); nephrology services; expanded the coverage of the cardiology clinic and added mobile services in nuclear diagnostics.
"Physicians on a whole really want to serve people where they live. If they can keep it more convenient for a patient that's the goal," he said.
Its other services include: 24-hour emergency care, lab and radiology; inpatient nursing care; outpatient surgeries and clinics; counseling; and rehabilitation.
"I think it's a good thing and it's certainly advantageous to the communities we serve," he said. The community helped raise $4 million for the $14 million project.
The hospital's culture has also helped it grow.
"We have a family feel, we know our patients and they're not just a number," he said. "We're now able to offer a lot more specialties a lot more often here."
"And we're really quick. They can get in our out of our ER in an hour," he said, adding that data shows most ER's take three to four hours.
The hospital is also in the process of transitioning to a new computer program.
"It's so much more powerful than the tools we've had before," he said. "The biggest thing with this is being able to really coordinate care."
The electronic medical records system, called Epic, will allow the medical center to better communicate with other clinics and hospitals in the St. Luke's and Iowa Health Systems.
"The endgame in healthcare is trying to figure out more and better ways to coordinate care and keep people healthy," he said.
The hospital has 82 physicians and health professionals on its medical staff. There are four emergency room physicians, five family practice physicians and one physician assistant.
The majority of the patients are from Jones County, though in recent years they have expanded their reach. They see patients from throughout Linn County, southern Delaware Countyand the southwest corner of Dubuque and Cedar counties.
"Since we opened (in the new building) we really shored up market share within Jones County and expanded out within outlining counties," Mr. Briesmesiter said. "Seven to eight years ago it was accurate to call it Jones Countyhospital, but right now it really is a regional medical center."
Mr. Briesmeister said they are developing a major capital expansion plan for the hospital.
"We're quickly running out of space," he said. "We have an incredibly strong case to make."
Hospital officials hope to continue to add new services and expand hours at the clinics.
"The renovation project, if approved, is really exciting," he said.
The medical center started in 1893 as Dr. Gawley's Draco Sanitarium/Prospect Park Sanitarium on High Street in Anamosa. In 1902 a fire destroyed most of the building. It becameMercyHospitalin 1913 after being rebuilt. It became Jones Regional Medical Center in 1982.