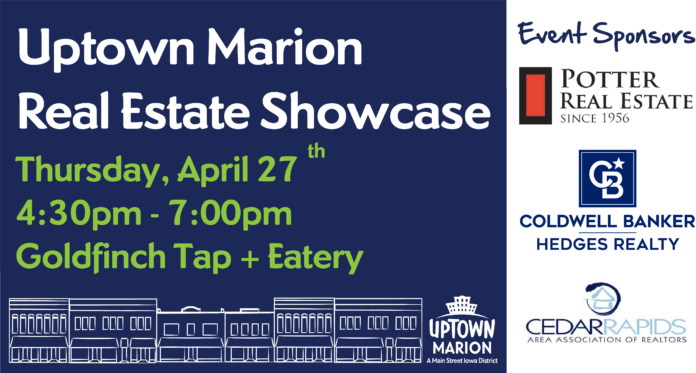 Entrepreneurs, prospective business owners and aspiring building owners will have an opportunity to tour current renovations and new construction in Uptown Marion during the Uptown Real Estate Showcase event.
The event will be held 4:30-7 p.m. Thursday, April 27, and will begin at Goldfinch Tap + Eatery, 740 10th St., Marion, with a presentation on the resources available to businesses and property owners of the Uptown District. The tour will begin at 5 p.m., with guests returning from the self-guided tour to Goldfinch Tap + Eatery for networking and beverages. For a preview of properties on the tour, visit the Uptown Marion Facebook page.
"We are thrilled to be bringing back this event post COVID, derecho, and streetscape construction," said Brooke Prouty, Uptown Marion Program director, in a news release. "Many of the properties on the tour have been undergoing renovations from the derecho or redevelopment and are now market ready. We will also be featuring some unique spaces that have been recently renovated or repaired such as the historic Masonic Temple (opening to the public)."
The event is free. To make a reservation, visit here.