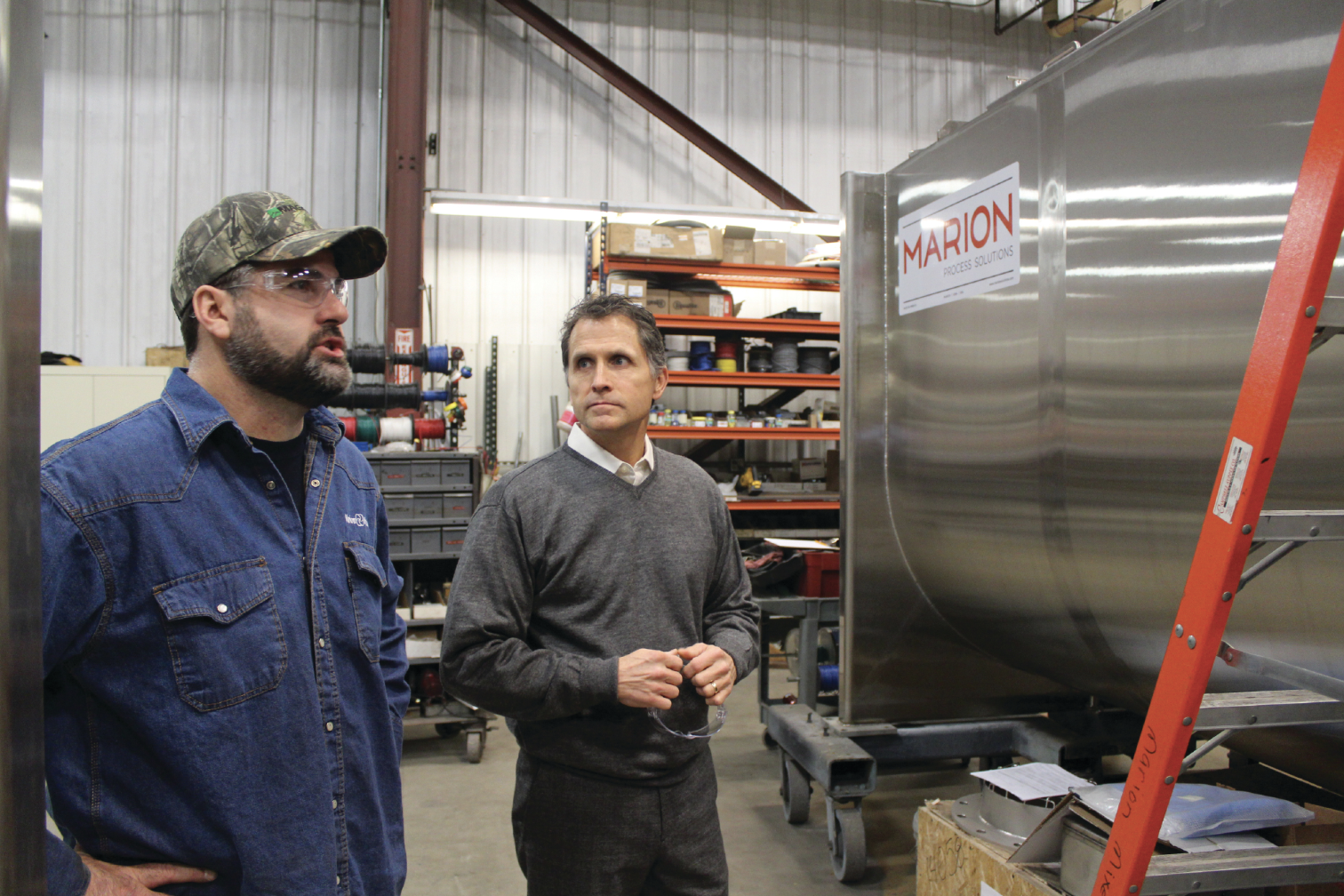 Marion Process Solutions Production Director Brett Gordon (left) and CEO Lee Eilers discuss a piece of machinery being assembled at the company's plan in January 2015. The company's acquisition is expected to fuel growth by capitalizing on new technologies. PHOTO ADAM MOORE
By Dave DeWitte
dave@corridorbusiness.com
Marion Process Solutions, one of the Cor­ridor's oldest locally based manufactur­ers, has been acquired by a private equity firm in a move that's expected to acceler­ate growth.
Chicago-based May River Capital ac­quired Marion Process Solutions effective Dec. 31 from owners Barry Boyer of Cedar Rapids and former Cedar Rapidian Jim Hoke of Arizona. Terms of the sale were not disclosed.
"May River believes there is a terrif­ic opportunity in front of Marion and we're excited to partner with manage­ment and assist the company through its next phase of growth," said Chip Grace, partner at May River Capital. "The for­mer owners and the senior leadership team have built a very strong foundation at Marion through excellent customer service and innovative, market-leading products. We aim to build on this foun­dation by providing financial and stra­tegic resources to the management team and employees to help accelerate the growth of the company."
Founded in 2012, May River Capital seeks out small, high-caliber industrial growth businesses that have the poten­tial to be transformed into larger, more valuable enterprises. May River's goals for Marion Process Solutions include tripling or quadrupling revenues into a range of $80-$100 million and adding on comple­mentary products, Mr. Grace said.
CEO Lee Eilers will continue to head the leadership team of the 86-year-old Marion business, which employs about 55. It will continue to operate in Marion under its current name.
Mr. Boyer said the decision to sell Mar­ion Process Solutions after owning and growing the company for more than 20 years came down to the fact that signifi­cant investment was required to capitalize on immediate growth opportunities.
"At the root of it, we made a promise to our people that we would continue to in­vest in the business as it grew," Mr. Boyer said. "We had some new technology and innovation that caused not only strong growth, but potential for dramatic growth, and we decided that seeking some sources for outside funding made sense."
About 70 companies expressed interest in acquiring the company, a leading pro­ducer of industrial mixing equipment and the developer of the new microwave-based WaveMix precision mixing technology. May River Capital was selected out of about 10 companies that submitted offers in a letter-of-intent process.
"We picked the company that we thought would be most supportive of the kind of empowered culture we created there and was backed by the significant re­sources and money to build a platform to grow it in the future," Mr. Boyer said. "It's going to allow us opportunities to expand into tangential markets that complement our overall offering in the process solu­tions space."
Marion Process Solutions changed its name in 2015 from Marion Mixers to convey the broadening of its product of­ferings from mixers to include products such as conveyors and baggers. The move was rewarded by strong acceptance in the coffee industry, and a new $1.5 million lab facility was recently opened to allow customers to test their products on Mari­on Process Solutions equipment.
Mr. Eilers voiced gratitude from the company's staff to Mr. Boyer and Mr. Hoke for their support as owners, say­ing, "We make the turn with a heart full of gratitude to those gentleman, and look forward to continuing to grow this busi­ness in the Marion community for years to come."
May River Capital has assets of about $400 million, and with the Marion Pro­cess Solutions, has seven different busi­ness platforms, Mr. Grace said. It has so far not sold any of its businesses, but generally targets a five- to seven-year time horizon for holding its investments.