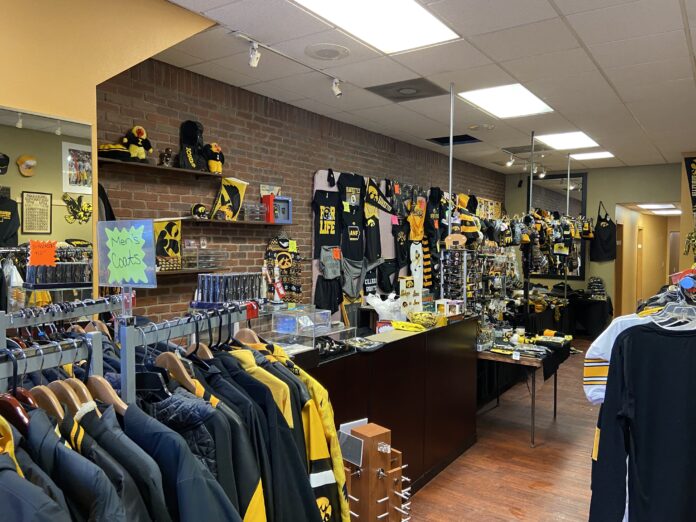 It only took nine days for Iowa City realtor and entrepreneur Mark Paterno to open a new business – the fastest he's ever moved to secure a location and open doors to the public.
Already owning a Hawkeye apparel business next to Kinnick Stadium during game days for several years, he decided it was time to take the next step and open up a storefront. 
"I literally just drove by it on Thanksgiving Day when there were no cars in the streets, just making a loop around downtown," he said. "I called the number and took a look a the space. It was kind of perfect for what I wanted in that it's in the center of campus."
Customers had asked Mr. Paterno if there was a designated storefront for years, and after ending each year with a "huge inventory of Hawkeye stuff," he decided now was a good time.
He opened Marco's Game Day on 16 S. Clinton Street last year before Christmas. He says labor is a "little thin" right now but hopes to expand hours in the 1,800 square foot store once weather gets warmer.
In addition to normal merchandise and clothes, the store has a historical collector's feel. He has a vet school's composite from 1937 and ticket stubs from the 1957 Rose Bowl. He also bought a 1939 game day program once which has Nile Kinnick in it from a game he played in.
"I'm trying to fill a bit of a void of historical collector stuff that there's a big market for but nobody's really doing at the moment," he said. "I'm trying to integrate old collector with new trendy."
Some of the collector items will be displayed only for now, while other items could be for sale at the right price.