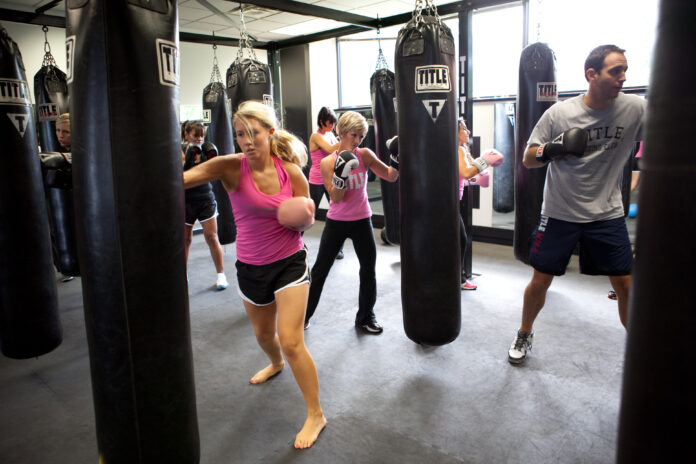 By Pat Shaver
IOWA CITY- Iowa City will have a new fitness facility in a few months.
But residents will have to go to Sycamore Mall to get to the boxing club.
That was part of the appeal for both the local franchisees of TITLE Boxing Club and for mall leadership. The fitness club offers hour-long boxing classes that burn up to 1,000 calories.
The new business is set to open this fall, in September or October. It will feature 60 hanging 100-pound punching bags for group classes, a boxing ring for personal training, a retail store with boxing and workout gear. They are taking over the space at Sycamore Mall that was occupied by Par-Tee Zone, which closed a few weeks ago after its lease expired. Par-Tee Zone was a family entertainment area that featured a large climbing structure for kids.
After searching the area for the perfect location, they found it at the mall, said Chad Wiltz, who owns the Iowa City TITLE Boxing Club franchise with his wife, Mandi, and business partner I.B. Funmilayo.
Mr. Wiltz said an issue they had while looking for a location was that there were many available between 1,500 and 2,500 square feet. There was also space available over 10,000 square feet, but they need something between 2,500 and 10,000. The Par-Tee Zone filled that need.
There were several benefits from locating in the mall, he said, including available parking, branding and marketing partnerships with the mall, high ceilings and affordable leasing prices.
"We think it's going to be a perfect marriage," he said.
TITLE Boxing Club is a franchise with locations in Illinois, Texas, Florida, Missouri, Virginia, Ohio, Colorado, Kansas, and now Iowa.
The build out will begin in July and will take about 90 days. This is the first TITLE Boxing Club in Iowa, with more slated to open over the next few years.
TITLE Boxing Club offers members an interval based workout program that combines bouts of intense cardio and boxing exercises with short periods of rest. The interval training provides an effective work to rest ratio, increasing results.
"What makes it unique is traditional gyms have a lineup of weight lifting and cardio machines and it's up to the individual what they do that day. But the average person struggles, like anything in life people want structure and they want direction," Mr. Wiltz said. "It's not a traditional workout and not a traditional gym. You get tremendous results."
A lot of people have momentum toward the beginning of the year but then start to lose interest or get too busy, he added.
"The workout is not new," he said. "The exercise is rooted in traditional boxing training, those things have been around a long long time."
Aside from the physical benefits, Mr. Wiltz said the workout relieves stress and improves self confidence.
TITLE Boxing will offer a flat monthly membership fee which allows the customer to attend any of the classes through the day, as many as they want in a week. It will employ one general manager, three or four assistant general managers and five to seven trainers.
TBC International, LLC opened the first TITLE Boxing Club fitness center in 2008 in Overland Park, Kan. Title Boxing Company is one of the largest distributors of boxing, kickboxing and MMA equipment, apparel and accessories.
Mr. Wiltz, who grew up on the eastern side of Iowa City, said he wanted to bring his business to the area.
"I was excited to reinvest in a community that I felt gave me the tools I needed as a kid to have a great professional life," he said.
"Especially at this time with the economy the way it is and with Von Maur leaving, we hope we can be a shot in the arm not only for Sycamore Mall but also for that side of town," Mr. Wiltz said. "The mall is managing the build out and doing a lot of things that go above and beyond what other property owners have offered."
Having a 6,000-square-foot boxing club fits into the mall's unique strategy, said Kirk White, general manager of Sycamore Mall.
"We were ecstatic when they approached us," he said.
An entrance straight into the boxing club will be included, though the movie theater next door brings in 30,000 people every month. Mr. White said it will be good exposure for both the mall and TITLE Boxing.
Sycamore Mall staff  have shifted their focus to try to appeal to non-retail based business to fill the about 10 percent vacancy of the mall.
Mr. White said the mall also recently signed an agreement with H&R Block, which will go where Wilson's used to be. The company is consolidating two of its locations into one at Sycamore Mall.
"We have to look outside the box. Our strategy is to look beyond traditional retail," he said. They have looked at filling vacant stores with chiropractors, doctors, dentists and offices.
Mr. White noted that the mall is at about 10 percent vacancy, and with the TITLE Boxing and H&R leases signed, that number will be closer to 5 percent.
"That's something we're pretty proud of," he said.
Mr. White said they are in negotiations with two other possible tenants and expects to make an announcement in a few weeks. If leases are signed, that would account for about 6,500 square feet of space.
"To my knowledge nobody is leaving this year," Mr. White said.
Mr. White said he's heard from many business owners that sales are increasing. The Petland store is among the busiest out of about 150 Petland franchise locations. Panera Bread and the movie theater compete or match with the sales of the Coral Ridge Mall's Panera and theater on weekdays. The Dollar Tree expanded its space and expects increased sales.
The mall also has events in the parking lot like the farmers market on Tuesdays and the classic car show on the last Friday of every month.
"Those things give the center a community feel. We're bringing the town center back to the neighborhood. There's nothing like it on this side of town. The opportunity is out there and we're going after it," Mr. White said.
Von Maur plans to leave Sycamore Mall in July 2013, Mr. White said. Though, mall staff are waiting to find out the results of the pending litigation between Coralville and a group of developers. Mr. White said they have been approached by a couple national companies interested in the space.