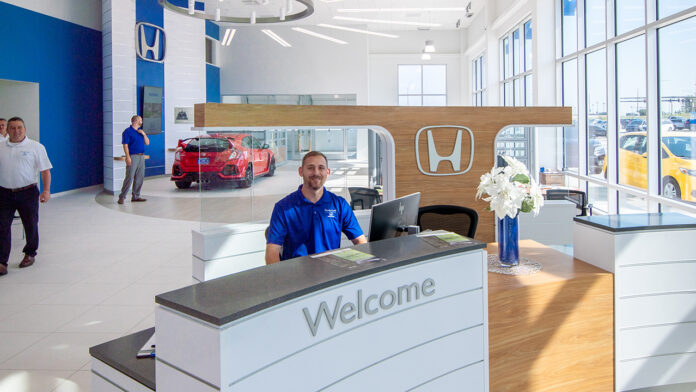 For nearly a decade, Randy Kuehl Honda had been vigilant in considering locations for a new facility. The pieces finally fell into place in early 2019. Seven acres in Cedar Rapids – check. A prime, high-traffic location – check. 
The elements aligned, making it possible for the new dealership to open on June 5, 2020 – two months before the derecho nearly destroyed their former 29-year-old location.
 "We were landlocked on Center Point Road with under two acres and a 13,000-square-foot facility, but we didn't want to leave Cedar Rapids," said Nate Kuehl, general manager. "Having seen how other Honda dealers with four acres fared, we knew we needed seven acres to build an outstanding new facility." 
When property became available at Highway 100 and Edgewood Road through Ahmann Companies, Kuehl took action to gear up for growth and elevate the facility to match the dealership's reputation for competitive pricing and excellent customer service. 
The resulting 35,000-square-foot building provides much-needed room for vehicles, employees and customers in a professional setting and allowed for the unexpected social distance during the pandemic.
State-of-the-Art Service
According to Kuehl, they focused on designing a state-of-the-art service area with the creature comforts their customers and employees deserve. They chose Hunter Companies as the builder.
 "Customers can drive right in, and no one has to park or walk outside to drop off or pick up a vehicle," he said.
Previously, customers drove up and the service consultants had to go outside to move vehicles inside when space was available. Every possible consideration was given to convenience and climate control.
Noise reduction was also a consideration. Separating the shop and service areas and parts counter and installing a whisper-quiet air compressor reduces the typical shop noise that overpowered conversations in the former facility.
"We also focused on reducing clutter for a cleaner, more efficient shop where our techs don't have to go as far to get what they need," Kuehl said. 
For example, a trolley-based exhaust system streamlines important safety equipment for clearing the air. Two overhead trolleys move the exhaust tubes from bay to bay for optimal efficiency.
Detailing bays and an automatic car wash complete the service area, and Honda parts delivery now takes place in a secure, dedicated dock. Everything is at employees' fingertips.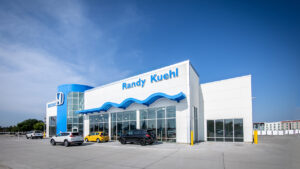 Bright, Tech-Driven Efficiencies
In the sales showroom and offices, the layout and décor celebrate the Honda brand. Blue dominates the color scheme, with accents of silver. On the left, the customer waiting area has been located next to a separate kids' zone that minimizes distractions. On the right, a vehicle delivery area provides a climate-controlled bay where sales consultants can walk new vehicle owners through the technology in their vehicles. Again, this space keeps people out of the elements.
Kuehl points out that one thing remains the same for the new facility – the showroom faces east. The LED lighting system adjusts automatically as the sun slips to the south and west in the afternoon.
"The sales team doesn't have to fight the afternoon sun," he said.
Sales and service conference rooms and several offices reside within the building's core. A mezzanine located above the offices overlooks the showroom and service bays. Currently a storage area, its design allows for expansion of office space should they need it.
The new facility also enabled the dealership to upgrade to a cost-effective IP-based communications network that has provided a significant upgrade to their systems. To further streamline the flow of information, service consultants use iPads for customer check in, alerting the entire team of the customer's arrival and needs.
Business has gone well despite the pandemic, with vehicle service continuing almost uninterrupted. In addition, the new location afforded them space for nearly 400 vehicles. With ample space, Randy Kuehl Honda accepted vehicles from Honda that other dealers had to turn away. It turned out to be a smooth move in every sense, considering the multiple challenges the auto industry has faced with the pandemic and the microchip shortage.
"We knew this space would be appreciated by loyal customers, but we also wanted to give loyal employees an environment where they could flourish and be part of our growth," Kuehl said. "It's an incredible upgrade for them that is well deserved." 
To read more stories from this fall's Lure magazine, visit here.