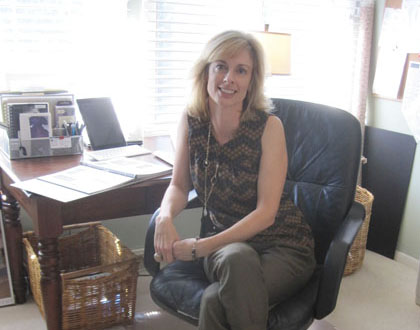 Finlayson to offer interior design and event planning
By Gigi Wood
IOWA CITY — It takes more than a good eye.
After spending nearly 21 years as an interior and commercial designer at The Mansion, 538 S. Gilbert St. in Iowa City, Jan Finlayson has stepped out on her own. A few months ago, she started her own business, Jan Finlayson Designs, out of her home at the intersection of Mormon Trek Boulevard and Cae Drive.
"It was a hard process for me to decide to leave. And it's something that, I had thought about going out on my own for the better part of a year," she said. "You weigh your decisions back and forth; part of it becomes very emotional and part of it becomes very matter-of-fact. For me, I just had to work through a lot of that myself and decide what would be the best route for me. It kind of boils down to, I'm 42 and if you're going to do this, you're not getting any younger, you need to do it."
She decided to take the plunge and start her own company during a slow economy. It's a time when interior design as an industry is struggling. According to an American Society of Interior Designers report in December, the recession and housing market crash set off a chain reaction, stalling all related industries, including interior design. Customers were suddenly trimming expenses while demanding sustainable practices from interior designers. That, the report stated, has changed the industry.
But the recession hasn't hit the Corridor as hard as the rest of the country and Ms. Finlayson has a career's worth of experience to rely on in her new venture.
"There was a whole mental process I had to go through, getting through the fear of leaving a job that's been very, very good to me and very stable for years throughout a down economy," she said. "I think the Iowa City/Cedar Rapids area is the perfect area to develop this because being a woman-owned business has its merits, and from an economic standpoint, there are so many new things happing in terms of development."
Her new company is a new chapter in her career and allows her to use her skills in a new way.
"At The Mansion, it's not that the career had stalled, but it's not that it was going to go any further. I managed people there and frankly that was something that I wasn't that interested in doing anymore," Ms. Finlayson said. "(The new company) extends my flexibility so I could offer a little more product line and a little bit variety of price points. Now I can consult only if somebody wants that, or I can help them top-to-bottom."
The business
Jan Finlayson Designs offers interior design and event-planning services. The interior-design division offers space planning, custom window treatments and blinds, furnishings, rugs and flooring, fabrics and wall coverings, paint and material selection, lighting, coordination of subcontract work and accessories and final touches for residential and commercial spaces.
"It's more than just a knack for picking out something pretty," she said. "In the interior design industry, it's important for us to look at lifestyle, longevity, how people are made comfortable, the ergonomics and the important things behind the scenes, such as the lighting plan, the space planning aspects of it. There are a lot of different components to it that are more important than just having a good eye."
She has a warehouse in town that can receive and store shipments and clients can meet at her home or theirs. She has countless sample books and catalogs to help customers select items and will at times take them to Chicago to view and sample different products. Eventually, she hopes to open an office in town with retail space.
"My sense of style is eclectic, so I feel I'm adaptable to different styles. And I have good listening skills to find out what people like," she said. "Everyone can tell you what they don't like. Nobody is great at telling you, 'I love this," or 'I like this.'"
Ms. Finlayson said she is skilled at reading people to discover their personal style.
"It's a judgment of character and personality quirks and I have to read those cues that they give me," she said.
Her company's event-planning services range from weddings to small dinner parties. The business will provide invitation design, menu planning, logistics such as table and seating layout needs, tablescaping, coordinating caterers and florists,
"We can do formal events, we can help a politician hold a rally, we can host a small dinner party for someone, there's a lot of working couples here that like to entertain. It can be time consuming and we try to cut that out of it for them by putting the necessary components together," she said.
Her event planning team includes Bret Goethe, who has designed sets for Theatre Cedar Rapids.
"There are aspects he takes care of, there are aspects I take care of," Ms. Finlayson said. "I'm more aesthetics, where he's more timing."
Background
Growing up in the Des Moines area, Ms. Finlayson got her start working summers at Black's Furniture in college. She studied journalism at the University of Iowa and later switched majors to interior design, when the major existed at the school.
During her junior year, she interned at The Mansion and after a few years, earned a position as a full-time designer. During that time, she worked for a short stint at Von Maur, where she met her husband, Mike Finlayson, a second vice president at MidWestOne Bank.
When she realized she would be staying in Iowa City long-term, she decided to search out volunteer opportunities. Through her volunteer work, she has planned many community events, which gave her the experience to add event planning services to her new company. The volunteer work also gave her name recognition throughout the community.
"It's something my mother instilled in me when I was in high school. I loved to meet new people and be social," she said. 'I was in my early 20s and all my friends had left Iowa City. Actually, Chuck (Skaugstad of The Mansion) suggested getting involved with the (Iowa City Area) Chamber (of Commerce) Ambassadors. I immediately got on that committee and realized there are all these people here my age who either grew up here or decided to stay here."
This fall she hopes to ramp up her marketing efforts, including increasing her company's social media presence.  CBJ