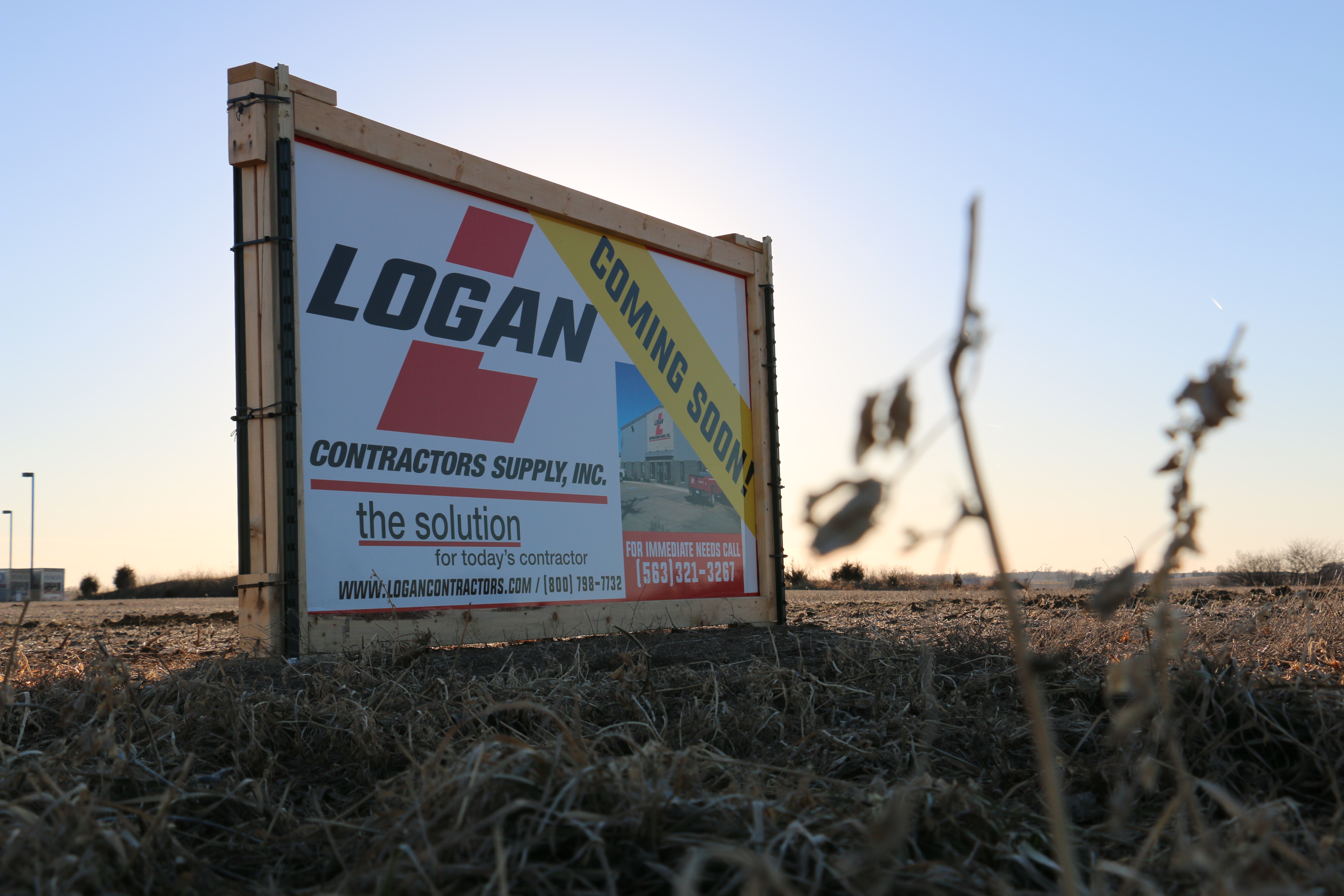 In August, Logan Contractors Supply expects to start operations at their new warehouse and sales facility, to be built just west of Frontier Natural Products Co-Op at the I-380 Industrial Park in North Liberty. PHOTO CHASE CASTLE.
By Chase Castle
chase@corridorbusiness.com
Logan Contractors Supply Inc., a construction equipment and materials company headquartered in Urbandale, will move into the Corridor this fall with a new office and sales warehouse in North Liberty.
Logan Contractors Supply specializes in the sale and rental of construction equipment and construction materials. Founded by Jerry Logan in 1990, the company has since expanded with locations in Bettendorf; Omaha, Nebraska; and Kansas City, Kansas.
The company's new facility west of Interstate 380 and south of Penn Street in North Liberty will join other recent additions to the I-380 Industrial Park, such as Spotix, the outdoor cooking and grill accessories company that last year moved into a 90,000-square-foot building just west of its former office. The facility will be located across the street from Frontier Co-Op near the south end of Stoner Court.
Company President Bruce Logan, Jerry Logan's son, said the new building will house an office and sales facility catering to retail and wholesale customers.
"The Iowa City-Cedar Rapids area … are areas that we have been doing business in for many years, simply without brick and mortar," Mr. Logan said. "We'll hopefully solidify our position … in the given [market]."
As a distributor of materials, supplies and equipment for highway construction contractors, many of Logan Supply's clients are state highway associations, municipalities, residential developers and others. The company primarily works within the concrete industry, as well as in asphalt and road maintenance.
"In general, we put a lot of facets of the industry under one roof, making it more convenient for contractors," Mr. Logan said.
The OPN Architects-designed building will be 15,000 square feet, including roughly 3,500 square feet of retail space, 6,000 square feet of warehouse space, 2,500 square feet of service bays and 2,900 square feet of offices or support space.
"It's a pretty sexy building for the area, to be quite honest," Mr. Logan said. "The architect with OPN, they've done a fantastic job working through the interior and exterior design."
In a memo sent to city staff last month, North Liberty City Planner Dean Wheatley described the project plans as a "clean modern design with attractive materials and design, featuring the use of varied materials, well-placed windows and doors, and an attractive and distinctive entrance treatment."
Logan Supply plans to hire about five people for newly created positions, which will range from shipping and receiving positions in the warehouse to sales, customer service and finance. Once it reaches full capacity, Mr. Logan expects about 10 people to be employed at the North Liberty facility, which should be completed and operational by Aug. 1.