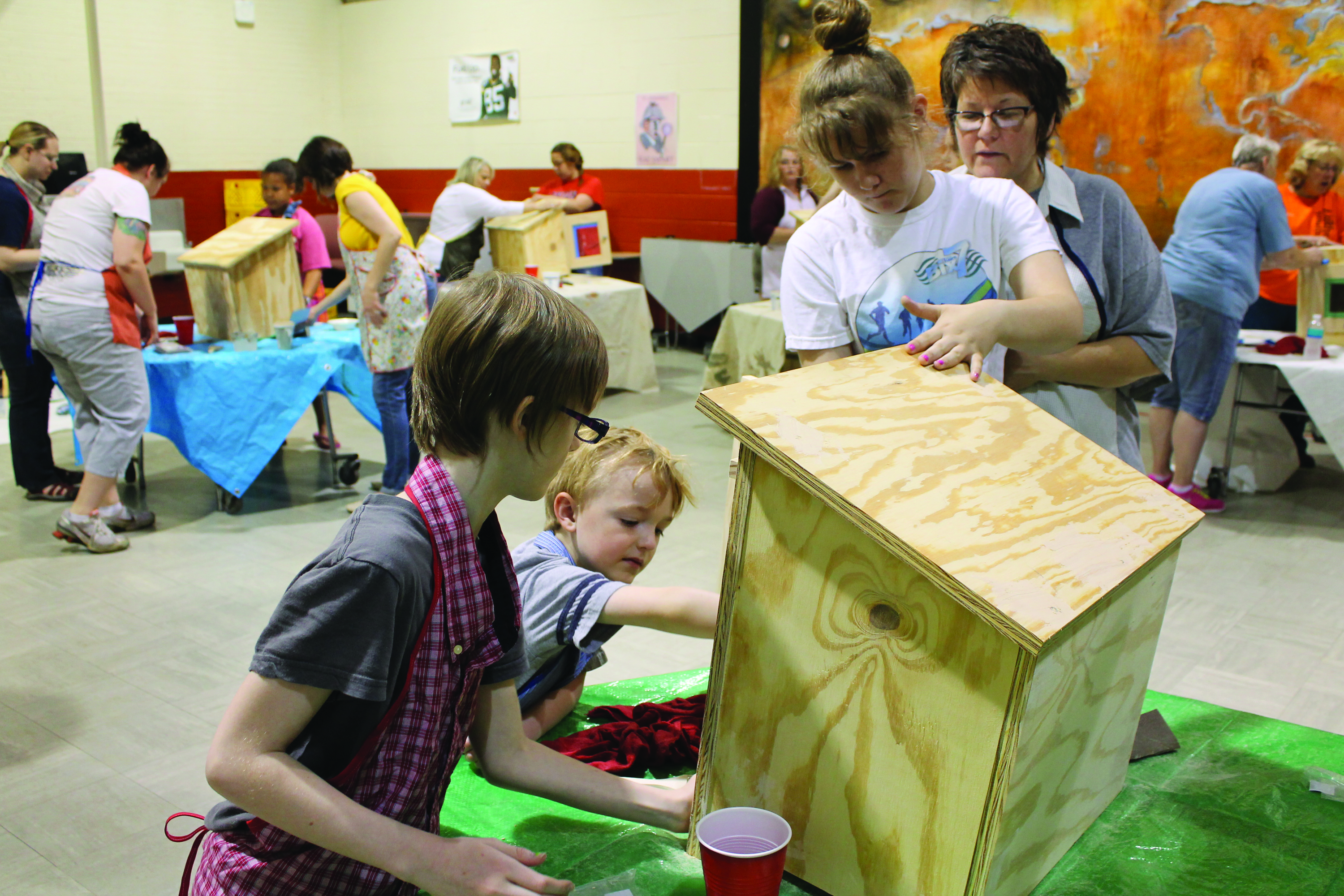 By Adam Moore
Children and adults alike in the Wellington Heights neighborhood of Cedar Rapids are getting a little help in finding good reading material for the summer.
Thanks to generous donations of money, materials and time from nonprofits and companies throughout the Corridor, area volunteers decorated and installed 20 Little Free Libraries (LFLs) in Wellington Heights during the weekend of June 7th, with five more libraries awaiting placement in the coming weeks.
Long-time fixtures in the Iowa City area, LFLs are essentially plywood boxes that resemble large birdhouses, placed on sturdy wooden posts and outfitted with hinged doors. Users can take or leave books as they pass by, creating an informal lending system within the neighborhood.
Although he's reluctant to take credit for the initiative, most of the people interviewed for this story named Tim Terry, founder of World Trend Financial and Terry Lockridge & Dunn, as the driving force behind the project.
After running into a client in Iowa City, who had a book from a local LFL in hand, Mr. Terry realized that the idea had the potential to reinvigorate the neighborhood where he once lived for more than 20 years.
"All of the sudden, I'm looking at the libraries in the Iowa City area, in front of houses and chocked full of books," Mr. Terry recalled. "And I thought, there are children in Wellington Heights who would really benefit from having access to books."
Wellington Heights, which was once considered one of the jewels of Cedar Rapids and is filled with hundreds of architecturally significant homes built in the early to mid-20th century, earned a stigma over the past few decades as renters displaced homeowners and urban decay set in.
According to Dorice Ramsey, executive director of the Jane Boyd Community House, an affiliate organization of Four Oaks in Cedar Rapids, poverty remains a persistent issue for the neighborhood. According to 2010 U.S. Census data, families living in Wellington Heights have a lower annual median income than Cedar Rapids as a whole.
The LFL program is just one dimension of a renewed push by the city and local nonprofits to help those stuck in impoverished settings improve their chances for success.
"Many families in low-income homes often lack money to buy books, resulting in missed opportunities to develop life-long readers," Ms. Ramsey noted. "Children who are solid readers generally perform better in school, thus reducing the risk for educational failure."
Spurred by Mr. Terry's love of reading and his admiration for the neighborhood – he calls it "a treasure of Cedar Rapids" – World Trend Financial and Terry Lockridge & Dunn led the charge for the LFL initiative, providing the initial funding for 10 LFLs, which cost approximately $300 a piece, according to Alicia Main of Terry Lockridge & Dunn.
The UNESCO City of Literature sponsored a library at the Paul Engle Center, a community space located at 1600 Fourth Ave. SE in the Wellington Heights neighborhood. Other community organizations and businesses in the Corridor area are still being approached to help pay for the remaining 14 units that were built.
Knutson Construction of Iowa City provided 16 volunteers and 40 manhours to help build the libraries in the week before the installation weekend, while Willowwind School in Iowa City and the Friends of the Cedar Rapids Public Library both held book drives to generate seed books for each library, eventually gathering upwards of 2,000 books in all. The Affordable Housing Network in Cedar Rapids, also a Four Oaks affiliate, provided the volunteers needed to dig posts and set the boxes.
On the morning of Saturday, June 7, dozens of volunteers from the community met at Johnson Elementary School of the Arts, located at 355 18th St. SE in Wellington Heights, to prep and paint the assembled boxes with supplies donated from Habitat for Humanity's ReStore shop in Cedar Rapids. The finished boxes were installed at pre-arranged locations through the neighborhood the following day, just in time for summer break.
As the word about the LFLs spreads, the project's backers are hoping that it spurs other organizations and businesses to do their part to help revitalize other neighborhoods in the Corridor that have fallen on hard times. But for now, Mr. Terry has set his sights on a smaller, but equally important goal.
"I would like to think that one child will pick up a book, start reading and have a world opened to them," he said. "If I can impact one child, it's a huge success."