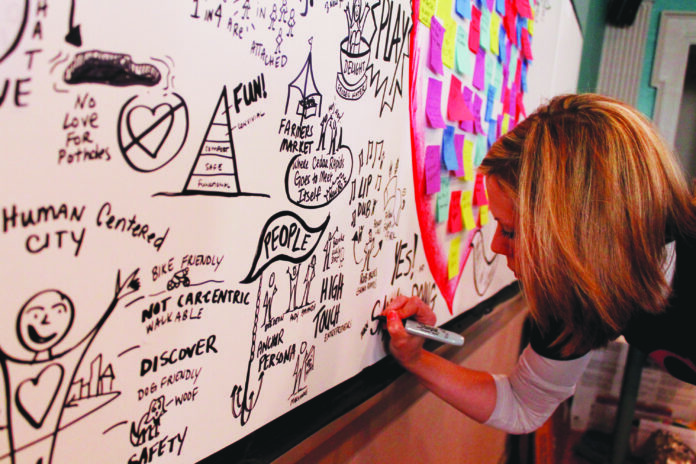 'For the Love of Cities' author conducts half-day workshop to promote advocacy
By Sarah Binder
The city of Cedar Rapids fills more than 170,000 potholes, seals 110 miles of cracks with sealant and pours the equivalent of nearly 1.5 lane miles of concrete each year.
It's a big investment, but it won't lead to love, Peter Kageyama said.
The author of "For the Love of Cities" said the things people hate about their city tend to be big and expensive to fix, like traffic, crime, pollution, or potholes. The things they love, however, tend to be smaller and spontaneous, like a walk through the park.
"We get the big stuff mostly right," he said. "Where we have the big opportunity to make a difference in the community is the small stuff."
One in four people have some sort of emotional attachment to their city, and he acknowledged that most of the people in his sessions are already in that group. The point wasn't to convince them, but to turn them into more vocal advocates.
"Most of the time I'm preaching to the choir," he said. "But why do we preach to the choir? That's how you get them to sing."
Marilee Fowler, executive director of the Cedar Rapids Convention and Visitors Bureau, said Mr. Kageyama helped give Cedar Rapids a vision when he spoke nearly a year ago at the bureau's annual meeting. The bureau brought him back for the half-day workshop Oct. 30 to keep the discussion moving forward.
"This past weekend was an example of what Cedar Rapidians can do if we pull together," Ms. Fowler said, noting the abundance of events of Oct. 25-28, including the grand reopening of the Paramount Theatre, the return of BrewNost to the National Czech and Slovak Museum, and the two-day festivities surrounding the opening of the NewBo City Market.
"We are on a high, and we have some momentum, how can we keep that going?"
"Where's the fun?"
All cities need to be functional and safe but they become more loveable if they're also comfortable, convivial and interesting, Mr. Kageyama said.
"'Where's the fun?' is a perfectly legitimate question to be asking the next time you're in a meeting," he said, encouraging attendees not to get bogged down in perceived limitations. "You will totally change the dynamic of that meeting."
Becoming more bike, pedestrian and dog friendly is one of the biggest ways a city can become more loveable, even if it's just a slight improvement. When people get out of their cars to experience a place in a new way, it can lead to spontaneous discovery, he said.
"How great is it to discover something new about the city, maybe, you've lived in all your life," he said.
He also mentioned the importance of "high-touch" entrepreneurial businesses, such as local coffee shops and bookstores.
"This may not be a multi-million dollar company some day, but it certainly has an impact on how we interact with our place," he said.
Mr. Kageyama gave several examples of how other cities became more loveable. New York City attracted locals back to Times Square by adding seating. Grand Rapids, Mich., countered the notion that they were a "dying city" with a viral video. And New Orleans' street artists celebrated their culture after Hurricane Katrina with uplifting words and chalk.
A $500 idea
The workshop was hands on, and participants were given various tasks to complete as a group. First, each person had to stand up and name one thing they love about Cedar Rapids. Then, they designed a Tshirt, which Mr. Kageyama described as a "public display of affection." Slogans included "It's Crunch Berry Day!" and "Cedar Rapids: Just Add Water." A third task asked participants to imagine a new annual festival.
The true challenge, however, was to create a project with only $500 that would help more people fall in love with Cedar Rapids.
Ideas included:
• Frame the city: Oversized, vintage picture frames would be placed at photoworthy locations to encourage people to commemorate them.
• Art on the street: Sponsored art projects would be placed at intersections between the new convention center and the Czech Village.
• Pop: a public art display that would install hundreds of helium balloons in Greene Square Park overnight, some would contain a prize.
• Spoons: A giant tournament of the classic card game, which is also a nod to Cedar Rapids identity as a cereal producing hub.
• Hope box: a 12-foot cube with a skylight people could step inside to write their biggest hope on the walls.
• Open door project: donated doors would be decorated and sponsored before being installed at Greene Square Park.
• Urban 5k: a race leading up and down newly constructed parking garages, with a rooftop celebration at the end.
• #SeeOurCr: Funky glasses frames would be left around the city, encouraging people to snap a photo and pass them on. This idea won the $500 to continue.
"Maybe these small, silly little projects that we start today, who knows where they'll go," Mr. Kageyama said. "Let's nurture them."