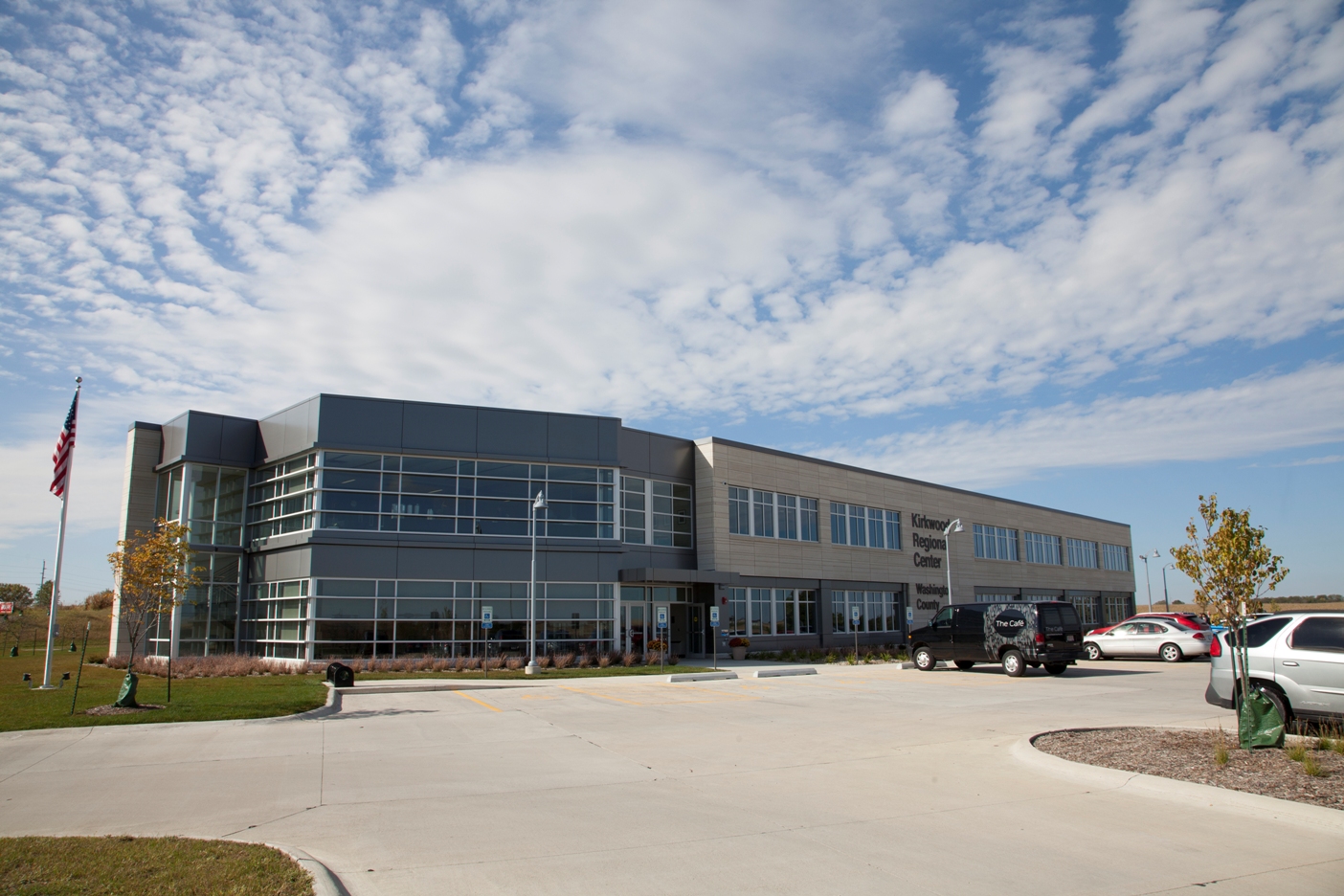 By Emery Styron
"Opportunity: Next right," reads the billboard on Highway 1, just north of Kirkwood Community College's new $9 million Washington County Regional Center.
What sort of opportunity? Center Director Tera Pickens has a long list, starting with opportunities for high school students to take free college credit classes in 11 career academies with state-of-the-art labs.
"The building offers so many opportunities we didn't have before, opportunities we'll have that we don't even know about yet," Ms. Pickens said.
The nearly 40,000-square-foot facility is the result of a lengthy partnership between Kirkwood and the Corridor's citizens, employers and schools. Funded by the 2011 voter renewal of a 20-cent property tax levy across the college's six-county district, the facility joins regional centers in Jones and Linn County, and a fourth slated to open next fall in Johnson County.
All are built around the concept of local school districts pooling resources with Kirkwood to offer regional academies. In those academies, high school students can get broad exposure to a potential career, a jump-start on a four-year degree or earn industry-recognized credentials so they can move directly into high-demand jobs with local employers.
"The Kirkwood Washington Regional Center opens at the perfect time after several years of growing partnerships between area school districts and employers," said Ed Raber, executive director of the Washington Economic Development Group. "The new Regional Center will help to foster even more innovative partnerships and career exploration that will benefit students, families and employers."
The Washington center partners with the Highland, Keota, Lone Tree, Mid-Prairie, Waco and Washington school districts, none of which are especially large, to offer advanced facilities and programs for students. Keota, for example, has a graduating class of about 20 and can't afford to offer much in the way of auto technology classes, but it can and does send students to the regional center's transportation academy. There, they can learn in a spacious, well-lighted lab using the latest diagnostic equipment and tools.
Another key partner is local business and industry. Engineered Building Design (EBD), a Washington manufacturer of floor trusses, roof trusses and wall panels, is one of several companies to purchase naming rights to classrooms and labs with a donation of $10,000 or more to the endowed scholarship fund. EBD's name is on the architecture and construction management lab.
"We think that any way we can encourage students to get into this industry is better for the area and for us in the long term," said Dave Mitchell, an owner of EBD.
Bazooka Farmstar bought naming rights to the advanced manufacturing classroom, where students earn both MIG (metal inert gas) and TIG (tungsten inert gas) certifications. Modine Manufacturing donated welding equipment for the advanced manufacturing lab and keeps it supplied with scrap metal for welding practice. Local financial and health care institutions also support the endowed scholarship fund and provide practical experience for students.
The career academies consist of a 90-minute daily experience for students, plus a 55-minute block for an elective companion course. Students spend half a day at the regional center and half a day at their own high school. To recoup its costs, Kirkwood charges the traditional tuition rate to the school districts, which, in turn, receive supplemental funding back from the state.
Most of the partner schools are also sending students to the new alternative high school at the regional center. Tera Pickens' eyes light up when she talks about the eight students in the alternative school center who are taking career academy college credit classes.
"This could be a real life-changing opportunity for them," she said. "They're doubling their hourly income possibility by having this employable skill that is in such high demand in this area."
Deep roots
The two-story center includes 20 classrooms, all equipped with Wi-Fi and state-of-the-art teaching stations. It is set on eight hilltop acres donated by longtime Washington residents, Jim and Margaret Dunn and family members.
"I used to enjoy the view up here from my tractor seat," Jim Dunn told a crowd at the Oct. 9 dedication. "It's better now. So many more people are enjoying it."
A 12-year member of the Kirkwood Foundation board, Mr. Dunn told CBJ that his years of working with Kirkwood built his confidence in the organization.
"I like what I observed," he recalled. "They always did that they said they would do. In all decisions, the student comes first."
Kirkwood President Mick Starcevich said at the dedication that the college served over 5,000 K-12 students at partner schools last year, providing $2.5 million in college credit classes at no cost to students. That figure is based on Kirkwood tuition rates. Figured at state university rates, the tuition savings would be $5 million; at private college rates, the figure would be $20 million, he said.
The tuition value of Kirkwood's college credit classes taken by Washington County students at their home high schools last year was $576,100. Ms. Pickens expects a big jump in that number this year as students take advantage of the career academies.
The Johnson County Regional Center, slated to open next fall on the University of Iowa's Oakdale campus at Coralville, will feature the university, community college and local K-12 schools working together on one site – a first for the nation, Mr. Starcevich said.