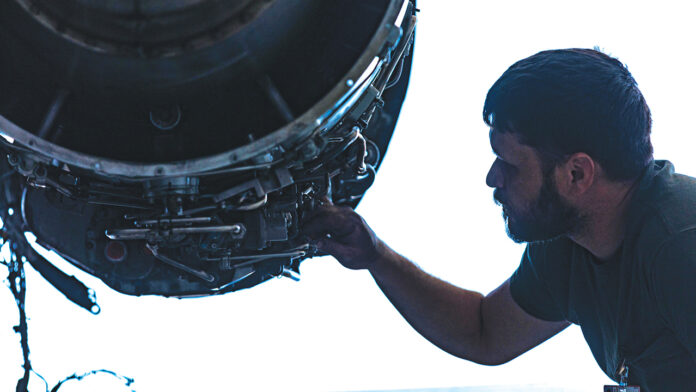 Even amid a highly competitive labor market for aircraft mechanics, Matt Wolford wasn't too concerned over losing an employee last year.
"He'll do a great job," Mr. Wolford, executive vice president and owning partner of JetAir, said recently.
Nathan Bellinger, that former JetAir employee, is director for Kirkwood Community College's new aviation maintenance technology program. Scheduled to enroll its first students in fall 2023, the program will provide associate's degrees in several aviation specialties.
"I was brought in as a subject-matter expert" is how Mr. Bellinger puts it. "There's definitely a lot of interest from our industry. There's only about 150 of these schools across the country, so there's a lot of need."
The local need could grow with a new state sales tax exemption for aircraft parts and labor. The law that took effect July 1 is a potential boost for JetAir, which operates a maintenance shop at the Iowa City Municipal Airport. 
Based in Galesburg, Illinois, JetAir is also Iowa City's fixed-base operator (FBO), providing fuel, repairs and ramp services to airport users under a contract with the city. The company employs about 40 in Iowa City and 10 in its maintenance shop.
"As we look forward to expansion plans, it definitely influences whether we're going to do it on this side of the river or the Illinois side," Mr. Wolford said. The change gives Iowa an advantage over Illinois, which has a tax exemption on aviation labor but not parts.
"It levels the playing field so you can offer stable aircraft mechanic jobs in Iowa," he said.
"Now we have the right sales tax environment, and we have the shovel-ready opportunity to recruit aviation maintenance employers to CID," said Eastern Iowa Airport Director Marty Lenss, using the airport's destination code.  "That's our goal. There are employers in our immediate area that have workforce needs."
Mr. Lenss approached Kirkwood several years ago about those needs, said Emily Logan, the college's dean of industrial technologies.
"One of the distinct advantages to this program is the strong connection to industry," Ms. Logan said. 
Kirkwood has leased a hangar at the Eastern Iowa Airport and has purchased a Cessna Citation I, a twin-jet corporate aircraft, for hands-on training. Some classes will be held at the main campus, "but the airport location will be where our faculty and students spend most of their time," Ms. Logan said.
Mr. Bellinger said a second instructor and some support staff will be hired before the first classes.
"We've had a lot of local companies from the Eastern Iowa area reach out and offer to work with us," he said. "We've had some conversations outside of our immediate area, too."
It's easy for owners to move aircraft to states that offer tax breaks, so Iowa's change may attract new business as well as keeping work in-state.
"Instead of flying out, the savings on the tax would more than make up the cost of moving the airplane," Mr. Wolford said. "There's going to be a change in attitude toward aviation and aviation maintenance in Iowa. You have Collins (Aerospace) right there, a major manufacturer of avionics. You might have seen  installation shops right there. I'd think the tax preference would be a factor in that."
Mr. Lenss said design work is set to begin this fall on a new airport taxiway just north of Kirkwood's leased hangar, opening 40 acres for further development by the end of next year. He's hopeful the tax break could draw the interest of a regional airline needing a maintenance base.
"It's important for the health of the overall industry to do our part to solve these workforce issues," he said. "We're creating the workforce here that the industry needs."
Kirkwood surveyed area aviation maintenance providers and their customers to guide the new program's design.
"We've identified what we call 'pathway' employers that will offer interviews and opportunities to graduates," Mr. Lenss said. "We've got some good partners that need employees today, but we're going to take that next step."
While community colleges in Council Bluffs, Ottumwa and Waterloo offer aircraft maintenance courses, Mr. Wolford said the mobile nature of the industry makes a homegrown labor pool a definite advantage. He said about half of JetAir's maintenance staff was trained at Indian Hills Community College in Ottumwa.
"That's an example of people being trained locally and staying local," he said. "That's why we're a huge supporter of this program."