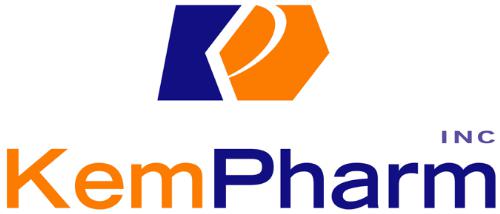 By Dave DeWitte
dave@corridorbusiness.com
KemPharm has shown encouraging progress in recent months as it enters the final stretch of a fiscal year that showed just how impatient drug company investors can be.
Coralville-based KemPharm was founded in 2006 by CEO Travis Mickle and Vice President, Operations and Product Development Christal Mickle, and went public in April 2015, offering 5.1 million shares of stock at $11 per share. Its focus has been development of improved prodrug versions of FDA-approved drugs for pain, attention deficit hyperactivity disorder (ADHD) and other central nervous system disorders.
Prodrugs are drugs that release their active ingredients in the consumer's intestines, giving them "an inherent abuse-deterrent quality," explained Daniel Cohen, KemPharm's executive vice president for government and public relations. Traditional opioid drugs can produce intense, pleasurable sensations, particularly when altered to speed the release of active ingredients.
More than six in every 10 drug overdose deaths in the United States now involve an opioid drug, with the number of overdose deaths involving opioids quadrupling from 1999-2015, according to the federal Centers for Disease Control (CDC). More than 91 Americans die from opioid drug overdoses every day, according to the institute.
Despite the clear need, obtaining FDA approval for new drugs remains an uncertain, lengthy process. KemPharm felt the first sting of an FDA rejection in June 2016. The company's stock plummeted in June 2016 after receiving a FDA complete response letter for Apadaz, an investigational prodrug of benzhydrocodone and acetaminophen for the treatment of moderate to severe acute pain.
A FDA review committee voted 16-4 that Apadaz be approved for its proposed purpose of management of acute pain requiring an opioid, but voted 18-2 against the inclusion of abuse-deterrent labeling for Apadaz.
The setback was far from fatal, however, and KemPharm appealed the findings through the FDA's formal dispute resolution process.
"Our only disagreement [with the FDA] was over the abuse-deterrent labeling itself," Mr. Cohen said in a recent phone interview. "The product was approvable, but they were not willing to interpret the science on the abuse-deterrent attributes in a manner we would agree to."
KemPharm specifically wanted authorization for labeling that would acknowledge the abuse-deterrent properties of Apadaz for the "intranasal" route of abuse – essentially the practice of crushing and inhaling drugs to speed their effects.
The use of the FDA's dispute resolution process, announced in November, could take up to a year, according to company officials, during which different scientists at the FDA than those who made the initial determination will review the findings.
A positive pipeline
KemPharm can't talk about how the review is going under FDA rules, but the company has had much better news in recent months for shareholders and other stakeholders.
The company announced in late November that its investigational new drug application for KP201/IR, an abuse-deterrent prodrug for acute pain, had been accepted by the FDA, and that it expected to conduct human clinical trials this year. The following month, KemPharm was granted FDA "fast-track" designation for KP201/IR, meaning the company can submit data as it completes it, rather than having to wait for all of the data to come together at the end, Mr. Cohen said, potentially shaving several months off the application process.
KemPharm maintains KP201/IR could potentially become the first abuse-deterrent, immediate release (IR) hydrocodone painkiller, as well as the first IR hydrocodone-related product without acetaminophen.
The company also announced in January that it had received positive data findings from a study of its KP511. The study was designed to assess the pharmacokinetics, safety and intranasal abuse potential of KP511's active pharmaceutical ingredient, as compared to hydromorphone hydrochloride.
Pharmacokinetics is a branch of pharmacology that investigates how drugs are absorbed and distributed inside the body.
KP511 is an extended-release prodrug for people in chronic pain who are expected to be on the product for a significant period of time and need twice-daily doses, Mr. Cohen said. KemPharm is also considering development of an immediate-release counterpart to KP511.
"We believe the initial data is positive, and that's why we announced the information," he explained. "What we're trying to discover is does this deter intranasal and intravenous abuse, and the trial was very positive with that."
Most of KemPharm's investigational drugs are abuse-deterrent, however not all are for the treatment of pain. KP415 is a prodrug of methylfenadate, the active ingredient in Ritalin, which is commonly used to treat attention deficit hyperactivity disorder (ADHD).
"This drug has earlier onset and longer duration, which we think is a strong advantage and will have benefits to children who have ADHD and their parents," Mr. Cohen said.
Beyond its abuse-deterrent benefits, KP415 has the ability to take effect in about 30 minutes and work for 13 hours, Mr. Cohen said. That would allow it to replace drugs requiring twice-daily dosing that takes longer to take effect with a single dose, and to last from early in the morning until in the early evening when the child has typically completed his or her homework.
KemPharm has at least four drugs in later stage development, including Apadaz, KP201/IR, KP415 and KP511. In the pharma world, that means the final stages of regulatory approval are relatively near.
"We should be able to have an answer, to file the new drug application, in the next two or three years," Mr. Cohen said.
The cost of progress
KemPharm continues to absorb losses as it works toward obtaining an FDA-approved drug it can offer for sale or licensing – a situation common at its stage. In the third quarter, the loss was $13.4 million, or 92 cents per share, up from $9.7 million or 68 cents in the year-earlier quarter. The KemPharm staff of 32 is made up primarily of scientists, and the company contracts with outside professionals and consultants for many of the services it requires.
A $3.5 million contract was announced by KemPharm last October to license abuse-deterrent pill technology from Illinois-based Acura Pharmaceuticals. The company's proprietary technology called Aversion makes pills hard to crush and harshly unpleasant to inhale. Acura will receive a royalty in the "low single-digit" percentage range for commercial sales of products developed on the agreement, and KemPharm will own the intellectual property resulting from any new products that emerge.
Shareholders who invested in KemPharm's IPO and held onto the shares have not had a pleasant ride unless they sold early. After going public at about $11 per share, KemPharm stock shot up to over $23 in September 2015, only to shrink to the $4 range after the FDA released its complete response letter on Apadaz last June.
KemPharm has already seen its first shareholder lawsuit resulting from the sharp decline. One law firm has filed seeking class-action status to represent shareholders, and a raft of others have announced investigations.
Mr. Cohen said KemPharm takes any lawsuits seriously, but he sees the situation as driven more by securities lawyers trying to capitalize on the shareholders' disappointment in the slumping price than any fundamental change in KemPharm's prospects as a company.
"We have today more products and opportunity going to the market than we did a year ago," Mr. Cohen said.