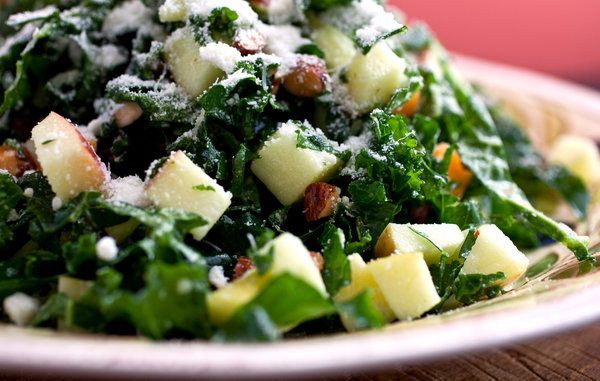 For a kale salad to be successful, use the most tender kale you can find and cut it into very thin filaments or chop it very finely (or both). Curly kale and Russian kale are more tender than black leaf kale. This is inspired by a wonderful salad I tried recently at the New York restaurant Northern Spy.
INGREDIENTS
4 cups very finely chopped or slivered curly kale or Russian kale (about 6 ounces on the stem, or half of a 3/4-pound bunch, stemmed and washed in two rinses of water)
2 tablespoons coarsely chopped toasted almonds
1 apple, sweet, like a Fuji, or a sweet-tart, like a Gala, Braeburn or Pink Lady, cored and cut in 1/4-inch dice
1 ounce sharp Cheddar cheese, cut in 1/4-inch dice
2 tablespoons fresh lemon juice
Salt to taste
1 very small garlic clove, puréed
5 tablespoons extra virgin olive oil
2 tablespoons freshly grated Parmesan
PREPARATION
Combine the kale, almonds, apple and Cheddar in a large bowl.
Whisk together the lemon juice, salt, garlic and olive oil. Add to the salad, and toss well. Sprinkle the Parmesan over the top, and serve.Tip
Advance preparation: This salad benefits from tossing with the dressing about 15 minutes before you serve it. The kale will soften in the dressing.
Nutritional analysis per serving (4 servings)
272 calories; 23 grams fat; 5 grams saturated fat; 0 grams trans fat; 14 grams monounsaturated fat; 2 grams polyunsaturated fat; 11 grams carbohydrates; 3 grams dietary fiber; 6 grams sugars; 6 grams protein; 12 milligrams cholesterol; 666 milligrams sodium
Note: The information shown is Edamam's estimate based on available ingredients and preparation. It should not be considered a substitute for a professional nutritionist's advice.