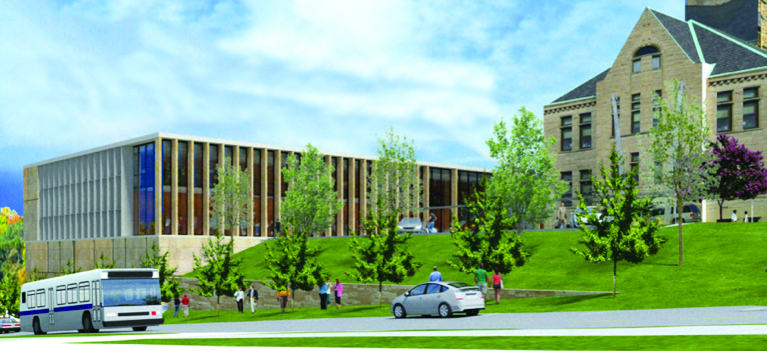 Johnson County residents to vote on $43 million project
By Pat Shaver
IOWA CITY—The Johnson County Courthouse is 112 years old and due for a makeover.
The courthouse building is overcrowded, not Americans with Disabilities Act-accessible and does not have space to install metal detectors, said County Attorney Janet Lyness.
The courthouse was built in 1901 at 417 S. Clinton St. At the time, Johnson County's population was about 25,000 people. Today, the population is about 130,000, a 420 percent increase. While the population has increased, the county continues to operate out of a courthouse built for 25,000 people, Ms. Lyness said.
The jail and sheriff's office building at 511 S. Capitol St. was built in 1981 to fit 46 inmates. Today, it has more than 90 beds in the same amount of space. The overcrowding requires the county to spend more than $1 million a year to send inmates to facilities in other counties.
On May 7, voters in Johnson County will decide in a special election whether to approve funding for a $43.5 million proposed project that includes a new jail, a sheriff's office that will connect to the current courthouse and major improvements to the courthouse. The new justice center would be located on land behind the courthouse and adjacent to Harrison Street.
The ballot states: "Shall the County of Johnson, State of Iowa, issue its general obligation bonds in an amount not exceeding the amount of $43,500,000 for the purpose of erecting and equipping a County Justice Center, to solve current safety, security and space needs of the Sheriff, jail and court operations, in a structure to be located adjacent to and incorporating the existing historic courthouse?"
In order to pass, the measure requires 60 percent of voters' support.
If passed, residential property owners will be charged $22.46 per $100,000 of assessed value per year, for 20 years, to pay for the project.
Those opposed to a new justice center say more beds at the jail means more people will be arrested and the county hasn't done enough to keep people out of jail to prevent overcrowding. Opponents requested a cheaper plan that addresses figures that "40 percent of those incarcerated locally are African Americans, who constitute slightly less than 6 percent of the population of Johnson County," according to the Vote No New Jail website.
In 2000, voters rejected the proposal to build a new jail. The Justice Center was up for a vote last November, but did not pass (about 55 percent voted for the measure). Since then, organizers have updated the proposal.
This time, there are two fewer trial rooms (originally there were six, now there are four) and about 40 fewer beds in the jail. The cost of the project was also decreased by about $3.5 million.
The current jail and courthouse together are about 55,600 square feet. The proposed improvements would increase that to 143,900 square feet.
"(Limited space) slows down scheduling. With criminal trials that means people sit in jail longer," Ms. Lyness said. "It used to be that you never had a trial more than one year old. Now, it's much more common to have a trial much longer than one year."
Someone could be sitting in jail for 18 months or longer before they go to trial, she said.
"The whole court system is set up so people can have meaningful resolutions to disputes," Ms. Lyness said. "Justice delayed is justice denied."
Though residents may not use the courthouse regularly, because of limited space for hearings and trials, the whole process is slowed down, she said. For example, if a business owner has a dispute, they don't want to wait two years to get it resolved.
One of the biggest concerns at the courthouse is the lack of security, she said.
There are no metal detectors, jurors are forced to use the same hallways and facilities as people they are considering in court and inmates use the same entrances and elevators as the public.
"We are certainly one of the only counties of our size that doesn't have metal detectors," Ms. Lyness said.
In March, for example, two prosecutors were attacked at the Story County Courthouse in Nevada, near Ames. The building there has metal detectors, Ms. Lyness said.
About 15 years ago, a Linn County attorney was stabbed, she noted.
"We've seen increased violence at courthouses in the last 10-20 years. If you look nationwide, you see there's more violence going on," Ms. Lyness said.
"People say 'you haven't had anything yet.' We have had disputes. We want to prevent things from happening. We hear things, yelling, fights. You see how busy the (courthouse) deputies are."
Jim McGarragher, a lawyer with Meardon Sueppel and Downer PLC and chairman of the Public Information Outreach subcommittee of the Johnson County Criminal Justice Coordinating Committee, recalled several examples of unsafe situations.
"I've stepped between my clients who have become irate and other people. They didn't have a gun or a knife but I didn't know that," Mr. McGarragher said.
In recent years, the county has implemented several programs to address jail alternatives focusing on prevention, diversion, expediting and recidivism reduction.
Those programs include mental health screening, substance abuse evaluations and treatment, drug treatment court and the marijuana diversion program, among several others.
In 2011, a committee of representatives from the sheriff's office, attorney's office, the public defender's office and the Jail Alternatives Program began meeting regularly to examine who is in jail and why and if they can be released prior to their proceeding. That  has dropped the number of people in jail by an average of six people per day.
The Yes For Justice group pushed to get the Justice Center on the ballot in May so that University of Iowa students would be able to vote; the other option was in August, said Scott McKeag, director for the Yes For Justice campaign.