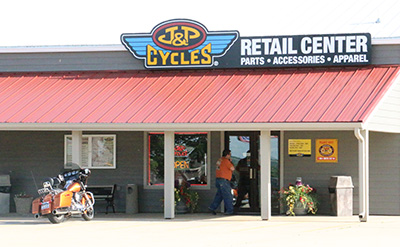 By Dave DeWitte
Delivery time and cost are powerful things in the e-commerce world.
That is one of the lessons from the news earlier this month that J&P Cycles will close down its headquarters, distribution center and call center in Anamosa, moving them to three separate out-of-state-locations.
J&P grew over 35 years from a mom-and-pop shop to one of the largest retailers of aftermarket motorcycle parts and accessories. The company's ownership changed more than a decade ago from the family of founders John and Jill Parham to Motorsports Aftermarket Group.
In 2012, the parent company merged J&P, which caters to the V-twin and metric cruiser market, with Oregon-based Motorcycle Superstore, which caters to the off-road and street bike segment. The combined companies formed MAG Retail Group.
MAG Retail Group realized it had to make major changes to keep J&P competitive, Ryan Polk, the company president, explained.
"We have a very large catalog component of our business, and that's very important to us, but the catalog portion has very slowly transitioned to customers buying from us online," Mr. Polk said in a telephone interview.
Online customers have high and rising expectations for things like delivery time and cost, and J&P was becoming vulnerable to rivals in those areas, he added.
Locating distribution near a major parcel shipping hub is one way online retailers can get products to consumers with greater speed at lower cost. Often, they can truck orders from the loading gate to a major airfreight hub within minutes, to be flown to distribution points all over the world.
MAG decided to move shipping functions from Anamosa to its existing fulfillment center near Louisville International Airport in Kentucky. It's a short skip from the company's loading dock to one of the world's largest UPS air cargo hubs at Louisville International.
"You can take orders later in the day, up until 10:30 in the evening in Louisville," Mr. Polk explained. "In Anamosa, between 6 and 7 p.m. in the evening is the latest we can take orders."
With the move, J&P will be able to reduce its time from order to delivery to two days for 71 percent of its customers, Mr. Polk said.
J&P will begin the distribution center move in September and expects to be filling customers orders completely out of Louisville by the end of January 2015.
While local economic development agencies didn't have much leverage to discourage J&P from moving its fulfillment center, they seemed to have at least a fair shot at convincing the company to keep its headquarters somewhere in the area.
Mr. Polk said the desire for a new headquarters location was driven largely by a need to attract and retain talent, particularly in such highly competitive areas as merchandising and online marketing, including web search optimization, paid search management and email campaigns.
"It's important to put together a full team of people to be a competitive e-commerce company," Mr. Polk said. "In Anamosa, we can get some members of the team but not all members of the team, and when we lose a member, it takes a longer time to replace them."
After a broad search that took more than five months, the company chose a Texas location northeast of the Dallas-Fort Worth International Airport, where it expects to secure office space soon, and begin moving this fall.
"We thought it [the Dallas area] had the numbers of talent we needed to put together a full team," Mr. Polk said. In addition to having a large talent pool in the essential areas, Mr. Polk said the company liked the easy commuting patterns and wide variety of housing choices available for employees.
J&P Cycles began recruiting for its new Dallas headquarters this week, and expects the first outside hires to begin working there in August. The transition is expected to take months, ending with a total staff of about 150 in Dallas.
A third contingent of J&P jobs will be relocated from Anamosa to an existing J&P customer call center in Ormond Beach, Fla., where the company also has a superstore.
Dusty Embree, Jones County Economic Development director, said the county made an aggressive bid to retain J&P, but found out it was passed over on June 4 when employees were informed of the move.
Ms. Embree said the emphasis has now shifted to trying to retain J&P's retail store operations, which are expected to move out of the current J&P location, and in recruiting businesses to take over the former J&P site on the east edge of Anamosa off U.S. 151.
The Anamosa store makes up about 3 percent of J&P's overall sales, according to Mr. Polk.
"We're very proud of the store in Anamosa and want to continue to have that location in Jones County," Mr. Polk said. "If not, we hope to have a location in Linn or Dubuque county."
J&P's immediate focus has been on helping employees plan their futures, Mr. Polk said. If it doesn't have an equivalent job for an employee at another location, it is trying to suggest other job opportunities for which the employee might be suited.
In addition to being home of J&P, Anamosa is home of the National Motorcycle Museum, a nonprofit organization brought to the city through the efforts of the Parhams. Mr. Polk said he expects that the museum will remain open, based on statements by the Parhams, and that J&P will continue to advertise the museum without cost.
The move could be a test of customer loyalty for Midwestern motorcyclists who buy from the company's catalog and attend its huge annual Open House rally in Anamosa. The event, which offers live entertainment, free food and deals, will be held June 27 and 28 at the Jones County Fairgrounds.
MAG Retail Group expects to bring the event back to the Jones County Fairgrounds again at the end of June 2016, Mr. Polk said, adding that the Jones County Fair board has been a "great partner" for this year's event.