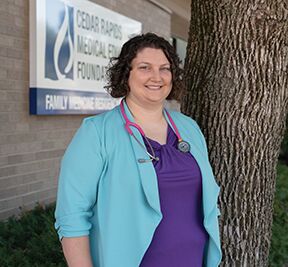 Director of Residency Wellness
Cedar Rapids Medical Education Foundation and Eastern Iowa Health Center
AGE: 35
Best advice you ever received?
Too many times one worries about step 35 when on step five, sometimes to the point of being unable to take the next step; instead, focus on the next step and other steps will fall into place.
What do you consider your biggest break so far?
Marrying Brian Edward Donovan. He is a supportive husband and father to our children.
What's the biggest issue facing the Corridor, and why?
Being a good neighbor. If we truly worked on being good neighbors to all in our community and we were able to get over stigmas, the Corridor would be a different place.
If you had $1 million to give, what causes would you support?
I would like to see more community gardens to help decrease food shortages and improve access to nutritious food to people on limited incomes.
What are your passions outside of the workplace?
Gardening and Cedar Rapids sports teams – Cedar Rapids Kernels, RoughRiders and River Kings.
What do you want to accomplish by the time you are 50?
To be open to opportunities and to continue to find ways to help meet our community's needs.