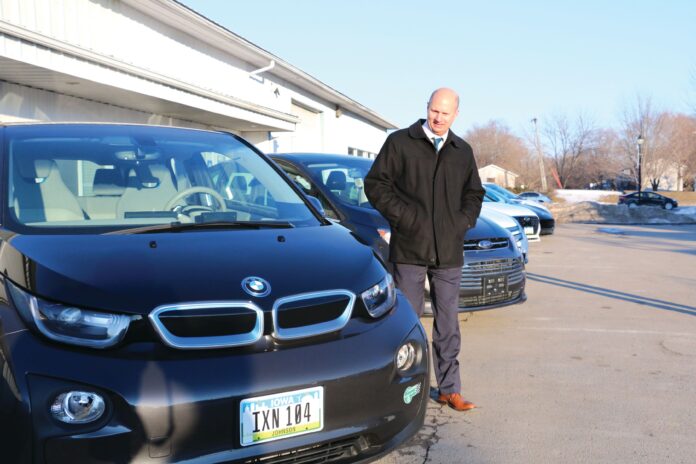 Tiffin City Administrator Doug Boldt checks out a BMW i3 electric car on the VERV lot in North Liberty on Feb. 11. PHOTO ADAM MOORE
By Katharine Carlon
katharine@corridorbusiness.com

About a year ago, Moxie Solar founder and CEO Jason Hall had what he calls an "epiphany."
The trailblazing Corridor entrepreneur who turned his garage-based business into a 150-employee venture spanning eight states woke up in the middle of the night, realizing Moxie was only doing part of the job.
The company had successfully brought solar energy solutions to about 1,500 customers, offering ever-more efficient arrays capable of powering up to 125% of a home or business' consumption needs. But sitting in their garages and parking lots were gas-guzzling vehicles responsible for 30% of the nation's greenhouse gas emissions.
"It just hit me at one point that a lot of people buy solar from us because they want to offset their emissions and save money," Mr. Hall said at the Feb. 11 grand opening of VERV Auto Sales, an electric vehicle (EV) dealership he hopes to eventually bring to every community Moxie serves. "They're very proud the day they install the solar and they think they're done … But there's another step that they could be doing."
VERV, located at 230 Sugar Creek Lane in North Liberty, hopes to draw from Moxie's existing base of eco- and cost-conscious solar customers, eager for even more bang for their buck. And it aims to persuade everyone – even those not yet sold on solar – that today's EVs aren't just cleaner and cheaper, they're also cool.
"These cars have become viable from a range perspective – some of those vehicles have 600 miles worth of range on them," Mr. Hall said, adding that "range anxiety" was just one misplaced fear many consumers have about EVs, along with price, charging time and torque. "You know, everybody thinks 'golf cart' when they're thinking electric vehicle. But when they get in one and step on the gas, all of these cars are faster than gasser cars."
VERV currently offers about a dozen models, from the entry-level, all-electric Chevrolet Spark with a range of approximately 80 miles (retailing for about $5,000) to the high-end Tesla Model 3, with a range of about 200 miles (and going for nearly $70,000). In between are models like the plug-in hybrid Mitsubishi Outlander, with an unlimited range supplemented by a gas engine, on sale for between $15,000-$40,000.
VERV Executive Vice President Leah Furnish said the dealership, the first of its kind in Iowa, hopes to ramp up to 50 cars on the premises by year's end and roll out to other locations thereafter, with VERV following Moxie's footsteps wherever it has a presence.
"It's such a natural counterpart, so we believe the future is to sell the electric vehicle and the solar system as one," she said, adding that VERV's sales model is oriented more toward educating consumers than the stereotypical "What will it take to get you in this car today?" approach.
While none of the current VERV team has a sales background, they do all drive EVs. Ms. Furnish, formerly Moxie's comptroller, drives a Nissan Leaf; EV Solutions Specialist Tessa Meyer drives a Ford C-MAX Energi, and Mr. Hall drives the Outlander hybrid. His wife has a Tesla Model S, while his kids drive a Chevy Spark that he jokes they "can't really mess up," with no oil and few fluids to check.
"We focus on education because when people learn about [EVs] and experience them, they want to buy them," Ms. Furnish said. "There are enough 'hard close' used salesmen in the world and that model is becoming outdated as people do a lot more research on the front side. They come into purchase a big-ticket item already knowing half the information. We're here to teach them the other half."
EVs are growing in popularity, but still represent a small fraction of U.S. auto sales. According to an IHS Markit study, the number of new registrations for EVs more than doubled to 208,000 in 2018, although the bulk were concentrated in California and nine other states that have adopted the Zero Emission Vehicle program. The study projected about 350,000 would be sold this year.
In Iowa, registrations of plug-in hybrids and EVs totaled approximately 2,450 as of July 1, 2018, and 3,050 by Dec. 30 of that year, according to the Iowa DOT, representing growth of roughly 25% in just six months.
Nevertheless, "there is still a little uncertainty for some people," Ms. Meyer acknowledged. "They wonder will it get me where I need to go, what kind of [repair and maintenance] work needs to be done, are these cars ridiculously expensive? Once we answer those questions, people are surprised and excited."
Ms. Furnish said VERV is specializing in used cars because it's a "more financially advantageous model for the consumer," allowing them to buy low-mileage cars without losing thousands in value the minute they drive off the lot.
Mr. Hall added that selling new cars through Chevrolet or another carmaker would have also required VERV to sell gas-fueled cars, something to which it is philosophically opposed.
"You can't just be like, 'Hey, give me some Bolts, and we'll take a couple of Volts and a couple Sparks … and don't force us to sell the Silverado and the other things," he said. "So, we're starting with used because we can pick and choose, and you can't force us to sell a gasser car. We're just going to find the ones that we believe in and sell those."
Mr. Hall said that over the past few years, longer-range plug-in hybrid EVs and the rise of Tesla have revolutionized the market to the point that one in five people looking for a new car now consider an EV – and that's where VERV comes in.
"We've always felt like if we have the ability to do something, we have the responsibility to do it," he said. "That means we need to make people aware that they're reliable and they don't have to cost much. And while some people care that they're saving the environment, others just care that it's saving them money."   CBJ