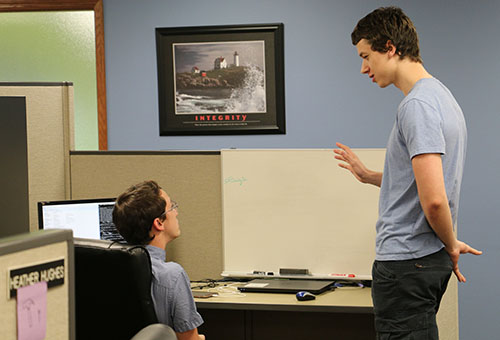 By Chase Castle
chase@corridorbusiness.com
A software developer in Coralville this month wrapped up a series of informal learning sessions designed to help high school students learn about programming, which the company's founder hopes will stoke students' interest in local tech careers.
Although Innovative Software Engineering (ISE) has had undergraduate interns since the company's inception more than a decade ago, it wasn't until 2012 that founder and CEO Hass Machlab decided to formalize the internship program. Noticing that some of the undergraduate interns were slow to adapt to the company's processes, Mr. Machlab assembled a small committee to develop an intern onboarding program.
"And it's been very successful," Mr. Machlab said. "The interns, when they join us, they're productive the first day. They get in, they're part of the team, and they're very quickly contributing to our work."
This summer, the three undergraduates completing full-time internships with the company experienced another new addition to the internship formula: weekly meetings with high school students.
Observing the coursework of his son, Daniel, who took an AP computer science class at West High School last year, Mr. Machlab was impressed with the technicality of the class. When Daniel began to express interest in mobile app development, Mr. Machlab allowed him to spend an hour a week with the company's interns to ask questions and get feedback on his own app development. Other West High School graduates soon joined him, and Mr. Machlab said he plans to reach out to other area high schools this year about opening the workshops to more students next summer.
"The best part about it was how willing to work with you they were," Daniel Machlab said of the ISE "garage" meetings, which focused on mobile development. Although the scope of his AP course was somewhat limited, Daniel Machlab said he was grateful to have the course offered at all; similar classes his peers took elsewhere in Iowa had no in-class instructor, and instead used automated tutorials that relied heavily on videos.
ISE intern Griffen Clark, who is beginning his senior year at the University of Iowa this fall, said finding any outlets for computer programming as a high schooler was difficult.
"When I went to Bettendorf [High School], we didn't have any classes whatsoever that dealt with computer science," Mr. Clark said. "We had AP calculus and stuff like that, but when I found out that Daniel was taking a class in high school that taught coding, I was like, 'Wow, I really wish they had offered that – that could [have given] me that higher edge when I went into universities.'"
Fellow intern Luka Zdilar, a UI junior, said working with recent high school graduates also provided the chance to reinforce the skills he's acquired this summer.
"I'm teaching the same exact same thing I'm learning, so it's sort of a refinement process of what I know and solidifying what I know," Mr. Zdilar said. "It really pushes me to work harder as well."
Hass Machlab said he views the integration of undergraduate interns and high school students as a way to cultivate interest in not only tech companies, but specifically technology companies in the Corridor. In turn, he said, more qualified employees will be available –– ideally ones who are committed to staying in Iowa.
"If we start exposing them early on in the high school environment, and give them the chance to work with businesses, then two things happen," he said. "Hopefully, we get the chance to have more experienced professionals … and do something that benefits the community."
Efforts to develop interest in the tech field among high schoolers and offer work experience with local companies has been the focus of multiple statewide initiatives in recent years, including Iowa BIG, a collaboration of the Cedar Rapids Community School District and The Gazette Company aimed at creating opportunities for high school students to receive academic credit in exchange for projects outside the classroom. Earlier this year, for example, five high school students worked with architects at Shive-Hattery through Iowa BIG to design a new entryway for the Johnson STEAM Academy magnet school opening in Cedar Rapids this fall.
Trace Pickering, an administrator with Iowa BIG and associate superintendent for the Cedar Rapids Community School District, said that project reinforced some students' interest in architecture and quelled the interest of others, which was valuable in both instances, he said.
"Both cases are wins, especially for the parents of the kid who thought he wanted to be an architect," Mr. Pickering said. "He learned that before he spent $30,000 a year to find out."
About 70 high school students in the Cedar Rapids area took part in Iowa BIG coursework last year, and more than 110 are expected to take part in the upcoming school year, which will include the addition of students from the Mount Vernon Community School District.
Although the majority of work projects pair high schoolers directly with businesses or civic groups, Mr. Pickering said Iowa BIG is in communication with Coe College, Kirkwood Community College and Mount Mercy University about the potential for projects supported by high schoolers, as well as college students.
"Giving high school students an opportunity to interact with college students where they can get their questions answered … I think is advantageous from a company's standpoint, deepening their pipeline of potential talent but getting a hold of interested students at the high school level," he said.