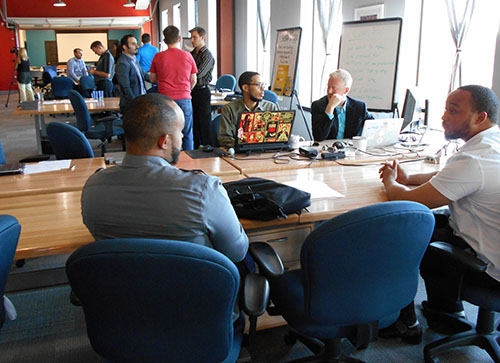 By Adam Moore
adam@corridorbusiness.com
CEDAR RAPIDS—The 2015 cohort of the Iowa Startup Accelerator kicked off last week with nine new teams and some big expectations.
Much like last year's cohort – accelerator speak for "class" – the teams hail from around the state and country, and all have a tech focus or hook. This year's cohort has more of an Iowa flavor than the inaugural session, with five of the nine teams calling the state home. It also includes teams from Champaign, Illinois, Boston, Los Angeles and New York City.
Each team will spend their days (and many nights) in the ISA's space on the second floor of the Geonetric building in the heart of Cedar Rapids' New Bohemia district, with access to a commercial-quality kitchen, bike parking and showers, and some of the fastest fiber optic Internet connections in Iowa.
According to ISA Managing Director Eric Engelmann, teams will also receive the same deal as last year: $20,000 in seed funding from the accelerator's investors in exchange for a 6 percent stake in their company, along with access to more than 130 business mentors over the course of the 94-day program.
But, by all accounts, that's largely where the similarities between the two cohorts will end. ISA leaders say they've taken the lessons and feedback gleaned from last year's edition to raise the bar, both in the quality of the teams recruited and the rigor of the program itself.
The teams selected for this year's cohort are each further along in their business cycle than their counterparts from last year, Mr. Engelmann said, and most already have the technical abilities to create and refine their products onboard, as opposed to relying on contractors or third parties for development tasks. That will allow teams to begin product development much sooner this year, and put the focus less on "building the scaffolding and more on constructing the building," Mr. Engelmann said.
It will also allow the ISA leaders to quicken the pace of an already intensive program. This year's teams will be challenged to test a new hypothesis with their product in the market each week, such as the effect of a pricing change or adding a new feature. That adds up to 14 weekly challenges over the course of the program – an aggressive timeline and approach that leaders hope will push teams to accomplish even more before Launch Day, set for Nov. 5.
"Eric said this morning … where the teams are from last year today, that's where we want these teams at the end of the program," said David Tominsky, program manager with the ISA. "We want them to do a lot more in a shorter period of time. And picking teams that are further along is going to help that."
The accelerated pace likely shouldn't fluster any of this year's teams, all of which survived the ISA's three-week pre-accelerator program in June, which put more than 30 teams through even faster 48-72 hour iterative cycles. Many of the teams have also participated in the John Pappajohn Entrepreneurial Center's Venture School, a condensed program for new entrepreneurs offered at the University of Iowa and JPEC locations around the state.
Paul Fothergill, a co-founder of Swineguard, said his team's acceptance to the ISA represented a chance to keep its momentum barreling forward. The team, which has been developing a technology to help prevent piglet lay-on deaths in hog farrowing houses, graduated from Venture School earlier this summer before participating in the ISA pre-accelerator and making the final cut for the full program.
"[Venture School] said it was going to accelerate our business by six months up to a year, and this one up to a year, too," Mr. Fothergill said. "So in six months, we've essentially done two years' worth of work. It's intense, but it's a heck of a ride."
Lyndsay Clark and Shawn Harrington, co-founders of Goquets (pronounced like 'bouquets'), also went through Venture School before launching their app, which allows users to order flowers from local florists in under three minutes. With about 500 users to date, the co-founders said the biggest draw of the ISA was the opportunity to learn about gaining traction in the market – an interest expressed by several of the startups in the program.
"We have national customers now – it's finding that traction on the national market by identifying our marketing channels and how we're going to communicate our value," Mr. Harrington said.
Building a loyal base of users will likely be a big topic of discussion for participants, and one that ISA leaders and mentors are ready to explore.
"They have a start, but they still have uncertainty. You might have a product to market, you might have a few customers, but you're not at a point where you know you have traction," Mr. Tominsky said. "How do you scale that customer base? Are people begging for what you have? A lot of these companies aren't quite there, but they're closer than the teams were last year."
Meet the ISA's 2015 Cohort:
Care Academy (Boston): An online platform for classes that teach and certify nannies and caregivers. www.careacademy.co
Care Drop (Cedar Rapids): A corporate innovation pilot program with Mercy Medical Center and Geonetric. Aims to make life easier for millions of non-professional caregivers looking after loved ones.
EarMashin (Los Angeles): A Pandora-style radio service to expose emerging artists. Twitter: @EarMashin
GolfRz (Des Moines): A customizable golf app for golfers and courses. www.golfrz.com
Goquets (Des Moines): Order flowers online in under three minutes from local florists. www.goquets.com
Home Scene Pro (New York City): A platform connecting customers to students and graduate professionals. www.homescenepro.com
Stratbase (Iowa City): An online strategic planning and implementation tool for nonprofits. www.stratbase.com
Swineguard (Iowa City): Developer of technology to prevent piglet lay-on deaths. Facebook: Swineguard
TaxiTapp (Champaign, Illinois): Book, track and pay for a taxi from your smartphone. www.taxitapp.net