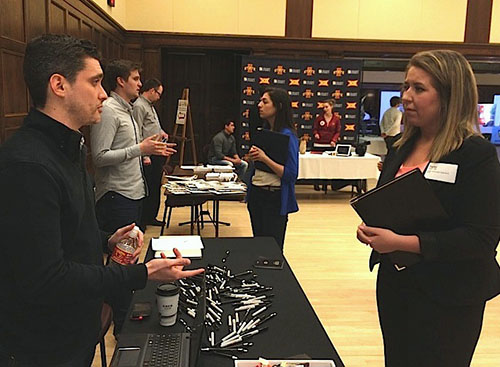 Above, Taylor Tufte, then an Iowa State University senior from Maple Grove, Minnesota, talks with a Bernstein-Rein job recruiter during a February 26, 2015, career fair for Iowa State journalism and communication students. Tufte says she fell in love with Iowa State after a visit to the school with a friend while in high school but didn't want to stay in the state. (Photo by Lyle Muller/IowaWatch)
Story by Lauren Mills, IowaWatch.org
Special to the Corridor Business Journal
Steven Hensley said he didn't have a preference over where he ended up and looked everywhere for jobs.
"It was just kind of wherever was the best opportunity for me," said Mr. Hensley, who graduated from the University of Iowa in May as a business analytics and finance major and joined CNA Financial in Chicago as an accounting finance analyst. "That just ended up being in Chicago."
Brain drain – the exodus of young and well-educated individuals from Iowa – is raising plenty of concerns about the health and future of the state's economy.
Iowa's population has remained largely stagnant over several decades and, despite efforts to entice young workers to stay, many Iowa college graduates leaving the state are keeping it that way, an IowaWatch report revealed.
"Certainly we know that Iowa needs to grow its population in order to provide the companies that are growing here and choosing Iowa with the highly skilled employees that they are going to need," said Tina Hoffman, marketing and communications director for the Iowa Economic Development Authority (IEDA).
Rebranding the state to appeal to a young workforce is challenging.
"It's more than just showing we have good nightlife, with a bunch of bars and restaurants," Danny Laudick, talent solutions coordinator for the Greater Cedar Valley Alliance & Chamber in the Waterloo-Cedar Falls area, said. "It's showing that people in the area have the same interests as you, and you are not limiting yourself by staying here."
Surveys conducted by Iowa's Regents universities show that roughly half of students from the University of Iowa and Iowa State University leave, while many from the University of Northern Iowa – 85 percent in the latest survey – stay.
Although anecdotal evidence suggests some graduates will return to Iowa after a few years, no data exist to show how many do so, even though jobs exist. Student journalists from seven Iowa campuses interviewed graduating seniors about their post-graduation plans for the IowaWatch report.
"I feel like there's more stuff I need to experience before I settle down," Jacob Mallams, an Iowa State University graduate from New London, Iowa, said. He had a job waiting in Wichita, Kansas, at Cessna Aircraft Co.
Long battle to grow population
Iowa has faced slow population growth and a high percentage of elderly residents for decades.
U.S. Census data show Iowa with the lowest percent increase in population growth from 1900-2010 of all 50 states. During the last census count in 2010, Iowa's elderly population – nearly 15 percent of the population – placed it among the five states with the highest percentage of people aged 65 and older. Census numbers also show declining populations in rural counties.
State officials say they want to increase the appeal of Iowa to young, skilled workers and the recent additions of companies like Facebook and Google boosted Iowa's reputation as a state for young professionals.
Post-graduation surveys conducted by the state's public universities show about 85 percent graduating from the University of Northern Iowa with a bachelor's or advanced degree between August 2013 and May 2014 accepted jobs in Iowa. The most recent survey from Iowa State University showed that, of the students who graduated with bachelor's degrees between Fall 2012 and Summer 2013, roughly 55 percent were employed in Iowa.
The number for the University of Iowa was 49 percent for students graduating with bachelor's degrees between Fall 2012 and Summer 2013.
Drake University also publishes a post-graduation report, showing 55 percent of respondents who graduated with bachelor degrees between August 2012 and May 2013 were employed or continuing their education in Iowa.
Angi McKie, senior director of operations at the University of Iowa Pomerantz Career Center, said several factors influence a student's decision to leave Iowa, including whether the student originally is from out of state and what the student wants in a job. She said professionals at the center try to make students aware of job opportunities in Iowa through the center's Consider Iowa program.
"We've done special networking events over the years and road trips or immersion trips where we take students to learn about opportunities in the state of Iowa and to meet young professionals so they have an opportunity to network with people who have chosen to stay in the state or returned to the state," Ms. McKie said.
The IEDA also has internship programs related to targeted industries.
Choosing to stay or go
Joey Gale, 21, who graduated from Drake University after studying marketing, information systems and leadership, said his goal was to stay in Iowa and take advantage of opportunities available to young professionals.
"It seems like a lot of young professionals here are getting a lot of good experience here and getting it quickly and moving up at a young age," the Plymouth, Minnesota native said.
Iowa Workforce Development teamed up with the governor's office, the Department of Education and the IEDA to study factors influencing the migration of college graduates out of the state.
Factors influencing decisions to stay included attractive job benefits, outdoor recreation opportunities, clean or safe communities and affordable costs of living. Of the respondents, 84 percent said competitive wages would attract them to stay in the state, but only 46 percent said Iowa offers such wages.
Students' dissatisfaction with entertainment opportunities grew between the 2008 and 2013 surveys. In 2008, just over half, or 51 percent of students, agreed that Iowa had interesting entertainment options. That decreased to roughly 37 percent in 2013.
The report noted that many students stated that Iowa is most attractive to those who are married and raising a family.
The study found community college students were most likely to stay in Iowa, with about 55 percent saying they leaned toward staying. Private college students were next, with about 43 percent saying they leaned toward staying. Students from the Regents universities were the least likely, with 35 percent leaning toward staying.
Melanie Horton, 22, an Iowa State University student who graduated with majors in environmental studies and environmental science and a minor in speech communications, said she planned on heading to Florida to be near her brother. The Chicago native said she didn't plan on returning to Iowa.
Ms. Horton said she was glad she came to Iowa for school, although it originally was her "backup to my backup to my backup school."
"It was beautiful and people are so nice. I never had this kind of nice anywhere I went," she said.
This story was produced by Iowa Center for Public Affairs Journalism-IowaWatch.org, a non-profit, online news Website that collaborates with Iowa news organizations to produce explanatory and investigative reporting. Additional reporting was provided by Danielle Ferguson, Iowa State University; Meghan Horihan, Erin Selin and Danielle Wilde, University of Iowa; Cole Norum and Susan Nourse, Drake University; Allison Wong, Loras College; Jacob Luplow, Cornell College; Tessa Lengeling, Simpson College; and Nicholas Fisher, University of Northern Iowa.