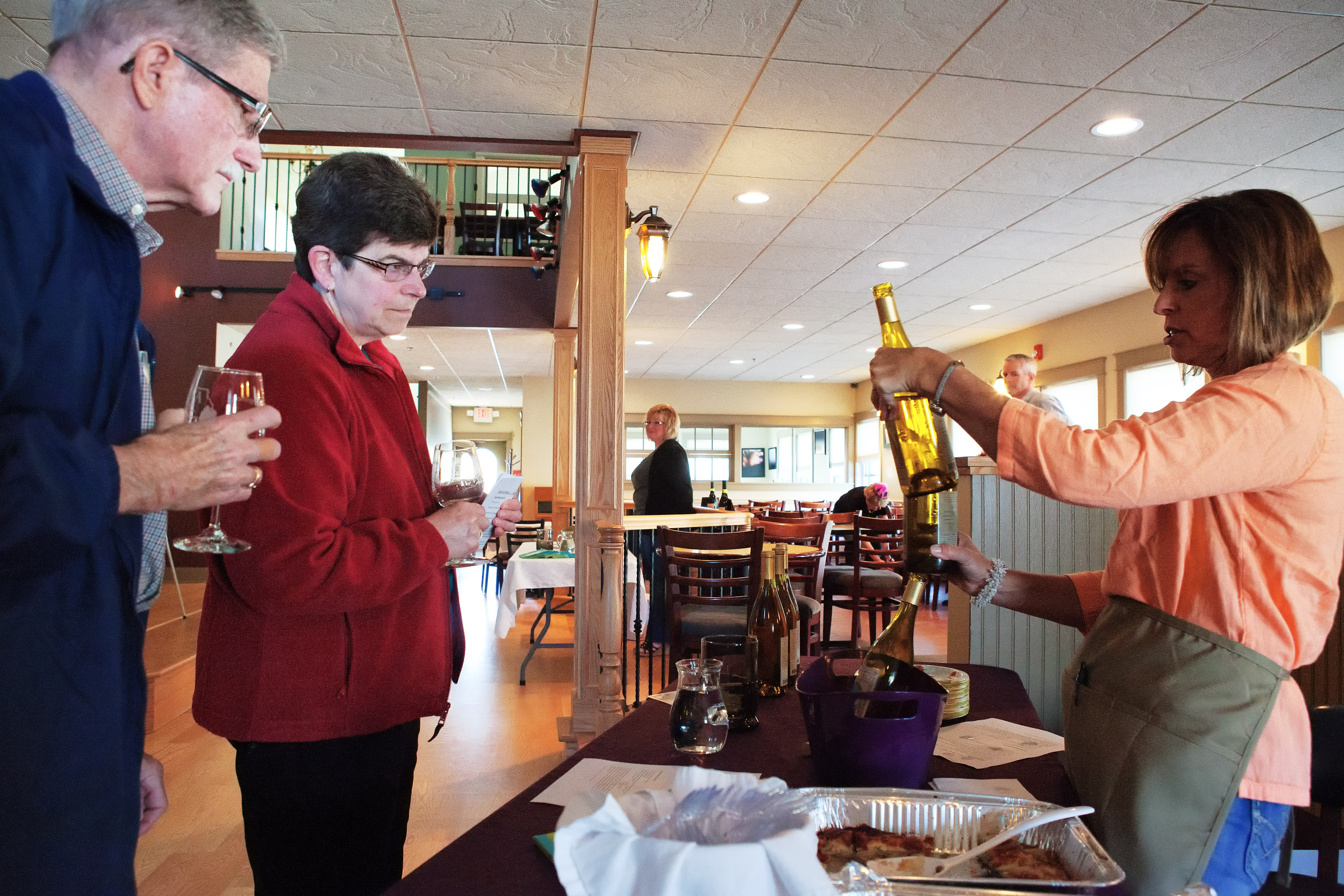 By Dave DeWitte
As new wineries and vineyards continue to pop up across Iowa, they're bringing a different breed of tourist to rural Iowa.
Wine enthusiasts from both in-state and out-of-state are making their way off the beaten path to find the state's 99 wineries, many of them nestled in valleys, perched on hilltops or tucked in rows of Main Street storefronts in smaller communities.
The growing Iowa wine industry attracted 350,000 tourists in 2012, according to a 2012 study commissioned by Iowa State University, and generated spending of $41 million. That represents an increase of more than 50 percent in both spending and visitors in four years, a double-digit annual rate of growth.
Dennis Dieters, the owner of Dubuque-based Iowa Wine Tours, describes the kind of visitors he's seen since starting the business eight years ago.
"Mostly women and groups of women," Mr. Dieters said. "You get the husband or boyfriend along sometimes, but they're often beer drinkers."
Most are not true wine connoisseurs, added Mr. Dieters, and many prefer simple, sweet wines.
Still, Mr. Dieters points out, some of the winery visitors take careful notes as they decipher the flavors in each glass of wine, and soak up every bit of winemaking knowledge they can.
Mr. Dieters got his start in 2006 when he became aware of a demand for driver-furnished transportation on the spring and fall events held on the state's first wine trail, which has been going on for 10 years. The Iowa Wine Trail is a group of eight wineries scattered from north of Decorah down to Clinton.
The spring event, most recently held April 26-27, brings about 250 people to each of the wineries for foods specially prepared to complement the wine offerings of each winery along the route. Attendance at the fall event is considerably higher.
"Each winery has such a different character," said Ilene Lande, co-owner of Brick Arch Winery in West Branch, one of the Iowa Wine Trail members. "We've had people who have done all 20 events and continue to go year after year. Two couples have been to every single event. It's like going to every single Super Bowl."
To celebrate the 10th anniversary, the spring food pairing event in April had a "best of the last decade" theme, encouraging wineries to repeat their previous best food-and-wine combinations.
Participants didn't have to be serious oenophiles to enjoy themselves. They could sample nettle soup ,Peppadew peppers and meatballs with red wine gravy, paired with Iowa wines produced with hardy northern grape hybrids that thrive in the state's harsh climate.
Mr. Dieters still provides bus tours for the spring and fall pairing events, but has branched out to offer one-day tours of clusters of wineries in northeast Iowa and the Galena, Ill., area. Many of the visitors are from the Chicago and Dubuque.
The beauty of Iowa's bluff country and its rolling hills often come as a surprise to visitors from the flat lands, Mr. Dieters said, and help to keep them coming back. He offers harvest time tours that allow visitors to help pick grapes.
"It's nice to be there when they harvesting, because they (visitors) really do get to see the whole process and how it works," said Mr. Dieters.
Mr. Dieters prefers to drive small parties of a dozen or so customers because larger groups, especially during wine events, tend to cause a backlog at small wineries. Offering the tours has shown Mr. Dieters that wine preferences are largely a matter of taste. He said one tour group may drive away universally condemning the offerings of a particular winery, but the next tour group he brings to the same winery may applaud the same offerings with equal fervor.
The Iowa Wine Trail is the oldest of five in the state. The others are the Heart of Iowa Wine Trail in Central  Iowa, Scenic Rivers Wine Trail connecting Iowa, Illinois and Missouri, the Western Iowa Wine Trail and the I-80 Wine Trail.
Paul Tabor, winemaker and manager at Tabor Home Vineyard, said the Iowa Wine Trail's Passport program, which allows participants who get a stamp from every winery on the trail to earn a set of special wine glasses, "has been huge."
"We think people are coming to Iowa and doing the wine trail as a destination," Mr. Tabor said.
The risk of alcohol-impaired driving is not ignored by the wine trail sponsors. The wine trail provides free designated driver tickets that entitle the holder to free food and non-alcoholic beverages.
Some wine trails, like the I-80, don't hold events and simply help visitors connect the dots between wineries.
Cassie Bott of Fireside Winery in rural Williamsburg said it's still successful enough that the group of wineries within 10 miles of I-80 decided in February to extend their marketing alliance after an initial subscription period.
"We give a lot of handouts to people," Ms. Bott said. "We can say, "hey – if you are going this way, you can try out these wineries.'"
Cedar Ridge Vineyards and Distillery near Swisher hasn't been invited into any of the wine trails, tending to fall into a geographic crack between the existing trails.
Jamie Siefken, general manager, said Cedar Ridge nevertheless has earned the envy of some wineries that are part of a trail with the success of its special events. They include Friday night music gatheries, Mother's Day brunches and other special events such as a Bourbon & Blues Festival.
"We stay busy, and a lot of people come out," Mr. Siefken said. Most are from the Corridor, he said, but some come from Des Moines and even Chicago.
The striking differences in the atmosphere of the wineries and in their products are part of what makes them an interesting travel destination.  Fireside, living up to its name, features an elegant and comfortable outdoor seating and entertainment area with a massive stone fireplace.
Brick Arch in West Branch has one of the larger indoor dining and entertaining spaces, and both Tabor Home and Cedar Ridge feature outdoor events with pleasing vistas of the surrounding hillsides.
Events are one of the most underexploited revenue opportunities for Iowa's wineries, according to the ISU report, prepared by Frank, Rimerman + Company of St. Helena, Calif. Iowa wineries currently generate about $2.1 million per year by hosting festivals, weddings and private parties, but could increase that significantly, the report said.
As little as two decades ago, the term "Iowa wine" was associated with sweet fruit wines and relatively simple wines made in the Amana Colonies in the tradition of early settlers.  The staple grape of the state's earliest vineyard was the concord, which growers used for making jam, wine and even as a table grape.
As a new winemaking industry emerged, it was founded on wine grape varieties able to withstand harsh northern climates.
Still, wines with names such as Frontenac, Vidal Blanc, La Crescent and Seyval are often unfamiliar to wine drinkers who honed their palettes on California and European wines.  It's both a challenge and an opportunity for Iowa wineries to educate the public about these unfamiliar offerings.
True wine connoisseurs appreciate regional differences in wine, even within the same grape varieties.
The eight wineries of the Iowa Wine Trail all fall within a recognized grape-growing region, the Upper Mississippi River Valley Viticulture Area. Establishment of the viticulture area helps define a uniform grape-growing area so that connoisseurs can expect similarity in flavors due to uniform climate and soil types.
Iowa's older wineries in the Amana Colonies have continued to make progress with new varieties without abandoning their roots.  The Amana Colonies host a beer, wine and chocolate walk each May that helps bring new visitors into the wineries each year.
Mr. Dieters has learned from his wine tours that visiting the establishments that produce an alcoholic beverage satisfy the enthusiast's curiosity about how such products are made. He has since branched out to include distillery tours, and is considering adding a tour of Iowa's microbreweries.