Iowa ranked third nationally in percent change for personal income with an 8.1% increase, according to data released June 22 from the U.S. Bureau of Economic Analysis.
The analysis looked at growth from 2021 Q4 to 2022 Q1.
The Hawkeye state was bested in personal income growth only by South Dakota and North Dakota. Hawaii saw the least amount of growth with only a 1.3% change increase.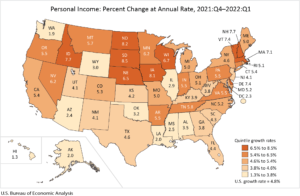 Iowa's personal income increases were fueled by farm earnings, a characteristic shared by the other top-performing states in this report. The durable goods manufacturing ranked as second biggest contributor to percent change in personal income for Iowans.
For the nation, earnings increased 8.3% in the first quarter of 2022 after increasing 10.3% in the fourth quarter. Earnings increased in 23 of 24 industries. Most notably, large gains came from the following sectors: professional, scientific, and technical services; construction; administrative and support; and waste management and remediation services.
Iowa's seasonally adjusted unemployment rate dropped for the fifth consecutive month to 2.7% in May – down from 3% in April and from 4.5% one year ago.