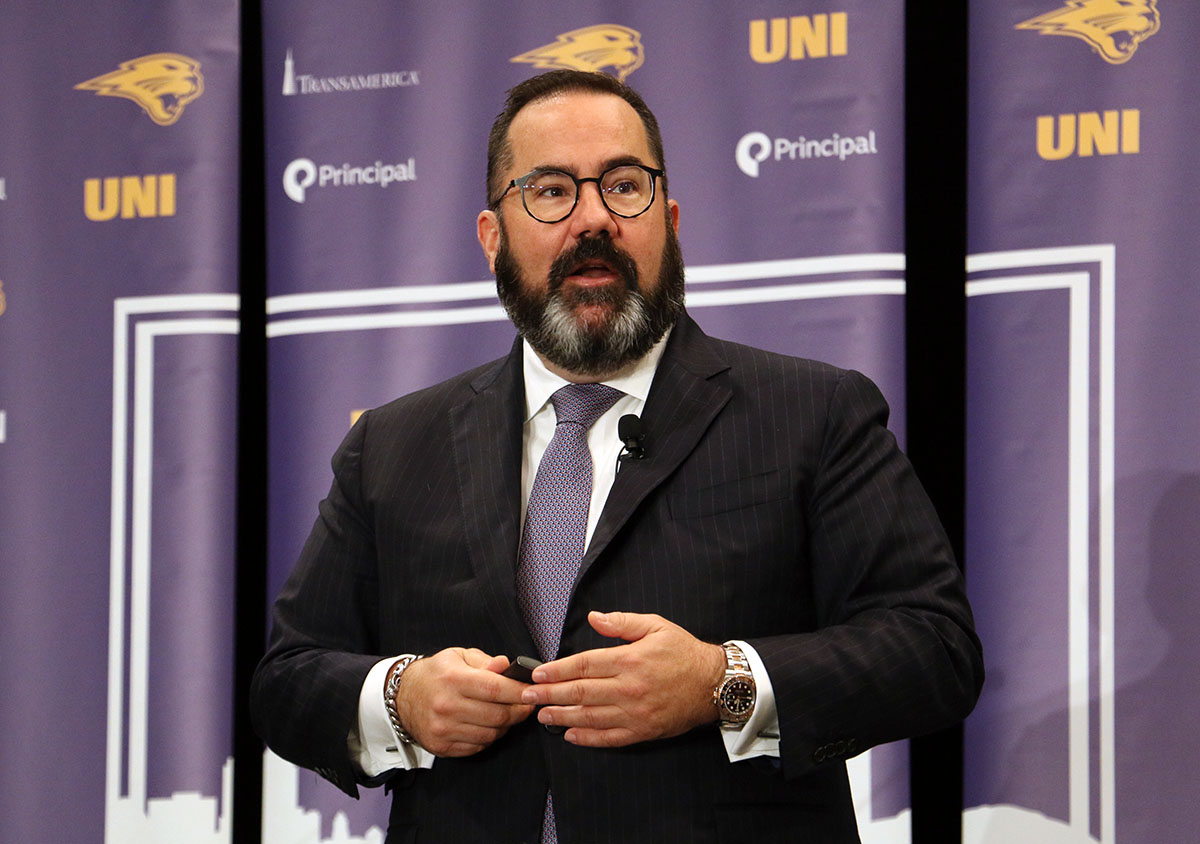 The state is well-positioned to offer space for a changing logistics world, according to the CBJ's Commercial Real Estate Luncheon keynote Tray Anderson, of Cushman & Wakefield. PHOTO ADAM MOORE
By Dave DeWitte
dave@corridorbusiness.com
A $250 million Amazon distribution center is being readied for opening this fall in central Iowa, where it will employ about 1,000 people, while two smaller Amazon 'last-mile' centers are being set up in Iowa City and Grimes that will add hundreds more jobs.
They are signs of Iowa's desirability as a location for e-commerce fulfillment, according to Tray Anderson, the keynote speaker at this year's CBJ Commercial Real Estate Luncheon, as well as signs of things to come.
Change is coming fast in the way goods are distributed and sold, according to Mr. Anderson, logistics and industrial services lead for the Americas at Cushman & Wakefield, the international commercial real estate firm. But there's no one-size-fits-all approach.
"We're seeing different [real estate] customers take different tacks in how they're trying to solve their problems," Mr. Anderson said. "On e-commerce, we're seeing an increase in people buying online. We're seeing an increase in interaction with retail in e-comm. We're seeing companies that are e-comm only … having to stand up a brick-and-mortar presence, and we're seeing brick-and-mortar companies set up an e-comm presence."
There's also a big push for faster delivery, Mr. Anderson said, which is playing out differently in different cities.
"When you're focused on 'faster,' you have to have more locations," he noted. "To service 98% of the U.S. population in two days, you only need about five buildings. If you want to do next-day [delivery] you need about 18 buildings. And if you want to do same-day, that number goes up tremendously – you have to be in every metro area, and in some metros, you have to have two buildings."
While some companies are focused on same-day deliveries in key markets, and others on next-day delivery, they must balance the desire for speed against the inventory costs those additional sites require.
"It's all about trying to keep things in large loads as long as I can, and in very efficient modes of transportation – not shipping a small package, for example," he said.
And not all companies are in the speed game. Some are opting out of next-day delivery and focusing more on the customer experience.
One of the more extreme variations is in the apparel business, Mr. Anderson noted. Some retailers are stocking a single SKU (stock-keeping unit) in only one location, rather than spreading them across multiple cities, based on geography and shipping times.
"That SKU is only in one city and that's a balance sheet play for inventory, for procuring costs, for inventory obsolescence," Mr. Anderson said. "So, we're seeing this broad range in how people operate and how decisions are made."
For real estate professionals, one of the big takeaways is that more of the nation's industrial space is being devoted to e-com­merce, leading Mr. Anderson to ask, "Why are you seeing the growth here in Iowa, and why are people excited to come here?"
The answer can be found in the rela­tionship between operating expenses and capital expenses. Transportation expense, a function of distance and volume, is usu­ally 40-60% of the annual operating ex­pense for a distribution company, he said, with labor representing another big slice. Real estate, by contrast, is typically only about 5% of total costs.
"So that's why you're seeing this em­phasis on real estate," Mr. Anderson said. "That's why you're seeing an increase in rental rates, because the value of that loca­tion being the right location versus that his­torical rental rate or purchase rate is a much smaller piece of the total business case."
Mr. Anderson listed several key factors that are steering e-commerce facilities to Iowa:
• A central location in the United States, with access to major highways that crisscross the United States
• Strong rail infrastructure, which is becoming more important because rail shipping costs are more consistent and predictable than truck transportation
• Economical river shipping access via the Mississippi River
• Low electric rates, which are increas­ingly important because automation is growing in distribution facilities. The average rate of $5.93 per kilowatt hour (KwH) compares favorably to a national average of $6.85 per KwH.
• Abundant renewable energy, which is not a prerequisite for most compa­nies, but is likely to become one]
• Inexpensive distribution space, with a net average rental rate of $4.57 versus a U.S. average of $6.51
Much of Iowa's existing distribution center space may not be acceptable to e-commerce companies, however. Mr. Anderson said they increasingly require high free-span space with large spacing between columns for the types of mer­chandise storage and picking systems they use, and a larger number of truck loading bays. Instead of being on one floor, new buildings like Amazon's center in Bondu­rant are designed on multiple levels.
Event speaker Scott Olson of Skogman Commercial (see related story, page 3) said lease rates for industrial space in the Cedar Rapids metro market he tracks have gone down in the past six months from $5.55 to $5.47 per square foot, as the amount of active space on the market has risen by 250,000 square feet, and more projects are under construction along the I-380 corridor in southwest Cedar Rapids. He said some of the older distribution and warehouse space is now destined for other uses because of changing logistics needs.
The same low real estate and energy costs that make Iowa appealing to distri­bution facilities are also driving Iowa's data center boom, Mr. Anderson said. The boom so far has bought Microsoft to Des Moines, Google to Council Bluffs, Face­book to Altoona, Apple to Waukee and CyrusOne to Council Bluffs.
Not everything weighs in Iowa's favor, however. Mr. Anderson said labor rates in Iowa, at an average of $17.84 an hour, are above the national average of $15.74, and the labor supply is more limited. Natural gas rates, at an average of 4.48 cents per 1,000 cubic feet, are above the U.S. aver­age of 3.87 cents.
However, wage rates are only part of a much larger cost structure, he noted, and only one component of the total labor cost picture. Employers also look at factors such as employee retention and training costs.
"So, you've created an extremely attrac­tive environment for companies to come," Mr. Anderson said.
Projecting into the future, the logistics industry will use even more automation in fulfillment and last-mile centers for tasks like stocking inventory, picking orders and shipping packages. They will even rely on self-driving autonomous trucks. All that automation will make workforce limitations less important.
"I'm a little bearish, simply because I know the legislation changes [to allow driverless trucks] take time," he said. "But I think in the next 10 years, this is very reasonable."
Mr. Anderson also offered a strong verdict on what he considers one of the biggest fallacies of the day: "the retail apocalypse." That refers to the idea that traditional retail stores are going away as more people shop online.
"It's not happening," Mr. Anderson said bluntly. "We're seeing some com­panies whose business models haven't transformed – those are the ones you're seeing lagging behind."
The CBJ's Commercial Real Estate lun­cheon was presented by the University of Northern Iowa Center for Real Estate Ed­ucation with support from GLD Commer­cial, GreenState Credit Union and MidAmerican Energy. CBJ