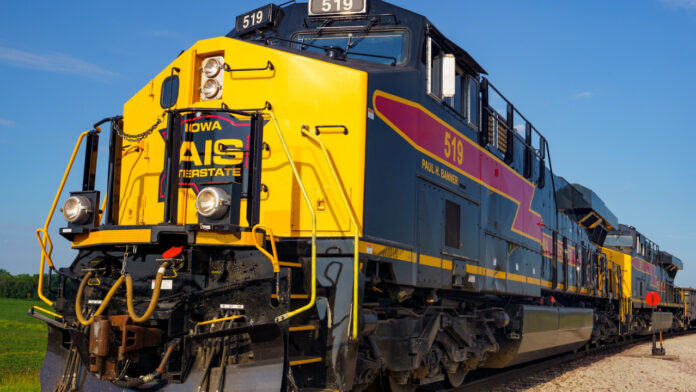 Iowa Interstate Railroad, LLC (IAIS), based in Cedar Rapids, has purchased approximately 30 acres at the Iowa City Industrial Campus to develop a new rail to truck transloading facility.
The site, located on the southeast side of Iowa City and including an existing rail spur, connects to the 573-mile IAIS network, providing shippers with direct access to all seven Class-I Railroads and numerous short line railroads.
The transload site will also provide access to Interstate 80, Highway 6 and Highway 218.
Transloading of commodities between transportation modes is a growing segment of the national supply chain, and Iowa Interstate's new facility will provide another option in the Iowa City-Cedar Rapids corridor to shippers lacking direct access to rail service. Shippers can utilize the new option to leverage multiple modes and connecting rail gateways to drive value to the end user, railroad officials said in a news release.
"As part of our continuing growth strategy, Iowa Interstate Railroad is excited to have successfully acquired this parcel from our friends and neighbors at the City of Iowa City for the development of this new transloading facility," said Joe Parsons, IAIS president and CEO. "As we have seen with the numerous other transloading sites existing along our network, these facilities provide significant value to our customers and open the door for many other companies to become rail shippers."
Rail transportation provides a fuel-efficient way to move freight over land, and by partnering with IAIS to develop this facility, the city of Iowa City is recognizing the increased efficiency both reduces shippers' long haul freight costs and provides public environmental benefits, city officials said.
According to the EPA, moving freight by rail versus truck lowers greenhouse gas emissions by up to 75%. In 2021, Iowa Interstate Railroad joined the EPA SmartWay Transport Partnership, demonstrating its strong environmental leadership and corporate responsibility.
"The city is proud to partner with Iowa Interstate Railroad on this project, which will both support existing industry and help attract new business to the Iowa City area," Iowa City manager Geoff Fruin said. "The transportation sector accounts for a third of all greenhouse gas emissions nationally and a quarter of our emissions locally. Projects like this are an excellent example of how actions on the local level contribute to solutions at a larger scale. As we look for ways to continue to bolster our economy while making significant progress towards achieving our climate action goals, this partnership reflects the values and collaborative spirit of Iowa City."
Founded in 1984, Iowa Interstate Railroad is a Cedar Rapids-based Class-II regional railroad company operating in the Midwest region between Chicago, Peoria, and the Omaha areas. It is one of the only regional railroads in the country with direct connections to all seven Class-I railroads.